Bah! I've dreamed of blogging our wedding day for so long. So it's only natural that I would share every individual piece of our wedding and make everyone sick of hearing about it, right? :) It is my hope and prayer that my informational posts would either:
a) Bring you hope of your wedding one day, soon or a few years down the road. Our wedding, and our marriage, has been the biggest blessing outside of Christ that I have experienced. Ben is my best friend, and I can barely fathom the gift that God has given me in him. We had the most wonderful day and felt so incredibly loved by each other, our family, and friends. Daydream about your future wedding in an appropriate way, ladies! I've said it before and I'll say it again, however long you wait for this blessing, it will be worth every second.
b) Inspire or help you with your wedding in any way. When we were engaged, I read about everything wedding related I could get my eyeballs on. The time of wedding planning can be stressful and I truly hope that these posts help. If you have any questions, feel free to email me or facebook message, I would love to help you in any way!
c) Remind you of your own wedding and all the joy that it was!
All of the photos below are by
Caroline Joy Photography
. (the best decision of our wedding was booking this incredibly photographer!)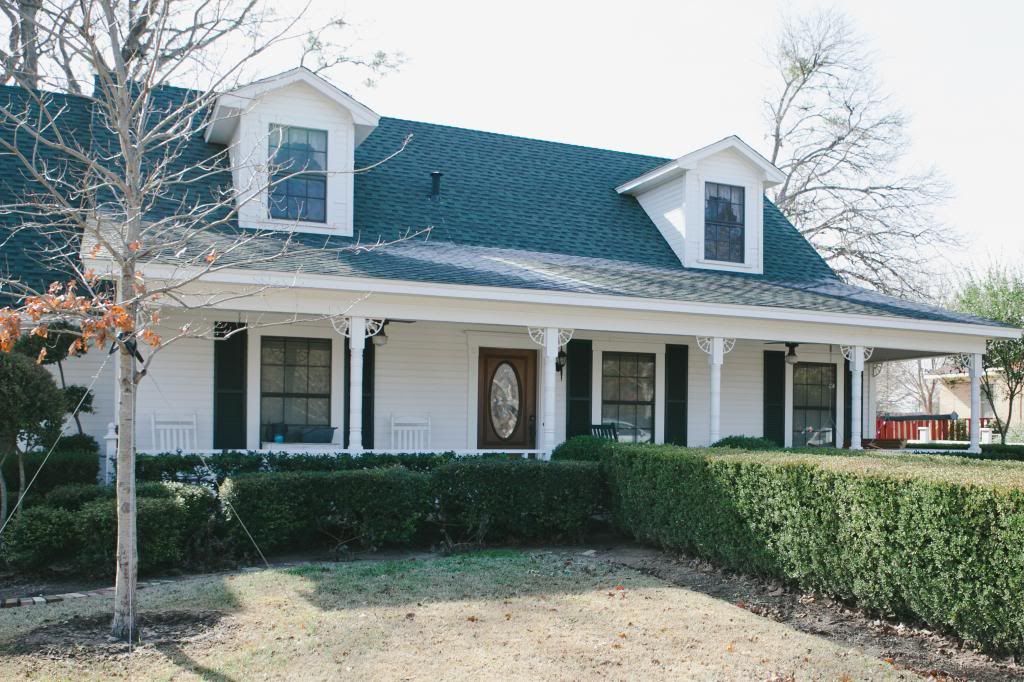 A few months before our wedding, I saw some photos of a wedding party in front of a Southern, white house with a big front porch, and instantly knew that was what I wanted for our wedding. It was such a blessing for the girls to get ready at Ben's aunt and uncle's house, and to take photos there. The house provided a beautiful backdrop, and I wouldn't trade getting ready in the comfort of a home for anything in the world. Ben's aunt showered us with food and love and it was precious to see her slip out the door to "see Ben's face" before our first look. Yes, she watched from behind with the photographers and videographers. Hehe. :)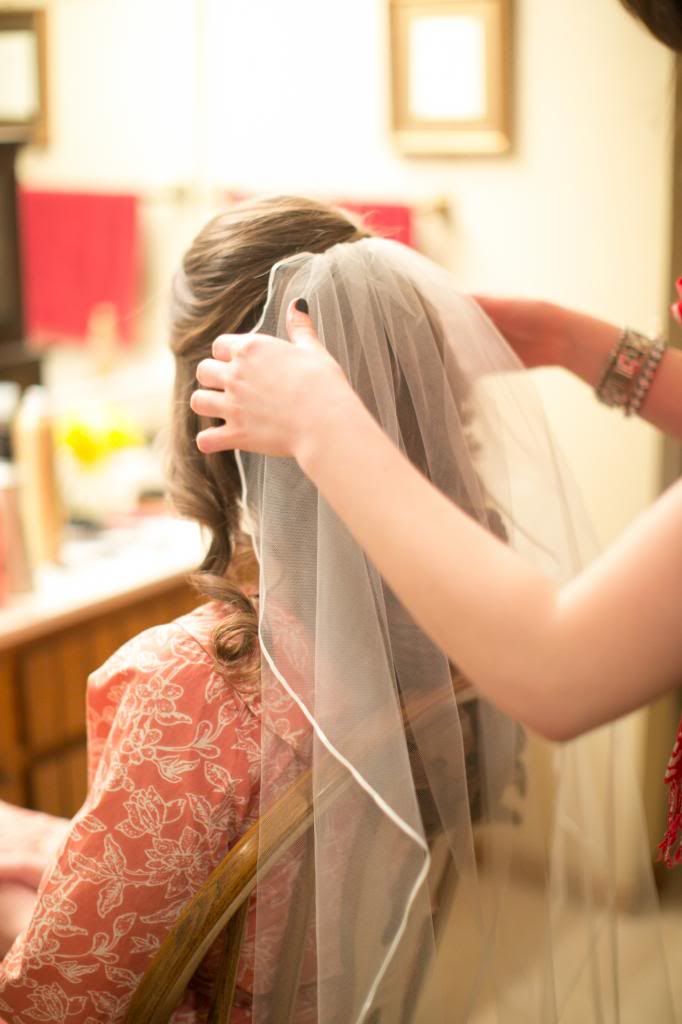 Putting on my veil was the first moment I really felt like a bride. I adored my veil, and actually forgot to take it off before our wedding reception, like I had planned. I am so thankful though, because I love the way it looks in our exit photos. My veil was beautiful and feminine and I am in love with it. I'm still brainstorming someway to display it in our home. Let's be honest, it will keep hanging on the bedpost of our guest bedroom bed until post student teaching life. April 10th- come to me.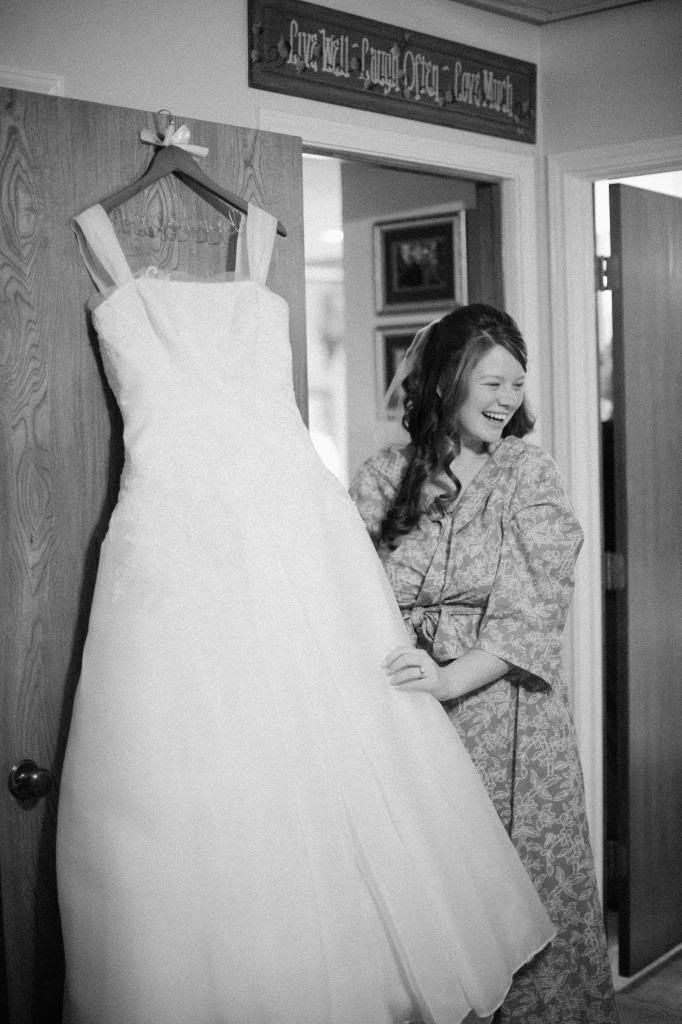 I had the BEST maid of honor. Two days before the wedding, Lucy and I realized that I had totally forgotten a "something blue". We brainstormed a few ideas and had a backup plan that if need be, Lucy could embroider some ribbon and sew it into my dress. As other wedding chaos took over, this last resort became our only idea, so Lucy spent the morning of the wedding stitching this precious gift. She even went to buy all the supplies herself. Typing that just reminded me I owe her $$ for that. Whoops. Sorry Lucy. Next time I see ya! :) This ended up being one of my favorite details of the day, and it was so precious to me that she stitched it in the dress herself.
Ben is quite the stylish man, so after a few weeks of searching for the perfect wedding shoes and failing, I turned the job over to him. I didn't see the shoes until the morning of our wedding and I loved them! This was such a fun little detail of our wedding!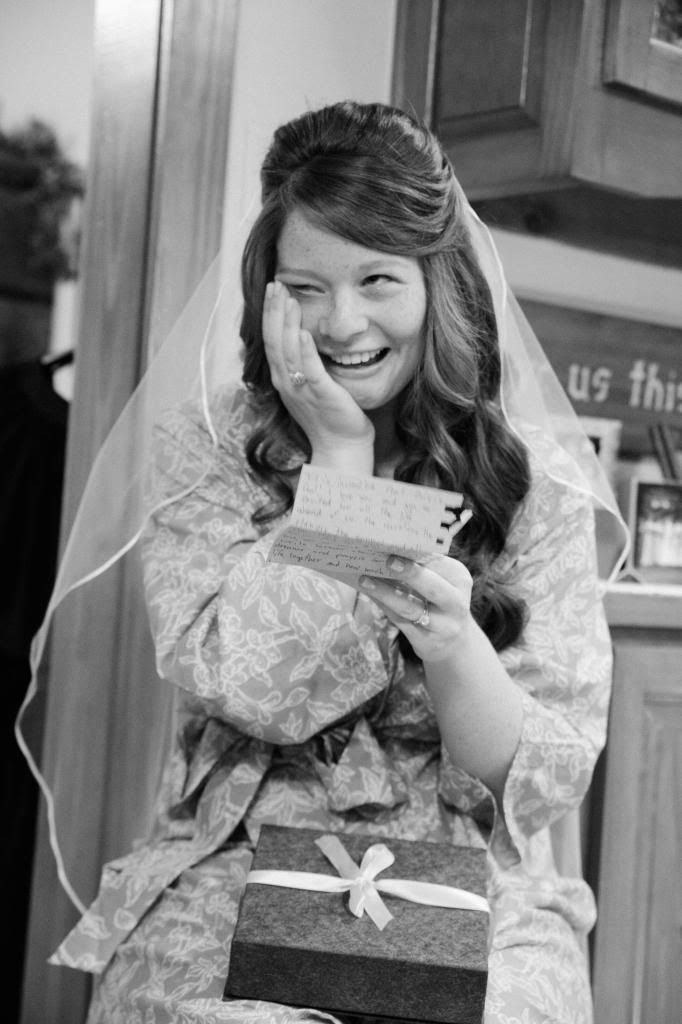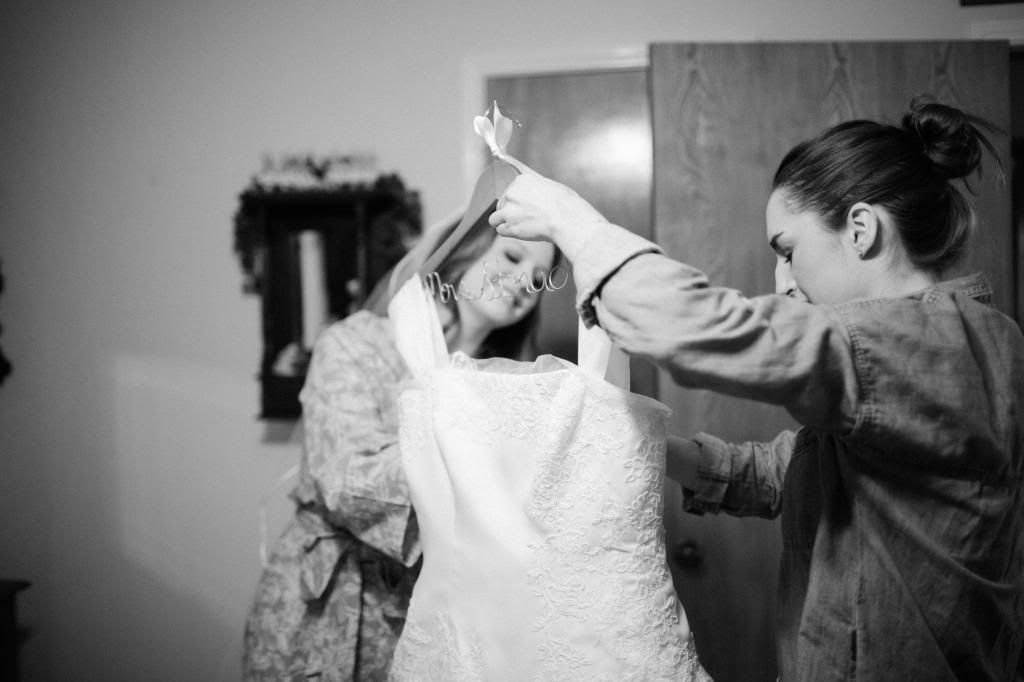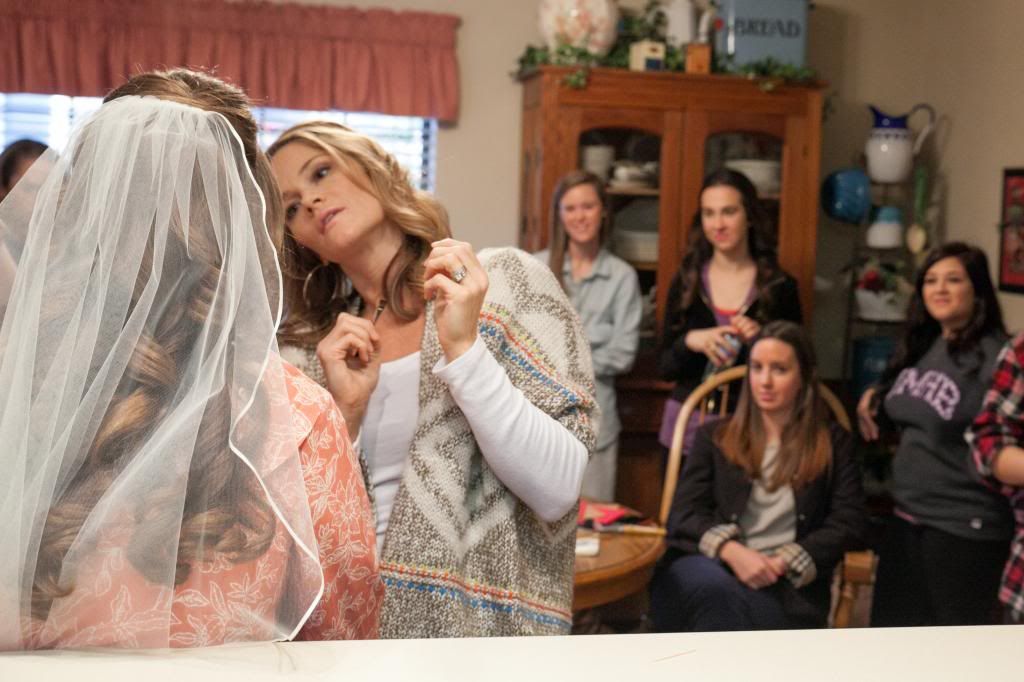 I love this image that shows my incredible support system on the day of the wedding. All of these ladies are so incredible!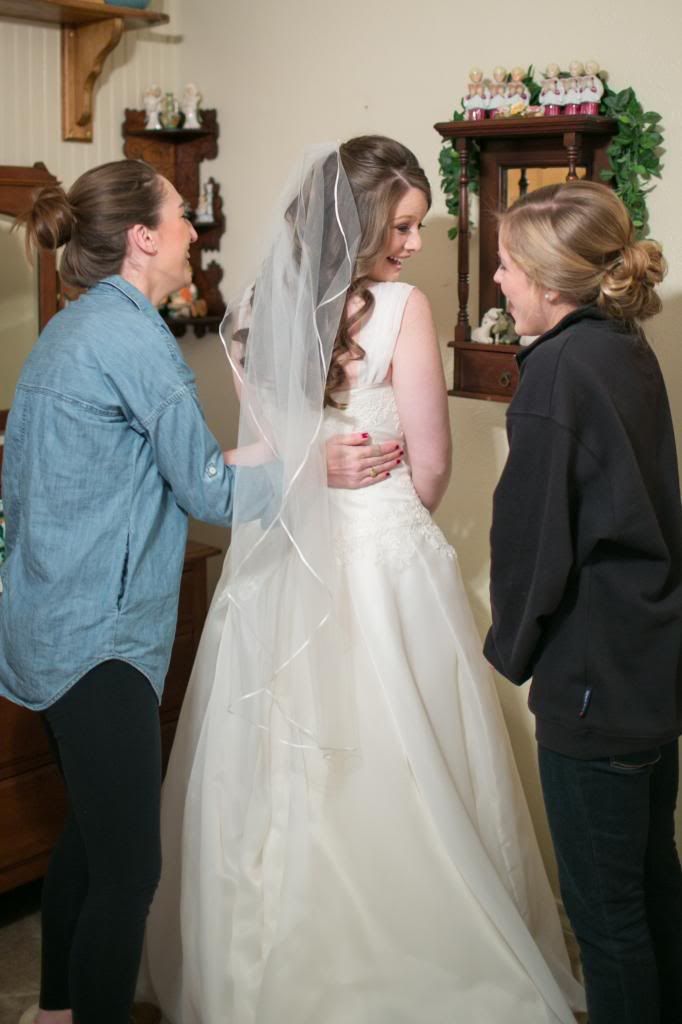 It was such a special moment for me to get my dress on with just Lucy, and my Theta little/bestie, Megan in the room. They made me feel so loved and beautiful!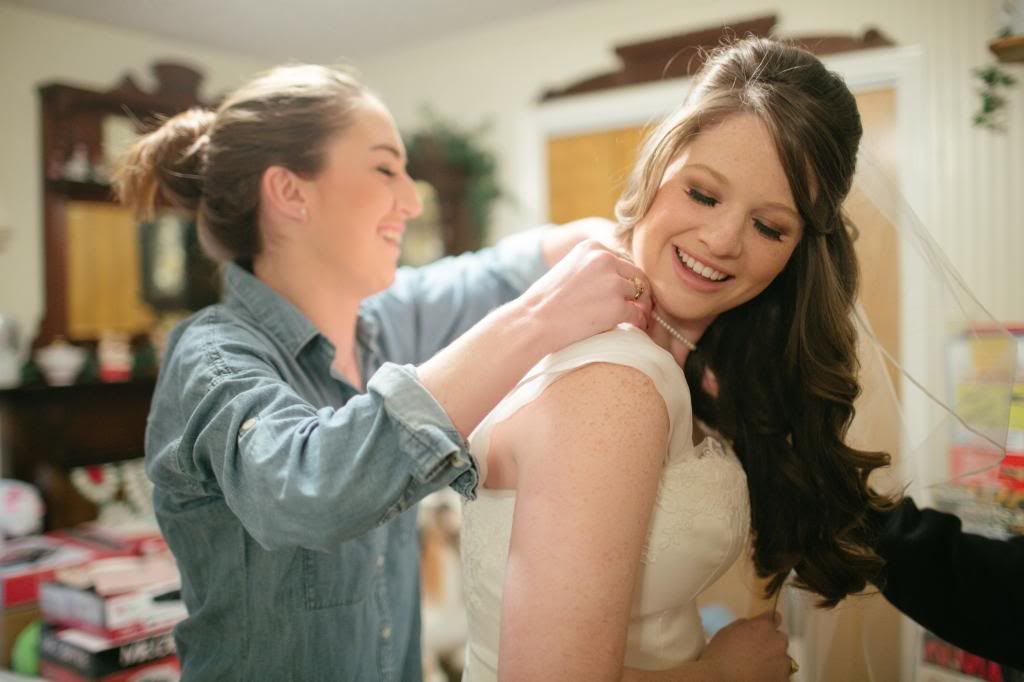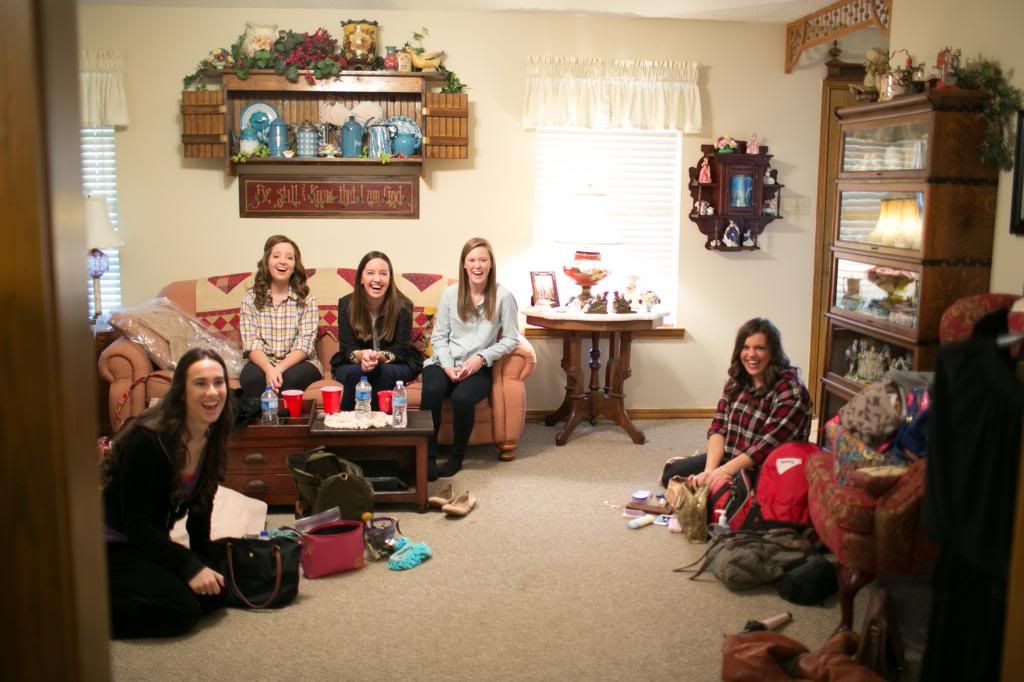 This was the view that greeted me when I came out all dressed. What precious friends! This photo makes me miss them so much! I hope it also shows you the comfy, cozy atmosphere we were in prior to the wedding.
Hope you enjoyed seeing our "Getting Ready" photos! Next up will be details and first look! Yippee!