Introducing, my friend Callie's
new blog
!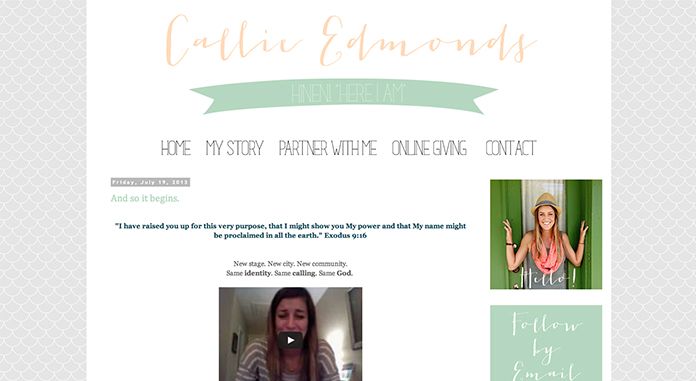 Callie is a sorority sister and a dear friend whom I have had the pleasure of knowing during college. She came to me a few weeks ago asking for help with setting up her new blog. Why did Callie suddenly need a blog? She is going to be serving as a Connections Ministry intern at The Austin Stone Community Church in Austin, Texas! Callie needed a tool to communicate with her supporters and friends as she journeys on the path that the Lord has set before her in ATX. During college, Ben and I visited The Austin Stone once with some friends and really enjoyed our time there. It's such an encouragement for us to see friends of ours serve in various capacities.
Callie was brave enough to let me design her whole
blog
! WHAT?! Who even knew I could do that? As I have started experimenting with some graphic design basics, I've loved every bit of it, and Callie's blog taught me so much. For that, I am thankful. If you are in need of a simple and inexpensive blog design, party invitation, or announcement of any kind... email me! (victoriastrader9@gmail.com) I'd love to chat with you about your needs and create something lovely together!
If you are looking for someone to support financially or through prayer, Callie is someone that we wholeheartedly trust and support in ministry. Check out
her blog
, encourage her, and follow along with the encouragement of her faith journey of obedience!