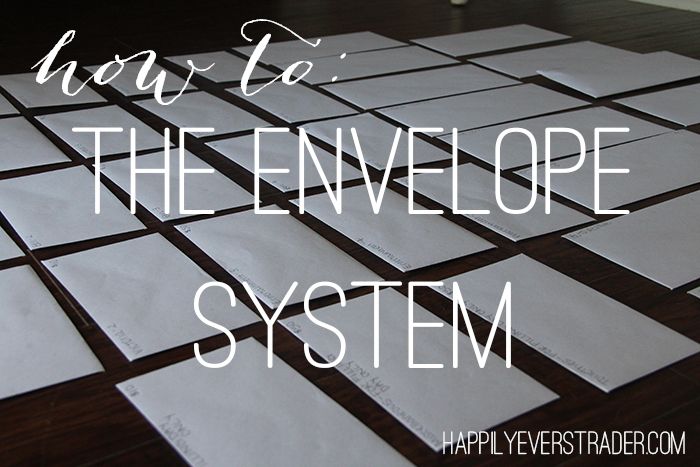 For some of you, this may be a "Pin now, read later" post. If so, click the image above!
If you are anything like me six months ago, you have already decided you want nothing to do with the envelope system and are not even going to read this post. Well, let me stop you there.
Before we started the envelope system, I had worries like:
Carrying around cash makes me nervous, what if I loose it or it gets stolen?
I don't want to take the extra time at the cashier, digging through my cash and coins when I could just easily slide my debit or credit card.
I like seeing a list of where my money has gone in my online banking.
Real honesty: It sounds like a pain and I don't want to do it.

I hear you, I really do. I made that list very easily because those reasons are things that I told Ben when he expressed interest in wanting to use cash, and the envelope system. It is my hope and prayer that through reading this blog post you will have some questions answered, and start to see that you could adapt this version of the envelope system to work for your family.
Before we get to the nitty gritty, let me just say that no one is perfect. This is a work in progress for our little family. It has already blessed us so much but there have been different little things I've changed about this every single month. The goal here is for you to figure out something that works for YOU. That may be different from your mom/sister/best friend/neighbor.. AND THAT'S AWESOME! There may be parts of our process that you think are ridiculous, or you may see things you think could be changed or fine tuned. Do it! Try out changes and shoot me an email (victoriastrader9@gmail.com) and I would LOVE to hear about it. Please do the same if you have any questions at all! If something is not clearly communicated, or you have a question about a certain money scenario or anything at all, just email me and I'd love to help you or point you in the direction of someone who can. I constantly text my sister in law questions about the envelope system. She's who introduced me to this organized way of handling family finances.
The one complaint that I had about
Dave Ramsey's Financial Peace University
, is that it did not give you a step by step on how to do the envelope system. It just said "do the envelope system". Boo. I'm a girl and I need detailed directions. That being said, I did not come up with basically any of this. Our sister, Kayce, taught us everything that was taught to her by Brenda Haley, who does the
Budget Ministry at Denton Bible Church
in Denton, Texas. Her ministry is meeting with families and helping them create budgets with the ultimate goal of a debt-free lifestyle. I haven't met Brenda Haley, but probably need to mail her a handwritten thank you. This has rocked our world in so many ways. Okay. Let's get to it! (I have a hunch this might just be the longest blog post EVER!)
Note:
None of the images in this post have been edited. Photoshop does not allow you to edit images with money in them. I took this as a sign that I could take it easy and not edit any other images. :)
A plastic tupperware to hold all your envelopes
a box of 3 5/8" x 6 1/2" envelopes
a box of 4 1/8" x 9 1/2" envelopes
a small accordion file for a wallet
manilla card stock for box dividers
Monthly Cash Worksheet and Cash Breakdown Worksheet (FREE printables coming soon!)
a few paperclips
Step One: Make your Budget
To start, you need to establish categories for spending, and settle on an amount of cash for each category.
Our monthly cash list looks like this:
As you can see, I showed you the amounts that we use for some categories, and others were left blank. It is our goal to live a completely transparent lifestyle with nothing to hide, but I thought it might be a little tacky to just reveal every little bit of our spending habits here on the interwebs. That being said, if you are trying to decide on an amount for something and want to know our numbers for reference, just ask. I don't feel weird at all about revealing anything to you in a private email. If it can help someone, I'm all for it. Just ask. :)
Note:
These sheets were typed up in Microsoft Word, and printed onto card stock.
Step Two: Get your Cash Each Month
Yes, our cash needs to come home in two big envelopes because of all the different bills. :)
The budget sheets go nicely in my planner (
Emily Ley's Simplified Planner
) under the tab for "Home" related things. That way, when I go to the bank to get out cash, I can just show the teller my Cash Breakdown list and he/she can easily get the money together. I think that they find this helpful. :)
Note:
If you are worried about bank tellers being frustrated with your request for all the different types of bills, let me tell you that I have never had an issue! Every month when I go to get the cash the ladies all ask how the envelope system is going and I get to tell them how awesome it has been for our marriage!
Another Note:
When we started this system, Kayce (our sister in law) told me that when the tellers gather all the cash they will sometimes ask "do you need me to count it?". She said that she always says yes, not to be tedious, but because it is her responsibility to her family to handle her money with wisdom and make sure that there are no errors. I have followed her with this and will continue to do so. Most times the tellers will just count for me without asking, but if not, I am not ashamed to ask, and you shouldn't be either. :)
I go to into the bank once a month, towards the end of the month, to get the cash allowance for the next month. I bring it home to set up envelopes for the month, and that leads us to....
Step Three: Set up your Envelopes
This is our box of envelopes. It keeps everything organized and happy! It holds all the envelopes that aren't being carried in my wallet at the time.
We (Kayce and I) set up the box to include little dividers, so that I know where the different envelopes are.
Let's take a look!
Weekly Envelope Categories (Grocery, Entertainment, Ben, & Victoria) have five envelopes of the same label, like this.
Let me explain. During the first week of the month, I will carry around "Groceries- 1" in my wallet. The next Sunday, I will put the "Groceries- 1" envelope back behind the divider and get the next one. And so on. The manilla divider is pictured above with the envelopes in it's category. Each week when I get the new envelope is when I move the leftovers into the "Extra Money" envelope.
It looks like this.
The paperclips are inside the envelope so that when we have $100 of extra money saved, I can paperclip those bills together. It just helps me stay on top of our savings and keep me from recounting it on a regular basis.
Note:
The weekly envelops are made out of 3 5/8" x 6 1/2" envelopes and ones that are savings envelopes are bigger, 4 1/8" x 9 1/2". The weekly envelopes are sized to fit in my wallet, and the bigger ones are sized to hold a larger amount of bills.
For reference, the other weekly envelopes and their manilla dividers look like this.
Oops! I forgot to photograph the envelops in the "Gifts" divider. That includes the Christmas envelope, the Giving envelope, and the Gifts envelope.
The box is a great way to keep all of the envelopes organized, but I can't carry it around everywhere. That's why each week's weekly envelopes (Groceries, Entertainment, Ben, Victoria) and a few others go in my wallet.
What does my wallet look like?
Admittedly, it isn't the most attractive thing, but I'm obsessed with it. It keeps all my envelopes organized and happy. :) Kayce gave me this blue folder when I started using this system, and I have since discovered cuter ones. However, I am currently experiencing the high of the joy of saving money so I'm putting that purchase on hold. :)
In the first flap, I keep all receipts (misspelled above, awesome!). This makes returns super easy. Every week when I trade for the next set of envelopes, I also move the receipts over to a box I have in my desk. It looks like chaos, but they are automatically organized chronologically from me dumping them in there, and I can easily find what I need if I need to return something. I clean this out every few months, when return periods have already expired anyways.
As you can see, I store the grocery, entertainment, and weekly (my Victoria $10 envelope) in the first few flaps. Skip back a few, and I have a spot for gift cards, my hobby fund (labeled Home Decor), and also a folder for deposits.
Deposits work like this. I have my envelope of gifts money at home in the box, so what do I do when I'm running errands and find the perfect gift, yet, do not have the cash from that envelope in my wallet? I will use my debit card to purchase the gift, with the amount budgeted for gifts (at home in the envelope) in mind. Then, when I come home, I will move the amount I spent into the deposits folder, putting it back into our bank account at the ATM whenever I'm passing by one. That eliminates the fear of carrying large amounts of cash, yet I am still spending with the boundary in mind. Ya with me? :)
Step Four: Fill your Envelopes
Once a month, I have my big stack of cash from the bank, and need to get my envelopes organized for the next month. If you are worried about spending a ton of time on this, it takes me about 20 minutes every month. Not a lot of time considering the large impact that it has made on our marriage and money spending habits. Here's how I do this.
First, I separate the bills into their amount values. This shows me what I'm working with, and makes it easy to quickly fill envelopes.
Then, I spread out all the envelopes on the floor. I probably look like a crazy person when I do this. But I kind of love it.
I then grab my planner, and flip to my Cash Breakdown sheet. Remember that, from Step One? It looked like this?
Using the Cash Breakdown sheet as a guide, I fill envelopes. I look at the label on each one, then see how many of each bill needs to go in each envelope, and set those bills on top of the envelope. Like this, for groceries.
Why just set the bills on top of the envelopes? Although you have your Cash Breakdown sheet, there is a large chance you'll finish with extra cash or not enough, due to a small mistake you've made along the way. I think every month I will accidentally put an extra bill in an odd place or something. Because many of these envelopes are "Roll Over" envelopes, if you immediately put the cash in the envelope and then find a mistake at the end, you could never find that mistake, not knowing the exact amount that was in the envelopes before you added more. It will also save you from opening all the envelopes multiple times. Trust me on this one, set the cash on top, double check everything is great, and then finish with tucking the cash inside.
Rewinding a little bit, I ALWAYS keep cosmetics, toiletry, and miscellaneous envelopes in the wallet. They only get refilled monthly, but I use the categories enough that I need to keep the envelopes with me. I have a set of them in the box, and a set of them in the wallet. Here's why.
When I have spread out all the envelopes from the box on the floor to fill them with cash, it would be easy to forget about these three categories, because they always remain in my wallet. I made these three which always sit empty in the box, to solve that problem. I use them to lay out on the floor when I am dividing the cash for each envelope.
After all my cash is laid out on the envelopes, and I am actually moving the cash into the envelopes, I take the bills off of these three categories, and put it into the envelopes in my wallet. See the photo above for clarification.
Note:
I made sure to label these "FOR FILLING DAY ONLY!!!" so that I know not to put the cash in those envelopes. You could always label them with a highlighter or something if needed.
Yay! You're done with filling all your envelopes! Now put them back in your box and wallet, and you're equipped for Financial change!
Step Five: Maintain the System and LOVE YOUR LIFE!
I know this is about the longest blog post you've ever read/ or probably not read in your life. But I promise this is extremely simple maintenance. It takes much less time than I would spend constantly checking a debit or credit card and seeing amounts add up and stress me/Ben out. We are so thankful for this discipline.
Here are some things to consider:
We don't choose to budget for gas. We pay for gas on our debit cards (I really didn't want to be going inside the gas station to pay for gas with cash each time, sounds silly, but it's true!) and because we can't control the cost of fuel, we didn't see much of a reason to set a budget for it. We couldn't really limit our driving because of a certain number we had set for our cars. We have places we need to drive to, but don't just go crazy and joyride to burn money away.
None of our monthly bills are included in the envelope system. We pay all of our monthly bills, our mortgage, give our tithe to our church, and support ministries through online payment or checks that I mail. These amounts are the same every month (within reason) and are expected.
The envelope system does not account for any investments that we make, Ben takes care of those with some help from outside sources.
You can have envelopes for literally anything. If you want to save money for a vacation, you could set a budget for that vacation, divide it by 12 months, and put aside that new amount into an envelope each month. At the end of the year, you'll have enough saved for your trip, and your bank account won't take a hit.
This system is all about planning for everything, so that there are no unexpected or irregular losses of money.
If you are worried about fumbling around with your envelopes or are shy about it, go to self check outs whenever possible. I almost always do at the grocery store. I will do a transaction for grocery items, and then one for items from the toiletry category or whatever I need to do. I am also not shy about telling the cashier at Target or wherever that I need to do two separate transactions. I have never had someone be frustrated with me, only interested in what we are doing!
Obviously the given budget was created for a newlywed family of two. If we had a child, there would be more categories and higher amounts in some places. I would encourage you to sit down with your spouse and discuss a way to use this system that works for YOU!
Every week I just take Ben's $10 out of his weekly envelope and give it to him to put in his wallet. He doesn't have envelopes that he carries around. :) If he needs anything in specific, I usually buy it for him, or he comes and gets his hobby money out of the box. I also always have the cash for our meals if we are eating out somewhere, which hasn't bothered us at all.
If you are single, even being a college student, I really think this can work for you too. Sit down and think about the areas in which you save money, and equip yourself for future savings! Ladies, think about how awesome it would be to surprise your future husband with money you have been saving for your future with him. Even if you are totally single now, you never know when this may change. I know that providing is the male's role in the relationship, but it couldn't hurt to help out a bit! :)
My favorite thing about the envelope system is that it allows you to spend your money GUILT FREE. Because your amounts and categories have already been set, you don't have to feel like the money could be going to good use elsewhere. I have $80 a week for groceries, and I can use that amount, buying lots of great fresh produce and whatnot. The money has been given a place to go and it's okay to spend it, as long as it's done with thought!
Keep in mind that it takes a little bit to get used to this system! Give yourself grace! The first month we used the system, we only used it for groceries, before going to everything. Again, figure out something that works for you.
I will use this system until I'm an old lady. TRUTH.
If you've skimmed this post and think it may benefit you later in life or you want to come back to it later, or just want to support our blog, go ahead and put your mouse over the image below, and pin this post to your Pinterest board!
Let me leave you with this encouraging scripture that has helped me through this process.
Again, PLEASE feel free to email me if you have any questions. If you are shy to reach out, remember that it would be so welcomed by me, and it would encourage me so much!
Have you tried this? Does any of my lengthy spiel make sense? Do you want to pull your hair out? Do you have any questions you want to ask off the top of your head? Are you wondering where Matilda's $10 weekly fund is?!?!?! Comment Below. :)