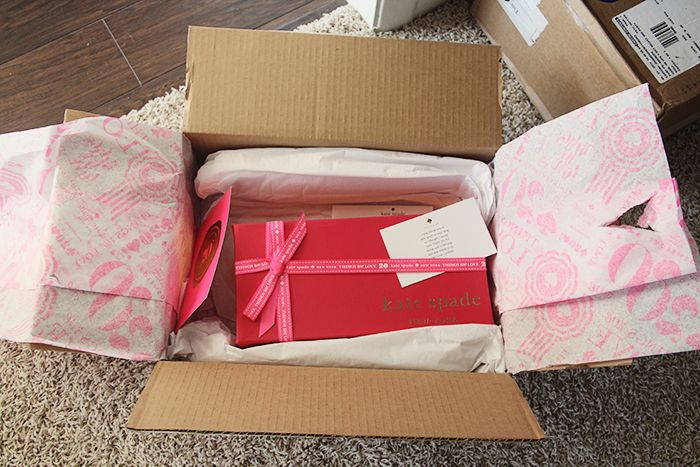 Yesterday, I came home to a package by my front door. We often order things online so I wasn't sure what to expect. The package was for me, and the return address was Kate Spade.
I immediately texted Ben and asked if he had gotten me a treat and if I could open it. I was literally giddy like a school girl. He responded quickly from work and told me to just open it, and that it wasn't from him.
When I opened the box and saw a shoebox and a note, I started crying. The box was from my dear friend Lyndsey. Lyndsey is the sweet girlfriend of Jon, who is the brother of two of my oldest and dearest friends, Liz and Kristen. You can read about them a little bit
here
. I met Lyndsey at the beginning of the summer and was immediately captivated by her. You know the kind of people that just make you feel loved and cared about in every conversation? That's Lyndsey. After every interaction I had with her, our friendship grew, and I was always gabbing to Ben about how much I love Lyndsey and Jon and how precious they both are. Which is true. They have a really mature relationship for people their age. I'm constantly encouraged by time spent with them.
Lyndsey and I have gotten really close over the past few months after she started her freshman year of college. That's an overwhelming and crazy time, and I have loved getting to walk through it with her and just get to visit and encourage one another. I didn't expect for her to mail me Kate Spade shoes.
The thought that kept running through my head is "WHO DOES THIS?!" Not very many people would think to send such an extravagant gift (unless they were on one of those Real Housewives shows) This gift left a huge imprint on my heart.
I knew that every time I looked down at my bold, sparkly shoes, I would think of the story of how they were gifted. Lyndsey said she felt like God was telling her to bless someone who had blessed her. She didn't have a ton of money, but she gave me a sacrificial gift because she knew it would make my day. That is how I want to love people. I want to love people like that daily, no questions asked.
Whenever I'm lacking confidence or feeling down, I'll reach for these shoes. It sounds silly, but they are such a symbol of how the Lord wants us to love others. It was selfless and thoughtful and intense. I want to be more like Lyndsey. When I opened this gift, I started texting the story to so many people. I was so inspired by it and wanted everyone to know. It was just so surreal for me that a friend would do something like this for me. It was a contagiously joyful story, one I wanted everyone to know. Especially my blog readers. :)
I never in a million years thought the first thing I'd be crossing off the list after sharing would be "94. Own Kate Spade shoes". My
101 in 1001 list
has been such a blessing so far. So many people have expressed wanting to help with my list, it's created a whole different dynamic of community that I didn't expect. I'm so thankful.
Have you ever gotten an incredible gift like this? Are you as inspired by it as I am? Happy October, friends!