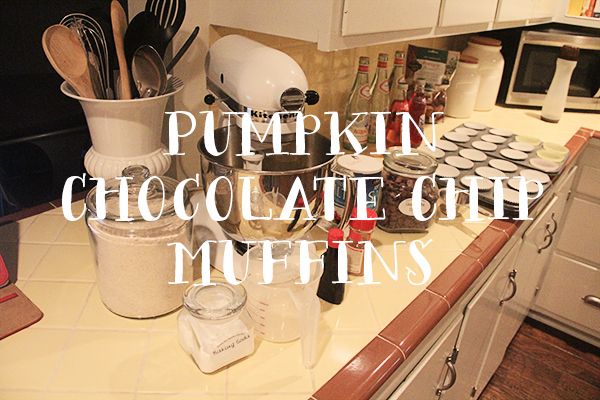 This week, I tried a new recipe, from
Life in Grace blog
. We had a good friend of ours come to stay with us on Wednesday night, and I knew I wanted to make a fun, seasonal breakfast food. These muffins didn't make it to the morning though... we devoured them before and after dinner. Oops! They were so good, and I think that one of the reasons I loved them so much is the use of whole wheat flour. I wanted to share this recipe with y'all, just in case you were planning on entertaining this weekend or were just in the mood for something sweet and yummy!
Ingredients:
1 1/2 cups all purpose flour

1 1/2 cups of whole wheat flour

2 cups sugar

4 eggs

1 1/4 cups of vegetable oil

1 t. salt

1 t. soda

1/2 t. baking powder

2 t. vanilla flavoring

1 can pumpkin puree (not pumpkin pie mix)

1 t. cinnamon

2 cups chocolate chips
What to do:
Mix the sugar, eggs, and oil together in a mixer until light and smooth. Add the rest of the ingredients, except the chocolate chips and mix well. Add the chocolate chips and bake in muffin tins for 14-18 minutes at 400. This recipe could be halved to make only 12-15 muffins but I always make plenty and share!
The recipe and Edie's writeup can be found here.
Any other delicious recipes you've tried lately that I need to know about? Fun plans for the weekend?
Psssst! We are having our home photographed on Sunday by
Zac & Kaitlin Photography
. Today is going to be filled with working on floral arrangements and last minute styling. SO excited to share this project with y'all!