Does your email inbox ever get out of control with subscriptions? Until recently, I was deleting tons of emails each day. While I was at
Making Things Happen
, I connected the fact that the time I spend doing something so silly, could be spent doing things that are meaningful. What seems like seconds becomes precious when you realize you're wasting them each day.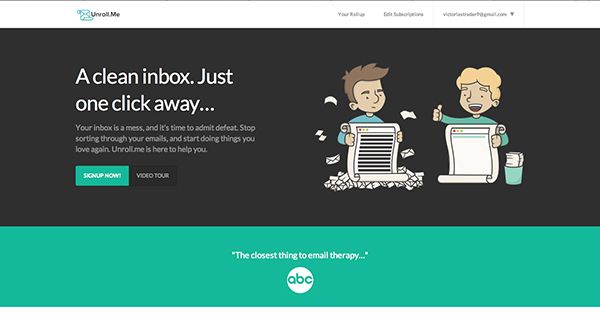 Then I discovered
unroll.me
, a site that helps you organize all of your subscriptions. This is what the homepage looks like. You can login to your email account at the top. I believe they support most major email providers.
They will then pull up everything that is sent to your inbox. Mine is now down to just 24, which may seem like a lot.. but it's a HUGE cut down to what I got before. Several of these things I don't get daily or even weekly. As you can see, along the top you have the option to view all of the things you have sent to your inbox, the things you've unsubscribed from, your rollup, and new items.
The rollup is if you want to receive one email a day with a bunch of subscriptions all posted in the same email. I don't really like this method, because I might miss something that I would have liked to see. I keep zero things in the rollup, but for some, this might be great!
When you first login, all of your subscriptions will be under new items. You can then go through and decide if you want to add the item to your rollup, unsubscribe, or keep in inbox. The image above shows the things I chose to keep in my inbox.
As you can see, I've unsubscribed to 102 email subscriptions that have popped up someway or another. A lot of them come from online shopping orders.
I decided to keep my inbox to a few promotional emails from places I legitimately shop at on a regular basis, inspirational newsletters, and things like banking or upcoming events.
What about y'all? Could this help you out? I hope so! I check in to unroll.me once every few weeks to deal with any new items that have popped up, and it really simplifies things for me.
Also, I had to share this cute photo.
Yesterday morning I watched one of Ben's cousin's daughters. We had such a sweet time, she was cuddly and polite and rocking these precious socks. Three year olds are way too cute.