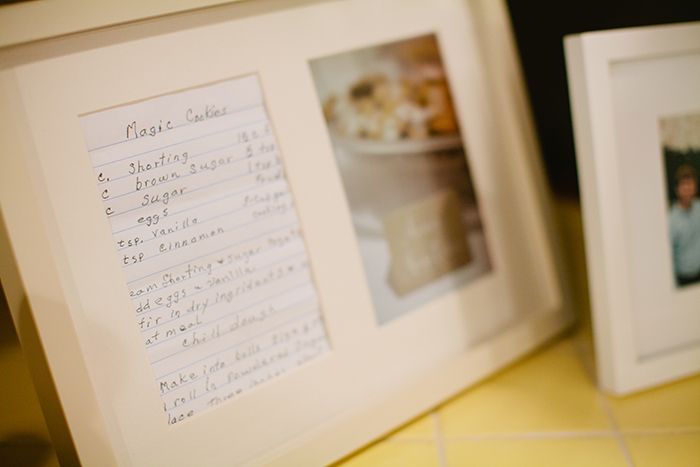 One thing I really wanted to put on my
101 in 1001 goals list
, was having Ben's Meme write out her signature cookie recipe. I specifically chose her, because I had a professional photograph of her cookies that she made for our
wedding reception
.
After finally getting on the ball, I'm super inspired to have more relatives do this. I mean really, look how cute in the photo above! I just used a frame that held two, side by side 5 by 7 photos. This frame is currently sitting on our kitchen counter (howdy yellow countertops!) but I am potentially going to move it over to the dining area for a small gallery. Oh yeah.. If you follow me on
Instagram
you know that there is a dining room makeover in the works! I had really been struggling in that room with our turquoise walls.. I finally just decided they were more "bachelorette pad-ish" and painted those babies gray. I'll share a look at the color later this week! :)
Now, I'd love to see y'all run with this idea and get some relatives to write down their signature recipes. I know that one day we are going to cherish having that handwriting on our walls. I hope it was an encouragement to Meme that we wanted to showcase her recipe in our home. Something that I have learned in my almost one year of having intercontinental grandparents, is that your encouragement means so so much to them. This idea could also be used as a Christmas gift... get creative with it, friends!
What are some of your family's signature recipes? I'd love to hear! Or even, have y'all share them in the comments! Thanks in advance! :)
Note: Image courtesy of
Zac and Kaitlin Photography