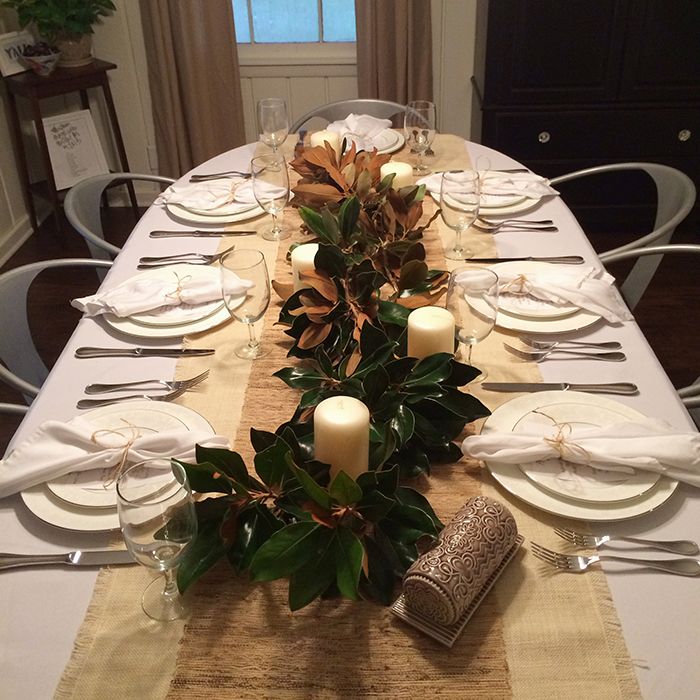 Last night was the first of several festivities we'll be hosting during the busy and fun week of Thanksgiving. Apparently Friendsgiving is a worldwide accepted thing that everyone does.. but for good reason. I have lots of fun photos and details to share about hosting, but something is wrong with my SD card reader and my computer won't get photos. :( We have a doctor's appointment for the computer at the Apple store... so stay tuned.
I will say, that even the process of setting the table for this event brought me such joy. It was so fun for our wedding china to be used for the first time, and to snip a few branches off a tree. I had a sweet moment when I realized that each piece on the table had been given to us by someone different, at our wedding. It was such a collaborative effort to pull our first holiday together, starting from the table we sat around. That made my heart full.
I am thankful to say that my first ever turkey was a success, and everyone left full and happy! I did forget to snap a photo (HOW?! I don't know.) of the bird before the boys dug into carving, but we'll just take one on Thursday and pretend. :)
It will probably be quiet around here this week... Ben is off work all week (teacher perks!) and I'll be soaking up as much quality time with him as possible, as well as prepping for some other fun things going on this week.
From the bottom of my heart, I wish you and your family a happy Thanksgiving. Whatever your circumstances are this year, I pray that you'll be filled with a thankful heart.
Is anyone else hosting this year? Any last minute tips for me? :) What about a friends giving? I love it!
Thankful for you all and the encouragement you bring! Also, bring on Christmas decor!