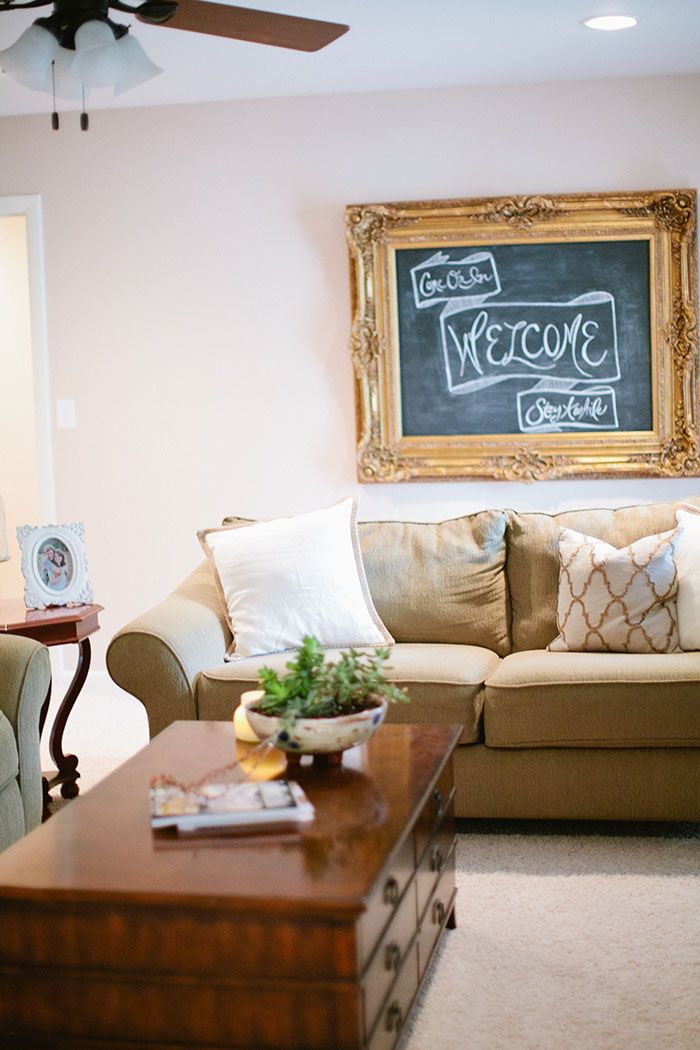 Since we moved into our house, I've been obsessed with making it homey, welcoming, and beautiful. I've poured over design websites and books and shopped online for deals on pretty things relentlessly. When we were engaged... I used to put pinterest time on my to do list. I wanted to create a home that we would love.
This week marked a year since I moved into our house. I also reflected on a year from when we bought the house, here. For some reason, this event triggered a lot of thought in me. I moved every year of college. Sometimes twice a year with moving my things home from the first place and then from home to the second place in a summer. That's a lot of moving... and I didn't realize until it was over how much my heart just needed a place to rest. It is such a relief and a blessing to not have a move anywhere near in sight. As of this week, I've lived in our home longer than I've lived anywhere since Spring 2009.
I know that I love home decor, and I know that I love arranging furniture... but WHY. Why do I feel like decorating is something that gets my heart beating fast? Why do I feel like it's one of my passions? Looking back over the past year.. there have been a few big obstacles I've had to overcome.. but overall, I've started and embraced several things that I never thought I would have the courage to do. For so many years of my life I've felt like I'm filled with dreams.. but no confidence or encouragement to make them happen. Grabbing ahold of my dreams and working towards is most definitely a direct result of the above and beyond support I receive from my husband, and also my experience at Making Things Happen. But another huge credit I give.... is to the home I've now lived in for a year.
Our first home... I believe that having a place that we can build from the bottom up has changed my life. Even with encouragement in the different places I've lived over the years... It's never been something that I can make decisions for myself (Ben and I obviously make decisions together now, but we're pretty in sync so I don't feel like I have to compromise on anything of substance). Our home has provided a place of rest and security for me, and I believe that's been a huge motivator. When we've been physically sick, or even just a little sad... our home has been a place of healing. We've found it cuddling in the cold under our fluffy white comforter or making a meal in the kitchen or even by folding laundry. These walls have been a place that we choose to fill with encouragement and positivity. It's my hope and prayer that no negative talk will take place in these walls. I want the character of our friends and acquaintances too be lifted high here, not torn down. I have never been yelled at in these walls. I have known that it's okay if I make a mess while trying a new recipe. I've been able to express my creativity through the decorating process. I've been confident opening my door to anyone and everyone at any time, for any reason.
My heart has been captured by the idea of making our house into a home that truly welcomes others. I want people to feel cozy, comfortable, encouraged, clean, and loved in these walls. Our house is a true sanctuary for me. I love being home because it's a place that makes me feel supported. I want others to feel that way too. And that's why I've been obsessed with making this place. With finding a furniture arrangement that lends itself to good conversation, with putting our cups in open shelving so everyone feels comfortable getting a glass of water when they're thirsty. Because I believe that this home has changed my life. I want our home to always be a place that nurtures our family and those who enter our doors. I'm so thankful to be able to reflect so fondly on our first home. It also makes me wonder... what in our lives will have changed after having such a wonderful place of rest in five years? ten years? It's quite fun to daydream about... :)
Psalm 116:7 "Return to your rest, my soul, for the Lord has been good to you."
Exodus 33:14 "My presence will go with you, and I will give you rest."