Texas was hit with a massive load of snow and ice (okay, mostly ice!) last night. We knew that Ben had the day off of school just minutes after he got home last night. We celebrated with Chicken Enchilada Soup in the crock pot (so delicious and cozy!) and yes, we watched the Carrie Underwood Sound of Music. I loved it, whoops! I know a lot of people are complaining about Carrie's acting. Which okay... wasn't necessarily the beeeeeestttt. But the performances were great and it was just plain fun. It wasn't an action movie so Benjamin Luke was sawing logs next to me before long. :)
How to Have the Happiest Adult Snow Day
Your outdoors should look like this: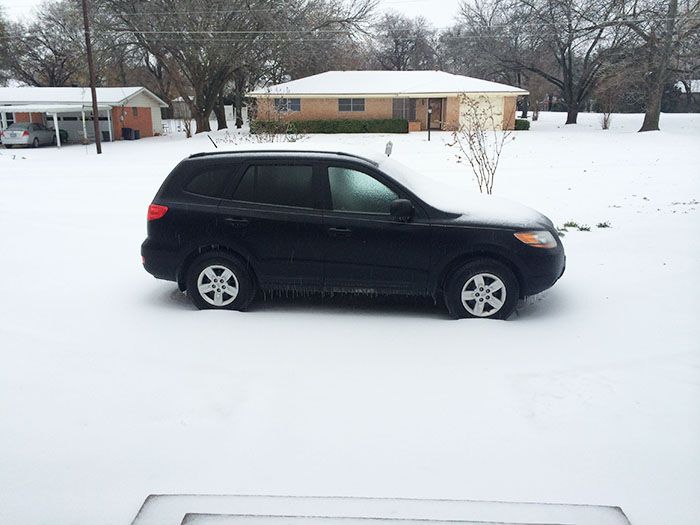 with a little bit of this:
Bonus points if you can get your pup to escape the warmth to come play with you. More bonus points if your pup is an English Bulldog.
A festive candle should be lit IMMEDIATELY. This is essential. All other things rest on it. Bonus points if your candle has a photo of some red mittens playing in the snow.
If you are like my husband, wear long johns. Sweatpants pictured over said long johns to protect the hubby's booty from being shown via the inter webs.
Request your husband/mom/roommate to cook breakfast for/with you. Ben served up some delicious breakfast burritos in whole grain tortillas.
Note: I braved the grocery store yesterday at noon (along with a MILLION others) to get some food for our snow day. They were sold out of green peppers. #overit
Your slippers should be on.
Snuggles should be had by all!
You can work on your Santa list. Dear Santa Claus, I like
this
. And
this
. And
this
.
Hot Chocolate should most certainly be made. Bonus points if you have leftover shaved chocolate from the Hot Cocoa bar at your wedding. :)
You should also stop by my dear friend
Nicole's blog
.. to read about an amazing cause that she's fundraising for.. and see her beautiful new blog, designed by
yours truly
. :)
You should curl up with a book and relax. How often does the world stop? Not very often.
Oh.
And listen carefully. This is VERY important.
You need to be enjoying your Christmas tree!
Happy snow day to all, and to allllll a good day! :)
PS. Congratulations to KATE KUBLER for winning the giveaway! I was so excited about all the entries and wish I could gift to you all! XOXO