As much as I love blogging for so many different reasons, a huge joy in it is that one day our children will be able to read all about what we were like, how we lived our lives, and things we wanted them to know.
This post is one of those things that is written with my future daughter and nieces in mind.
As I shared here, I've been on a journey to figuring out what healthy looks like for me. Growing up, I never really understood or was taught about healthy foods and being active in a way that was fun and enjoyable for me. I struggled with this, and only now, at almost 23 years old, do I see the importance and value of putting my heart and soul into my health. But I was sitting in our living room today and I caught a glimpse of this photo across the room.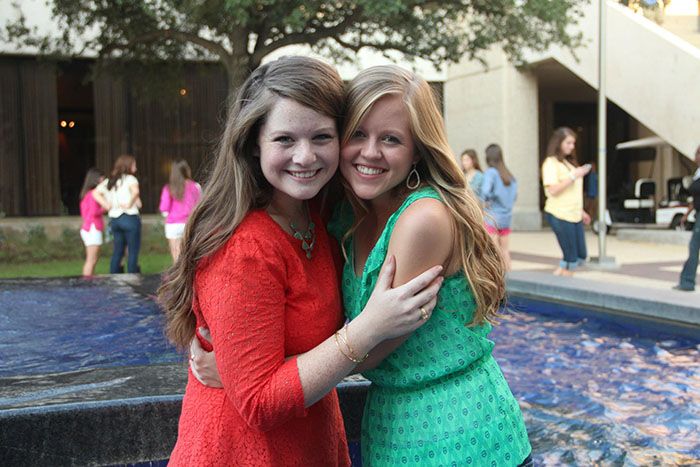 I don't know why.. but this image really made me joyful. It's a photo of me and one of my very best friends who I care so much for. It's a photo of a day we had anticipated for awhile. I remember carefully picking out the details of my outfit. (That's probably the last time I've worn bracelets! haha!) It's not the most amazing photo in the world of me, but I feel like I look like myself. I look really happy.
It really caused me to think about how in all of this.. in lifting weights during commercial breaks of the Bachelor, in eating tons of grilled chicken and veggies, in trying new things in front of intimidating people at the gym... the goal is to look like a healthy version of myself. Never anyone else.
Not to sound like a million other articles, but being constantly surrounded by photos allows comparison to come easy, and a lot of times the goal turns into "dressing like __________" , "wearing my hair like _________" or whatever. But I'm never going to look like anyone else other than myself. I'm never going to be tan, or blonde, or short, or a lot of other things. And that's just fine.
There's nothing wrong with a desire to be healthy (in fact, it's SO good! I'm so excited about it!) and I cannot wait to teach my future unborn babies of how much value is in them, and how important it is for them to know that, to walk in confidence daily, and to take care of the bodies that the Lord has gifted them. But I never, ever want it to turn into a quest to become a different person.
A friend I met on a mission trip a few years ago surprised a few of the girls by sharing that she had lost 100 pounds in the past year. It's funny how we were meeting her for the first time and had no idea. Her whole motivation is that she felt like she needed to make her body healthy in order to serve the Lord better. In order to go places and do things and walk out her faith. Although I haven't talked to that friend since our trip in 2011, I think about her often. Her heart was right and I loved it.
Part of my
2014 vision
is to be a STRONG woman of God. I think a lot about our life in ten years, and I prayerfully envision us with several children, in a maintained home, serving my husband and children and community faithfully. I feel like I'm always holding one child and holding another's hand and checking on dinner. I want to be STRONG and active and play outside with our babies and to chase them and for us to do things as a family that allow for enjoyment of creation.
And in all of that, I want to still be the me in the photo wearing the orange top even though it was really bright and scared me a little bit.
I want my daughters to grow up being the healthy, confident young ladies because they are loved and created in the image of a holy God, created to run around and enjoy as opposed to sinking and hiding.
I want them to know that years before they were born their mom tried to change old habits in order to prepare her body to love them well. Maybe I'm totally ridiculous. But that just seems really good to me.