On December 29, 2012, I got my first ever (and only ever) husband.
I also got my first sister.
I'm thankful for the two more brothers I gained as well, but there was something special about getting a sister. Kayce is Ben's older brother Sam's wife. I will never forget on the night that Ben and I got engaged, she posted a photo to Facebook saying that she was getting a sister! I was obviously overwhelmed and surprised and just straight up crazy about all the other things that were going on, and that was the first time I had thought about it. It was just really fun for her to remind me. :)
Since then, I feel like every time I spend with Kayce I walk away wanting to take action in some way. I become inspired to comb through scripture in different ways than before, to treat others in far better ways than would ever even pop into my nog, to create practical and beautiful things... she has answered approximately 1,000 of my questions and decorated several boards of chalk art for our home. There's just something that makes my heart feel full about having a sister. I love having someone to vent to and laugh with and be girly with in a family with three brothers. We are so blessed by the closeness of our siblings on Ben's side of the family (all five of us!) and I think approximately six months there is a thankful prayer speech by Ben's dad being overwhelmed with joy at how close we are and that Kayce and I are really genuinely friends. Every time we eat it up and it reminds me to be thankful for that.
Any who, the real purpose of this post is to announce that I'M GOING TO BE AN AUNTIE!!! YIPPEEEEE!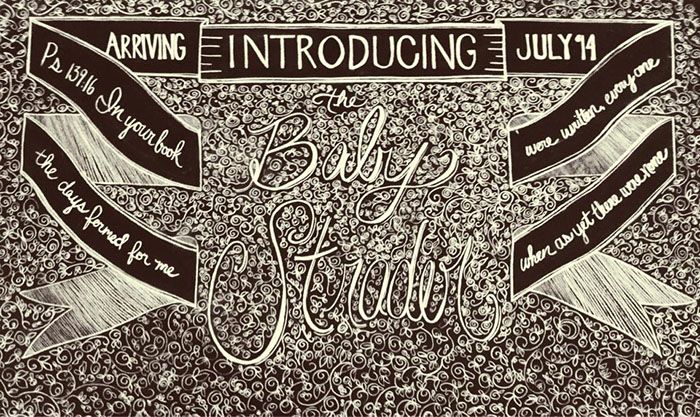 Kayce made this chalk art to announce the pregnancy on social media this weekend. Isn't it amazing? I think it turned out really beautifully. I knew this would happen, but after sharing the photo myself quite a few people got confused and thought that we were the ones who would be welcoming a little one. I specifically included the photo farther down in the post to help you avoid that little shock process. Hoping it worked! :)
We are seriously SO thrilled to welcome the first baby into our extended family... AHHH YAY! The night that they told us (right before Thanksgiving) everyone immediately started crying and screaming. It's a huge deal for us and we are so excited to hold this precious babe! Although I think I may have to pry the child from my mother in law's arms anytime I want to! Haha! There is already SO much excitement and joy! It's really fun to think about how this child will grow up with ours (not on the way for a long time!) and hopefully be sweet friends.
This is a photo I posted a while back when we went maternity shopping for Kayce. So much fun!
It was funny how everything happened, because we had been trying to suggest that Sam and Kayce join us for
our Europe trip
this summer. Sam (a lover of Europe) acted weird and non interested and Kayce would pretend not to hear us talk about it and make me wonder if they hated us and thought we were weird aliens. Come to find out, they were holding this secret news! We're returning from Paris on June 24th and the due date is July 14th, so pray with us that we'll be here for the birth. I know that sounds silly but you never know what could happen with babies! I actually don't know anything about it so maybe she'll be super late. Who knows? All I know is that we'll start summer with our trip, and then greet our little niece or nephew for the first time. AHHHHH! Notice how excited I am? YAY!
I'm also going to be planning a baby shower to celebrate this occasion. My Pinterest inspiration board can be found
here
. Because the gender is going to be a secret until the birth, the shower will include all neutrals (whispering to my heart, basically!) and I have several thoughts already in the making. I've basically been dreaming of planning Kayce a beautifully styled shower for some time. I think it will really challenge me creatively, and I want Kayce and Baby to feel loved and celebrated. YAY!
Too many YAYS in one post, I know.
Does anyone with nieces and nephews have any sweet stories or tips to share? :) (I'm looking at you,
Jamie
!)
Ps. In case you missed my random weekend post about being featured on the Southern Weddings blog, check that out
here
.