As I mentioned on Friday, we're about to start a kitchen renovation/update. Let's take a little stroll down the kitchen memory lane, shall we? :)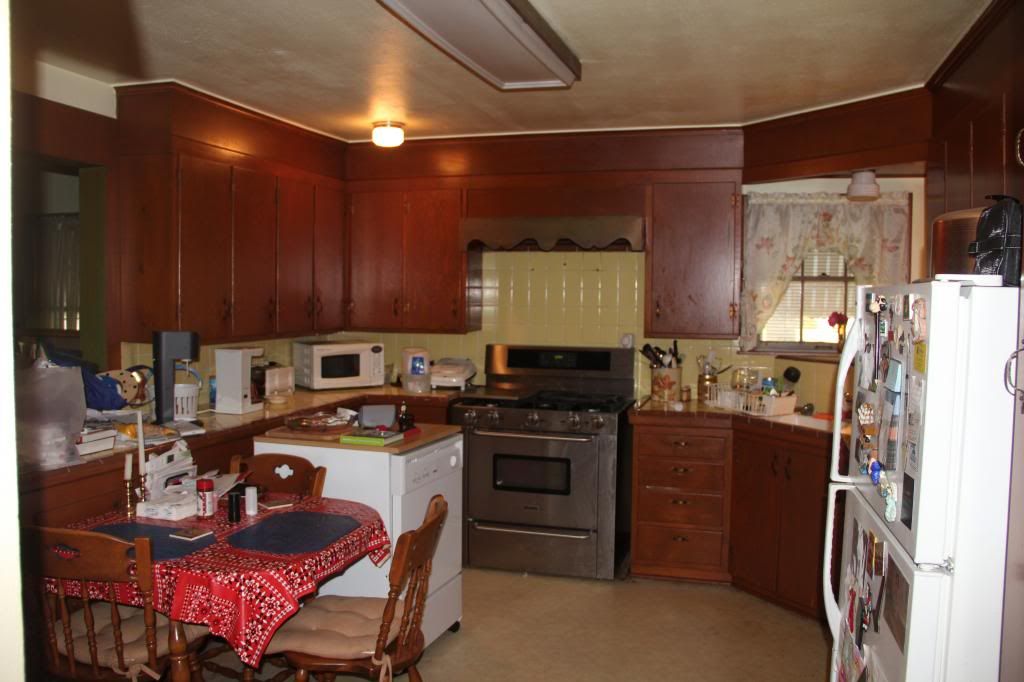 This is what I saw the first time we looked at our house. You may be thinking "wow! you have an eye for fixer uppers!"... let me stop you there. When we first looked at our house I told Ben there was NO WAY I could ever live there. We made the decision to move forward after I got advice from my mother in law and uncle in law (haha!) that it could be made beautiful. After going through the whole process with our home, I think I have really trained my eye in how to transform spaces and would love to have other opportunities to transform homes! (More photos of our original home can be found
here
.)
Let's first look at the incredible features of this kitchen. Yellow tile with a brown border. Portable dishwasher chill in in the middle. Random sticky-outy lights. A large fluorescent light strip. Ooh baby!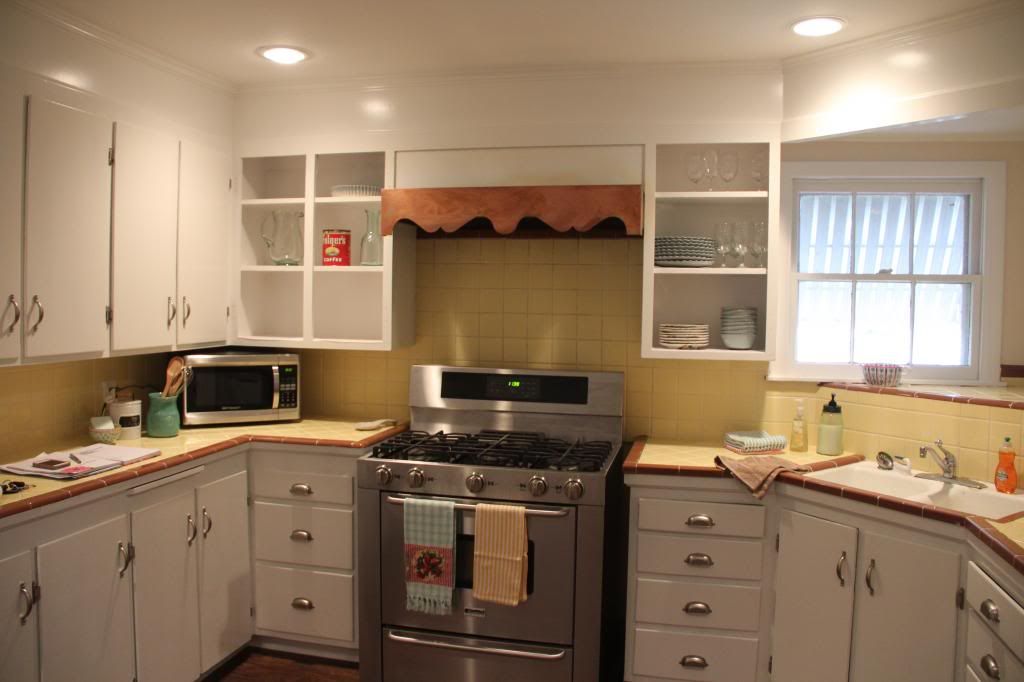 This is what our kitchen looked like when we moved in. (December 2012.. just a month after we had closed!) During that month, some very hard workers made my dreams for our first home come true. I just showed these other photos in my last post, but let's look again. :)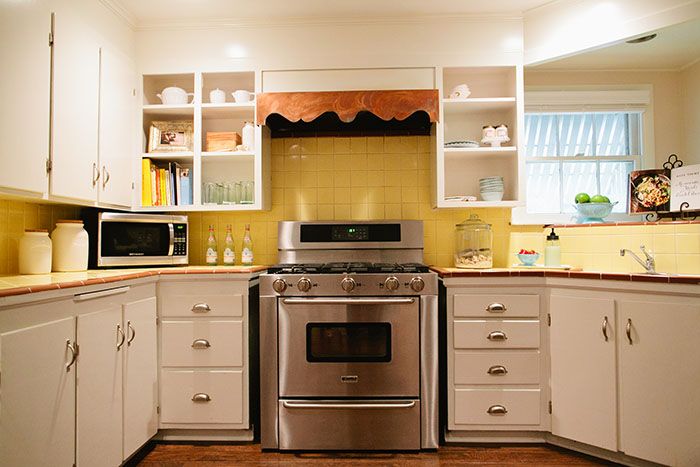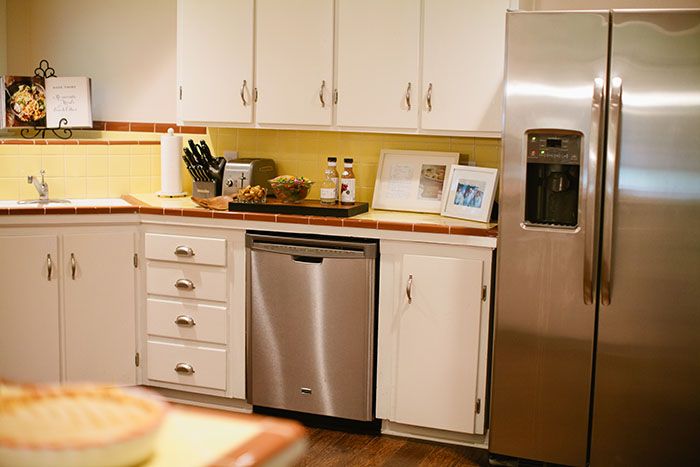 We put in new flooring and appliances. Tore out the nasty existing lighting and put in some recessed can lights. The cabinets were painted and new hardware was added. We knocked out some cabinets that were kinda funky. We removed the doors from a few cabinets so that I could try out the open cabinetry look.
The kitchen came so far, and has truly been a place I've loved. I'm not too much of a design snob for the yellow tile. But what I will say is that it is awful to clean. The grout is already permanently dirty because of being around for so many years, the sink is stained and has no disposal, and the faucet fixture has permanent goop and grime around it. Again, all things that are livable and have been for the past year.. but we decided that a new sink, countertops, and backsplash would really simplify my kitchen cleaning. I've always said to Ben that one day in the far away future when we have children, I imagine a baby smashing stuff into the grout. I imagine that as a parent I'll have other things on my mind than scrubbing grout. Now seemed like the perfect time to prevent that vision from ever coming to life. :)
If you follow me on instagram, or even just on this blog... you might know that I'm kind of a neutrals girl. I like color. I really do. I even purchased a bright pink shirt recently. But especially in design... neutrals win every time. Times I've strayed end up being regretted. Bring on the beige, people!! This clearly influenced my design decisions when daydreaming about the style I wanted to bring into the kitchen.
Here are some images that really inspired me: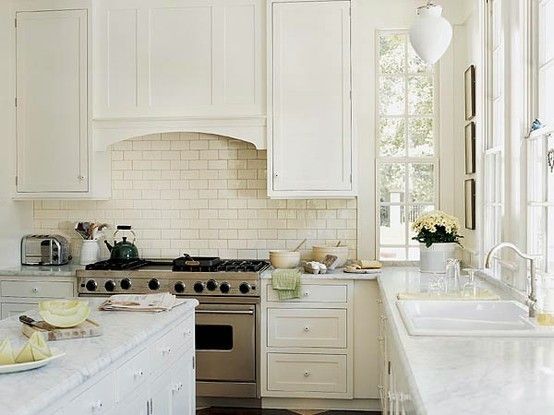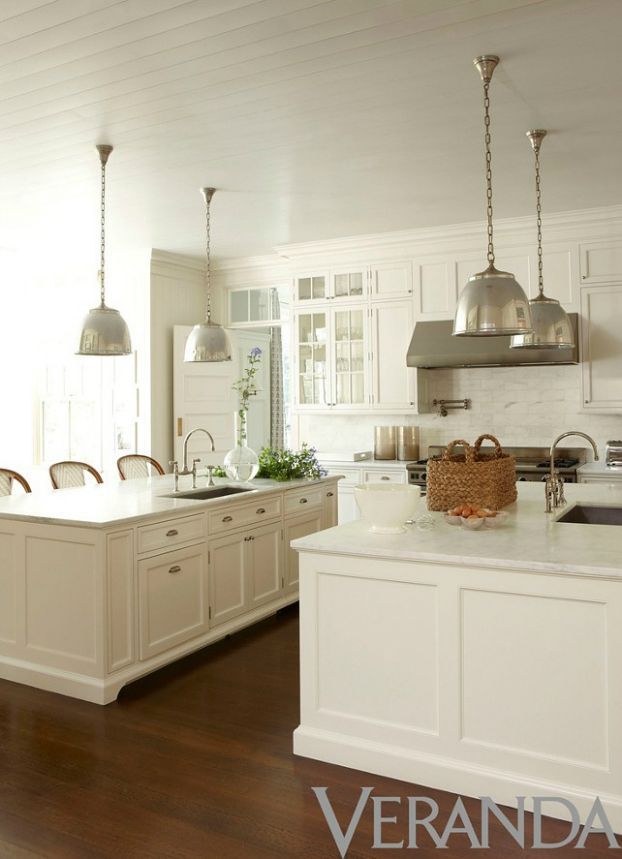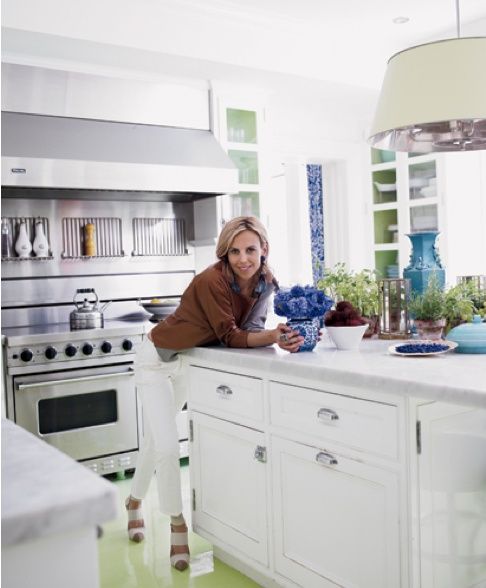 Look! Even my girl Tory Burch loves the all white kitchen. We're basically twins. In celebration, she should give me all of her shoes!! :)
These images are in fact a little shwankier than what we're working with.. but this image gave me a really realistic look at what our kitchen could look like.
Luckily, the blog that housed the lovely photo above had a full and complete source list. As of now, we're planning to move forward with white quartz countertops, and a white subway tile backsplash with gray grout. EEEEEE!
What do y'all think? Speak now or forever hold your peace? Do you hate me for hating color in my kitchen? I'll add some greenery, promise! :) Any kitchen reno advice? Help a sister out, friends! :)