Today's the day you get to read a quick little blurb about something you have probably never wondered about before. :)
My sophomore year of college, I got really into reading blogs. I read several of my new favorites all the way through. Discovering a whole new way to connect and get information was really fun and I loved it. I remember when I found someone else who "read blogs" it was really exciting.. because I don't feel like it was near as common then.
For me, picking a blog name felt like choosing an AIM screen name in middle school. What should I choose? Past screen names are too embarrassing to even be mentioned. But I wanted something catchy and memorable. I settled on "Bonjour Victoria", because of my French heritage, and because I thought it was something that would stick. I felt like it was my own version of Hello Kitty. I know that's ridiculous, but it just did.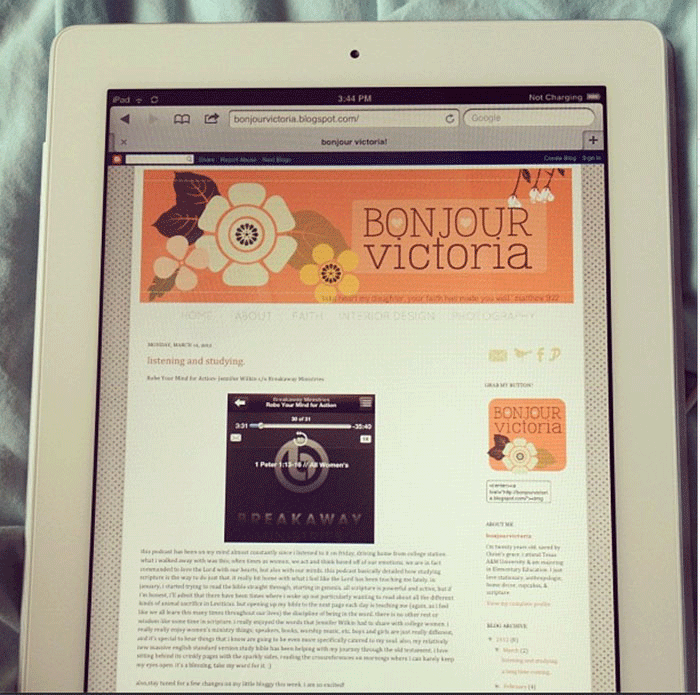 My first commissioned blog design!
Bonjour Victoria didn't get a whole lot of love from real Victoria. If you've for some reason gone back to the beginning of my blog, I'm sorry for the weird things you may have read. I'm pretty sure a post would be like "I got this coat on sale at Anthropologie" with a picture. What quality reading!! :)
I had been dreaming of putting time and effort into my blog for some time. I guess I got legitimately serious about six months ago as far as posting on a regular, consistent basis, and growing readership. But let's rewind a bit. In March of 2013, I thought about how I was a newly married lady, and how my posting wouldn't just be about myself in the years to come. As my life and family would grow and change, I wanted a blog name that would remain the same.
Right before Bonjour Victoria bit the dust! :)
As Instagram has grown more and more popular, people have designated hashtags to be used for photo sharing from weddings. I had started brainstorming but my friend Sarah came up with "#HappilyEverStrader" and it was perfect. It just clicked for me.. and I thought it would also make a great blog name. It's arguably less unique than Bonjour Victoria, but it fits. I know there are probably others with similar names or plays on "happily ever after" but for me, this little blog has felt like home since that name change.
Ps. I'm so proud of myself for completing this blog challenge for 4 days so far- haha! Thank y'all SO much for reading and sticking around and just being overall AWESOME!!