Today's prompt for
Blog Everyday in February
is "Something that Scares You". I was thinking about this and decided to put my own little spin on it. I just couldn't come up with a productive reason for you to be spending your time reading why I'm afraid of something. Instead, I wanted to focus on the topic of fear itself and take you back to last March (I can hardly believe I attended Making Things Happen almost a year ago!)
Here's the thing, y'all. We are all, at different times, guilty of letting our fears and worries get the best of us. Basically me today = worrying about something scary going on in my life (more soon, I promise!) Something we were encouraged to do at MTH was to write out all of the things that scare us and WHY they scare us. Remembering being back in that room is such a powerful feeling for me. I remember it clearly yet I wish I could relive it. Writing out all of your fears is a pretty emotionally draining process, but having every one of the fears that popped into my head written out on paper and explained... well, it felt like I was the one in control of them. I wrote them there, so why couldn't I just cross them off?
So that's just what we did. Before we discussed fear in general, we were encouraged to write our biggest fear on a big whiteboard. After talking about how fear is essentially just negative self talk, and other goodness.. we came up again and marked out our fears.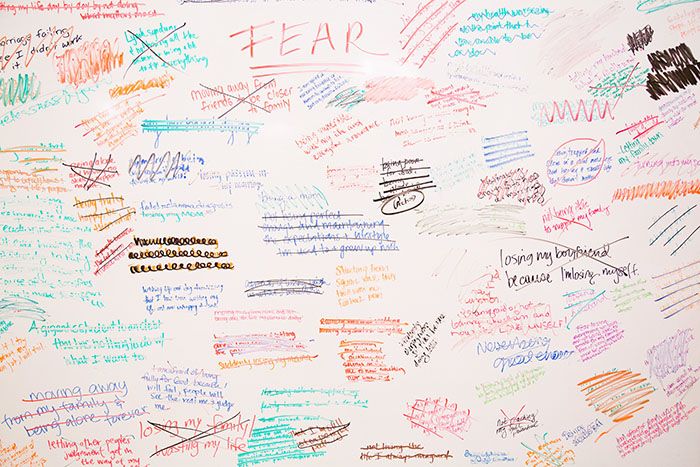 Something I was really struck by is that in a diverse group of a hundred women, there were so many different "biggest fears" listed. Yes, we're all different.. but so many were specifically about the season of life that was currently being experienced. Meaning these fears might not remain the same overtime. Meaning that with a combination of prayer, supportive community, encouragement directly from scripture, and a focused, positive attitude.. these things don't have to rule us.
I don't know what is going on in your Monday, but I wanted to share a scripture that I hear as if it's new every time.
There is no fear in love, but perfect love casts out fear. - 1 John 4:18
Now I think this can be a verse where you read it really quick and are like "that's awesome let me tweet it/caption my insta/write it on my notebook" without really taking the time to let the true meaning of the words sink in. Maybe I'm the only one who does this. But let's stop. God's love is the only perfect love that will ever be in our lives. So we're talking about the love of God here. And it's perfection. And our relationship with the Lord CASTS ALL FEARS AWAY.
If that's not freeing, I don't know what is, y'all! :) I hope this encourages you this morning! I'd really suggest trying to write out those fears, maybe talk about them with a spouse or accountability partner of some kind. It was extremely beneficial for me! I promise for happier things tomorrow! Hugs to you!