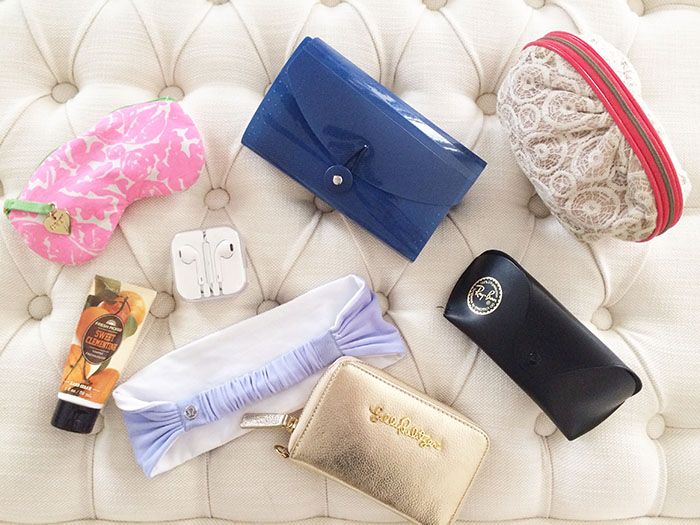 When I dumped out my purse contents onto our living room ottoman, this is what was found! Until this point, I hadn't realized that everything in my purse has it's own little compartment for the most part. :)
The pink sunglasses case was a free gift with purchase from Lilly Pulitzer last summer, and I actually keep pens and a flash drive in it!
Bath and Body Works Fresh Picked Hand Creme in "Sweet Clementine" (no longer available) my very favorite hand creme is from the fresh picked line! It's the perfect amount of moisture and scent for your hands (especially during winter) and it's not too sticky, which drives me nuts about a lot of hand cremes. I have a larger container in the console of my car!
Headphones for the gym and for any other moment that arises.. I am lost without these guys!
My favorite headband for working out! The Luluemon Bang Buster! It may seem ridiculous to spend $18 on something I will ruin with sweat, but this is seriously the only headband that doesn't slide out of my hair during activity. I have tried so many others. This lavender color makes me so happy, too!
The blue file holds all of my cash envelopes, receipts, gift cards, and coupons.
The gold wallet holds any extra cards I need to hold onto, and my change.
The black sunglasses case holds... sunglasses. This time. :)
In my lace makeup bag, I store feminine care items, chapstick, and hair ties.
For some reason, what's in the bags of others is so fascinating! What are your must haves for being on the go?