So apparently lately I'm grabbing the bull by the horn and just learning skills out the wazoo.
Floral arranging
, and now sushi! I loooooove sushi and after I spotted the Sushi 101 class on the Central Market Cooking School calendar it was on my list of dreaming.
Last night, Ben's aunt and I went to the class and it was so much fun!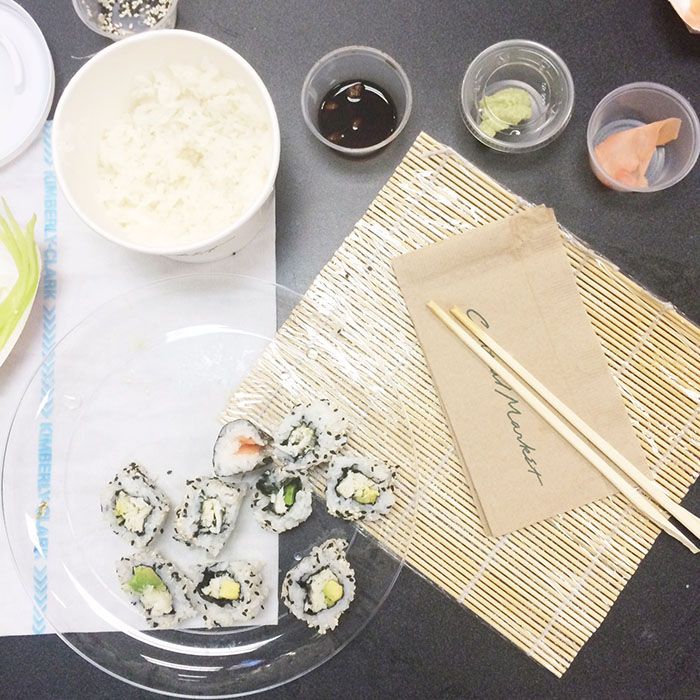 We made three different rolls: a smoked salmon roll, a California roll, and a tempura shrimp roll. Literally so fun. The first one was kind of a bust because I put too much rice in it and the roll wouldn't close.. but the California roll had the rice on the outside so by that point I was feeling super confident. I really want to try this at home now, they gave us a handy dandy packet with recipes in it. It was really fun to try something new and out of my comfort zone. It was also really cool to see the variety of people attending the class. There were several girls just on their own, and I think I learned that it would be really good to be brave like that sometime. We also found out that they do private classes for the same cost per person as a normal class, so we were brainstorming about doing a class of just family.. wouldn't that be so fun? You get to pick which lesson it is when it's a private class. I think cake decorating would be really fun. There are also couples classes so I'm antsy to bring Ben back with me. Seriously, this was so fun and not something I would have ordinarily thought to do. Speaking of my husband, however....
I just had to record this piece of joy for the future. I love when people send funny selfies to each other. It's not something we have ever done but a while ago I told Ben that we need more selfies in our lives. Which is ridiculous and only of this generation, but whatever. The man struggled. His first selfie was a profile view of his beard. Aka: Not a funny selfie.
But today, this is what happened. Ben has picked up the habit of checking the mail before me and taking all the good mail with him to work.
The man STOLE my Southern Living. The photo and text was funny enough to let me forgive him. :)
Happy Friday, Friends!