Whenever I am returning home after a trip, I always have the urge to complete home projects. Small trip or long trip, I'm always motivated. I'm not sure why. We live about three hours from where we went to college at Texas A&M, and this weekend we made a quick trip for this weekend's basketball game.
During our drive, the temperature dropped over 30 degrees and turned from sunny and delightful to icy and scary. I was wearing Nike shorts and sandals. Neat. But we made it home safely. With an afternoon being cooped up ahead of us, I started tackling my closet.
In the fall, I realized that a huge obstacle in keeping my closet clean was that my shoe rack couldn't hold all of my shoes, and that lead to them collecting in a little pile on the floor. Not good. So I went to Bed, Bath, & Beyond and purchased this little fella.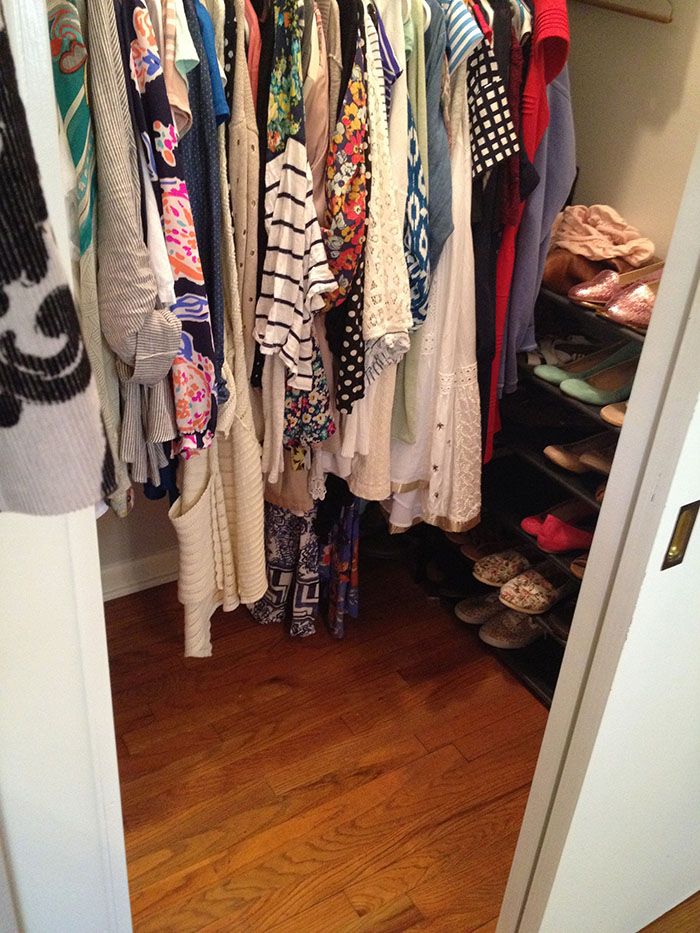 This is just a random photo I snapped of the situation long ago. As you can see, the rack is long and took a portion of my hanging space away. I was like "Whatever it's fine! I'll just put some clothes in drawers and life will be dandy!!!"
Months later... Not feeling it.
This problem caused me to squeeze all of my clothes together as tight as possible causing them to become smushed and wrinkled and often times they would fall off the hangers. Yesterday I had had enough and I started breaking down the shoe rack. At first I was just like "NEED TO FIX THIS" so I took off the top two shelves. Then I got super carried away and started going through my whole closet. I realized that a lot of the clothes I had were awesome for college, but not super relevant for my life now. I have a huge basket ready to be dealt with at some point! (hopefully sooner rather than later!)
So at this point my clothes are all over our room. And like any other closet cleaning experience, at this point I lost my drive and was over it. Yet my hatred for mess allowed me to plow through. I looked at the remaining two shelves from the shoe rack and CUE ANGEL SINGING.... REALIZED THEY COULD STAND ALONE.
I present to you... my new clean closet.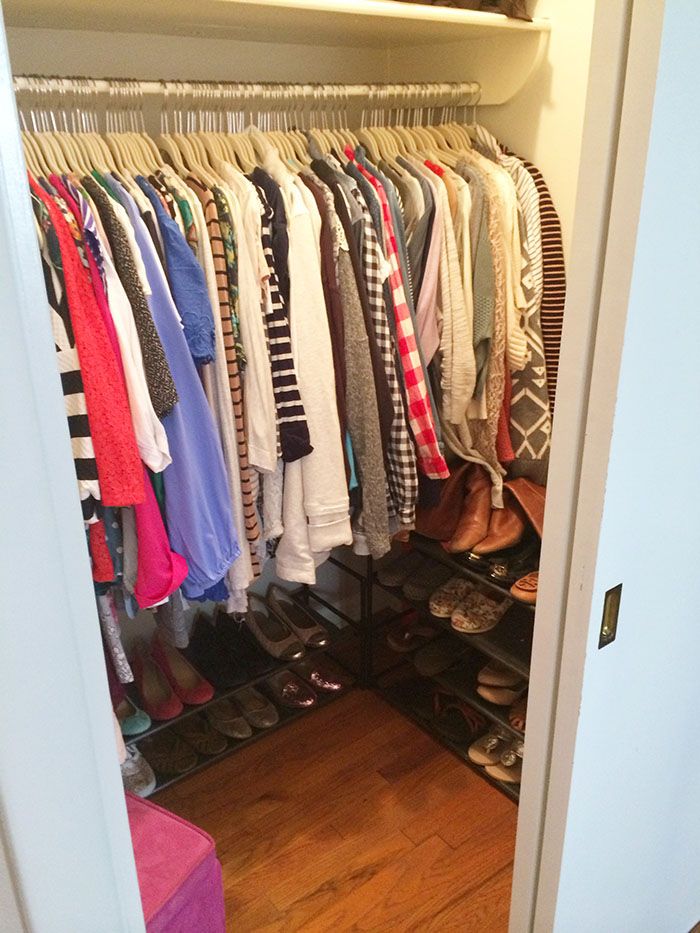 I'm smitten. Having a space for everything just makes me so happy. I also used a Bed, Bath, and Beyond gift card to snag three sets of
these
hangers. I printed two 20% off one item coupons (imagining that Ben and I could each complete one transition with a coupon) and at the last minute got the courage to ask the lady if there was any way I could get the deal on all three sets. She immediately agreed and it was super easy... saving us a pretty good chunk of change ($18!) Switching out all my old hangers took about thirty minutes, and the change in the look is amazing. I love that all of my delicate items aren't falling to the ground anymore. I feel like this will be an investment that keeps on making me smile for years to come. This would be a great option for newlywed people with leftover store credit and no idea what to use it for! I kept a bunch of extra in a basket in the top of the closet if they're needed in the future.
What do y'all think? Anyone else need to do a bit of spring cleaning?
Going through my clothes really motivated me to evaluate my personal style and try some new and different things, as well as figure out what works for me daily. Look for some posts about this process.. coming soon! :)
PS. This article on The Everygirl is SO helpful and I wish I had it this weekend,
7 Questions to Ask When Cleaning Out Your Closet