This time of year, my husband is home for dinner every night. During football I don't cook four nights a week, during basketball, two.
I love having him home, but I've definitely felt the need to expand my recipe box. We've also turned a major corner as far as trying to eat food that is a lot better for us, more organic veggies, less random bad for you things, etc.
I randomly found this recipe on "
Pinch of Yum
" and last week it fed us so well. I made the Mexican Casserole with hopes for it to be yummy and healthy.. but it was genuinely so delicious! A small portion left me feeling extremely full (because of the protein the beans bring!) but not a yucky full. Just a happy one. :)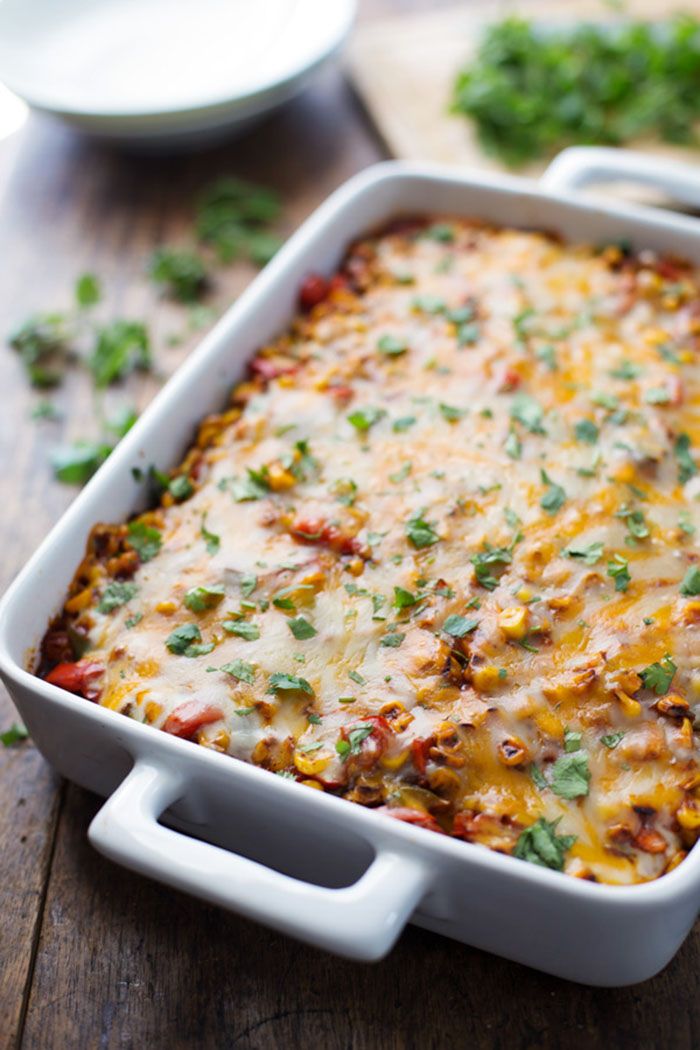 Image from A Pinch of Yum
Ben LOVED this recipe, and I happened to make it on a night that was busy for my in-laws, so they both stopped by at different times to grab a piece. It made me so happy for everyone to get their nourishment from something delicious and healthy. We actually ate it the next night too (something we don't often do) and Ben took a large piece to work for the rest of the week. It was just an overall success... and a recipe that comes out on the cheaper side because it's a vegetarian dish. And gluten free! I feel like it would be really good for entertaining. Okay, I'm done declaring my love for this Mexican Casserole.
Healthy Mexican Casserole
2 red bell peppers

2 green bell peppers

½ onion

2 cups frozen corn

2 teaspoons chili powder

2 teaspoon cumin

salt to taste (about 1 teaspoon is a good ballpark measure)

2 cups Mexican cheese

18-20 corn tortillas

1 can refried black beans

2 cups red enchilada sauce

cilantro, guacamole, or sour cream for topping
(I altered the ingredients a bit, and that's what I shared with you!)
Roast the veggies: Dice the peppers and mince the onions. Heat a large nonstick skillet with NO oil over high heat. Add the onion and peppers, sprinkle with chili and cumin, and do not stir. This allows the peppers to roast and brown on the outside. After a few minutes, give the pan a shake or stir and let the peppers sit again for a few more minutes without stirring. Remove and set aside. Repeat the roasting process with the corn, sprinkling with chili and cumin, removing from the heat when browned and roasted on the outside. Sprinkle the roasted veggies with a little bit of salt and toss to coat.
Prep the ingredients: Grease a 9×13 inch baking pan and preheat the oven to 400 degrees. Cut the tortillas into thin strips. Put the refried beans in a bowl and mix with a little bit of water to make them easier to spread.
Assemble: Spread a little bit of sauce on the bottom of the pan. Layer in order: half of the tortilla strips, ALL the beans, half of the veggies, half of the sauce, half of the cheese. Cover with the other half of the tortilla strips, veggies, sauce, and cheese.
Bake: Cover with foil (I usually spray mine with cooking spray) and bake for 15-20 minutes, until the sauce is bubbling and the cheese is melted. Serve with guacamole, fresh cilantro, sour cream, or anything in the world that you want.
To make this completely gluten free, make your own enchilada sauce or look for a gluten free brand. I have heard that Old El Paso is GF.
Original recipe found here. (there is an easy printable option)