Over the past few weeks, I've had the blessing of being in the homes of others. New people. Spring and Summer are my favorite for one clear reason: the celebration. I want my life to be filled with showers, weddings, and birthday parties. I eat it up. I love watching the large milestones of others.
Because I love interiors so much, or because I love hospitality so much, I thrive when people open their doors. Without realizing it, I soak up knowledge in each home I enter. How do they prepare a powder bathroom for visitors? Does their home represent their personality? How is this person loving the people that walk through their door?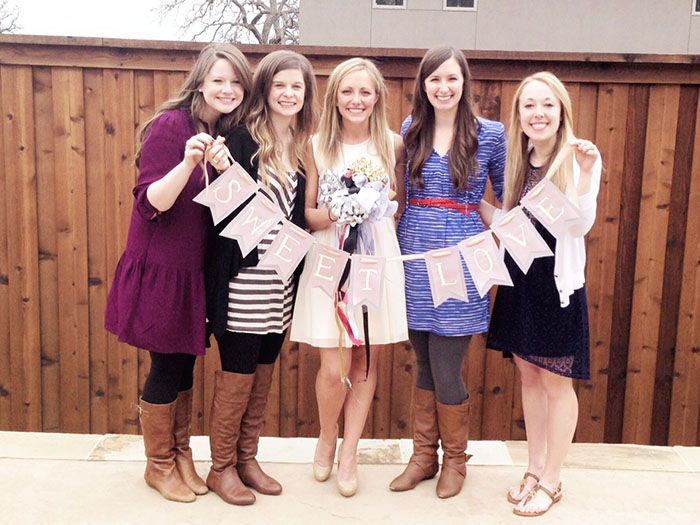 First, was my good friend Michelle's bridal shower. Her wedding is on May 3, and I'm giddy about it. She is too. Her shower was hosted by the mother of her longtime best friend. Michelle put it this way, "the first time I met a southern belle was when I met Suzie, she walked in from outside wearing a long dress and a big sunhat, coming in from working with flowers and said, daaaarrlin, nice to meeeet you." That story is so iconic to me, and everything about attending this shower was consistent. I left feeling like I would be welcome anytime. I loved seeing the apothecary jar full of soaps. I loved the open layout of the home, just inviting people to come inside and stay awhile. I can't put my finger on why, but I left that home feeling encouraged. I felt like I had learned things about how to carry myself as a woman. I learned about fresh flowers and monogrammed towels. I learned about greeting every person as they walked through the door and making them feel valued.
This Saturday was my sister in law Kayce's first baby shower. Each little detail of this event was done beautifully. The dispenser full of water contained mint and blackberries. Labels had been written in gorgeous calligraphy. Everything had just been done with immense care. The home was clean and light and sometimes when I'm in a home I feel like I can really imagine people enjoying the life that is lived there. This was one of those homes. You could see where people would feel comfortable leaning on the kitchen countertop or watching a movie on the couch or letting the puppy in and out of the back door. It was styled perfectly but communicated that it was a house that wanted you to live. A house that was enjoyed by it's owners. A house that friends loved being in.
I so deeply desire for our home to be a sweet sanctuary to those who enter. I want our friends and family to always count on being able to relax and be nourished in their hearts and their bellies. I want it to be real, I want people to feel loved and valued as they walk in the door. I crave for people to see Jesus in our home. I want others to be able to picture themselves seated at our table or on our sofa, laughing and crying and everything in between. I want people to feel comfortable getting a glass of water or asking for one or to be offered one in good timing. I want Ben to live in a clean, natural, pretty house. I want healthy, filling, enjoyable food to be served.
Every time someone opens their doors, I truly believe there is something to be learned. Starting with their willingness to house company. People love and serve and style in different ways and every single one seems perfect to me.
What are some things you love doing to make others feel welcome in your home? What do you believe defines your home? What have you noticed in the homes of others?