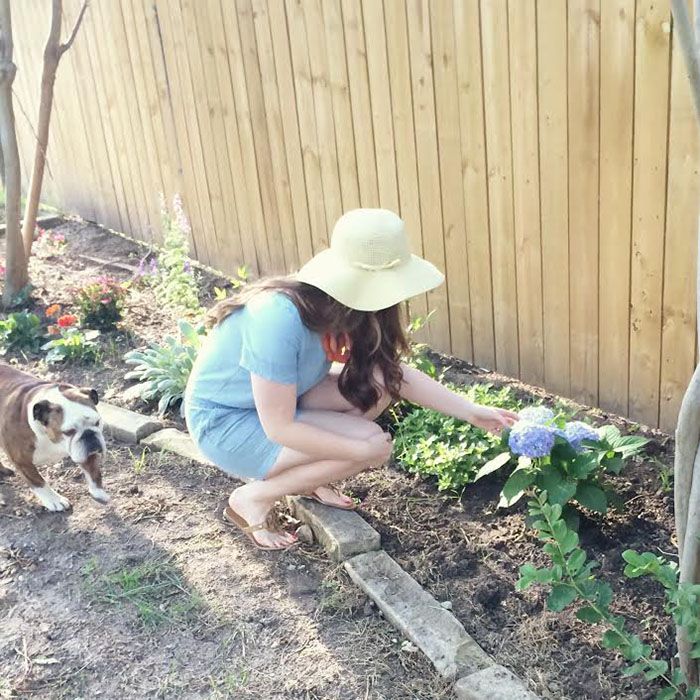 Recently, I've been reflecting a lot on my progress throughout this year. I started the year with a very
clear vision
of what I was desiring to work towards in the months ahead.
The year so far hasn't been at all what I had expected, but I'm still thankful for the vision and goal setting that took place. I believe that's kept me grounded to what is important.
We started the year with me coming down with a stomach bug on January 1st. Somehow that lead to almost a month in bed with flulike symptoms but the absence of the actual flu virus. Watched all of Parenthood that month. What a doozie! I was laying in bed last night thinking... I wonder why that happened at the beginning of the year? What is the purpose for me being in bed and pretty helpless for so long, following such careful planning for a fruitful year. I'm still not sure. Also last night, we were talking about all that has taken place. We've kind of felt like everything is crumbling around us. Yes, that might be dramatic. We are blessed with a wonderful home and jobs that we enjoy and a sweet pup and each other. But it's been hard. We've had trials in areas we never expected to be hard. We've learned a lot about the kind of friends we want to be (I want to be someone who shows up and is present and speaks only life and encouragement into others.. and have friends that treat us the same way) and how we never want to be so caught up in ourselves that we can't care about the needs and hearts of others. I can speculate all day long about the purpose for the things we've dealt with, I guess.. but one reason that has come to my mind often is to build the strength of our still young marriage. I didn't think I could love Ben anymore than I did when I got married, but I do. I didn't think that we could possibly be closer friends, but we are. For that, I am so thankful. But we're ready for a new season.
A week from today we'll be leaving for 16 days in Europe. Holla! I get to adventure the places where my childhood was spent with my husband. What a blessing! (more about our trip,
here
) We are both so excited and grateful that we have the opportunity to take this trip, and have started to see it as a turning point. When we return, one of the biggest changes is that we will be attending a different church.
When we got married, we visited different places and both felt an overwhelming call to return to the church where Ben grew up and I found a home in high school. So we went. We have nothing but respect for the church we joined, but we have been lacking community. Big time. We both believe that it is vital for us to be plugged in: studying scripture and talking about life and being in prayer with people that we call friends at church. And where we were, there were no other people in our life stage. It is all families and older people.. which is totally fine. But not where we felt we would be filled up and encouraged in the best way. Add in a hard six months, and without the support of anyone around us (that sounds so dramatic and I apologize for that!) it's been a time of being extra weary. We both had so many dear friendships with a foundation of Christ in college and dropping away from that has kicked our hineys. But we also hated the idea of "breaking a commitment" and "abandoning" and it has never been a part of our vision to bump from church to church. But we have let go of that pride in our lives and know that the Lord is leading us somewhere else. So yesterday was our last Sunday.. and when we return we're praying that God will lead us to the place where we will raise our family in years to come. We're seriously, SO excited. It will be really good.
To counteract all the heaviness of this post and bring it back to my 2014 vision...
I want to live a year cultivating my identity in Christ.
I want to be a strong, confident, bold woman of God who loves my husband and community well. I want to continue to pursue a career that is flexible and brings light to my heart. I want to cross off some big financial goals. I want to build my body to be healthy and strong and be conscious of what I subject my body to (food, cleaning products, skincare, hair care). I want to simplify and organize our home to make living here leave time for fruit to develop in our lives. I want to host and care for others, with our door always open. I want to be the loving arms of Christ to others. I want to give to and support the people in my life. I want to celebrate accomplishments and milestones big and small.
In a word.. I have wanted to build myself up as a strong woman of God. That's been my vision. Everyday, running through my head.. Strong woman of God. Even through the "storm"... I truly believe that the Lord has blessed that. I've lost fifteen pounds and built muscles I never thought I would have. (I've literally never played a sport in my life so this journey has been new for me!) I've been digging into scripture and weaving it into my life. I'm so proud of those little successes and ways that God has worked and carried me. He is so good.. and Ben and I both are so expectant of what is to come for the rest of the year, after our amazing trip. In my head I think of it as "Honeymoon #2" just because it will be so great!
How has YOUR year been so far? It's not too late to start thinking about a vision for the way you want to live over the rest of the year! It sounds so cheesy, but doing this has helped me
so
much!