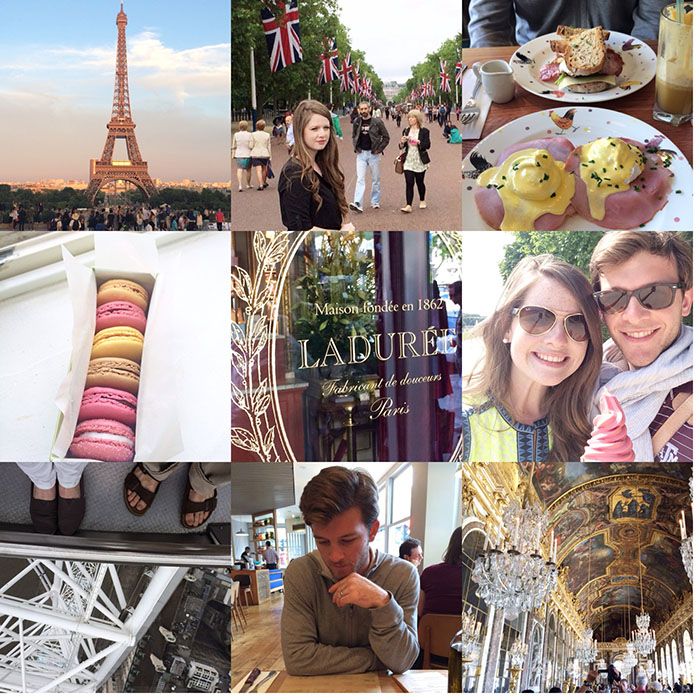 Bah! Just looking at that little collage of images makes me SO sad that we aren't still traveling. When people ask how our trip was... I just don't feel like I can truly convey how much fun we had. We explored two of my favorite cities in the world, and escaped from real life for two weeks. It was literally so good.
I've received a few emails about how we planned our trip, so let's start there. :)
As I mentioned
here
, when we got married we knew this trip was a dream. Because of all my extended family living in England, we thought it would be a sweet thing to go visit. Only my dad's side of the family was able to come for our wedding, and we felt that it was important for Ben to connect with my other side of extended relatives. So yes, this trip was totally glamorous and amazing (I mean.. I can see the photo of the Hall of Mirrors chandeliers as I type this!) but we also felt like it was something that we
needed
to do. At least the visiting family part. The rest of the fun came later.
Because we have family and people to stay with, we already had a vague framework for the trip. We knew we wanted a few days with each side of the family, to spend some time but not feel like we were imposing for too long. One of my aunts lives right by Heathrow airport. It made sense to start with her, and then go to stay with my other aunt on the other side of the family. So that's just what we did. Followed by five nights in London, a trip on the Eurostar, and five nights in Paris.
Here's a little summary of everything that we did:
1: Travel to London Heathrow from Dallas/Fort Worth
2: Arrive at Heathrow, spend time with Auntie Pee and family
3: Windsor Castle and more time with Auntie Pee and family
4: Travel to Brighton/Hove and stay with Auntie Tracey and family
5: Explore Brighton/Hove
6: Train from Hove to London, explore Harrods, watch World Cup, eat at Langan's Brasserie
7: London Sightseeing (Big Ben, Tower Bridge, Buckingham Palace, etc.) and attend Hillsong London
8: Go to Harry Potter exhibit at Kings Cross Station, afternoon nap, shopping in Chelsea, USA wins 1st World Cup Game
9: Brunch, Victoria and Albert Museum, Reading in Hyde Park, Sushi dinner, Lion King show
10: rode the London Eye, walked all the way down the Thames river, stopped at the Globe theatre, photos by the Tower Bridge, visit to the Tower of London (logged about 8 miles of walking and feeling like locals!)
11: ride the Eurostar to Paris, get locked out of apartment, loose camera, be overwhelmed by the language barrier and eat pizza in the apartment we finally got into :)
12: Walk to Notre Dame, ride sightseeing bus all around Paris, walk up and down the Champs Elysses, first visit to Laduree, visit Arc de Triomph, walk all the way back to where we were staying, eat our first Nutella crepes, evening visit to the Lourve
13: Put lock on the Love Lock bridge, eat lunch at Laduree Tea Room, ride bus to Monmarte, get sketch done, random meandering of sights
14: Portraits with Stacey Reeves, visit to Versailles
15: Shopping at Galleries Lafayette, more macarons, watch sun go down at Eiffel Tower
16: Travel Home
Okay. That may have been a TMI. But for someone planning a trip to Europe, that might be helpful. Ben's theory is that the ideal time in a city if you're planning to go to a bunch of them across Europe is three days, but I'm so thankful we did 5.. simply because I love London and Paris. I'm going to go into more detail over several posts of what we did and where we ate and including photos.
Before we went I had already penciled in the vague areas and attractions we wanted to see each day of the trip, which I am so thankful for. If we hadn't done that, I could see that it would get overwhelming and you would end up missing things. Also to note, some things are closed on certain days of the week. Versailles, probably my favorite thing of the whole trip, is closed on Mondays. If I hadn't known that, I would be devastated. Ben laughed at me when I started planning everything with such detail, and said "let's go with the flow" but then agreed that in reality that would have taken away from our trip.
A few things:
Take the suggested "time to spend" at each place with a grain of salt. For example, if you love art and are educated on it, you may want to spend a whole day at the Lourve. The book suggested at least two hours. We were there for thirty minutes, and spent 15 outside mastering our pyramid photos. :) Call us lame and not cultured, but as you plan keep in mind your interests and habits.. you don't have to do what everyone else does
Brushing up on a few language basics is extremely helpful
"Fast Track" tickets are so worth the extra $20, $30, whatever. We bypassed so many lines and it was truly so worth it.
I'll probably have a few more tidbits like that as I continue to go through our whole trip!
Notes on Packing:
I tried really, really hard to be prepared. I packed us airplane snacks and two magazines each, three books for Ben, and four for me. However, we were out of snacks and starving on the return trip, and I ran out of books and watched Toy Story2 (skipping every six seconds for three seconds) one and a half times. So there's that.
I also made sure to bring all of the products that I use at home. In the past I've always been like, well moisturizer isn't a NEED, so I'll just wing it. And then I have dry skin and am crabby. It's worth the space of a travel size container of all your stuff.
Another one of the best pieces of advice we got is to buy a bunch of blister bandaids in the US and travel with them. Love you, Target.
Well there's the nitty gritty! The fun stuff comes soon!
If you have any travel tips or things you want to add, leave them for people to read in the comments below, please! :)