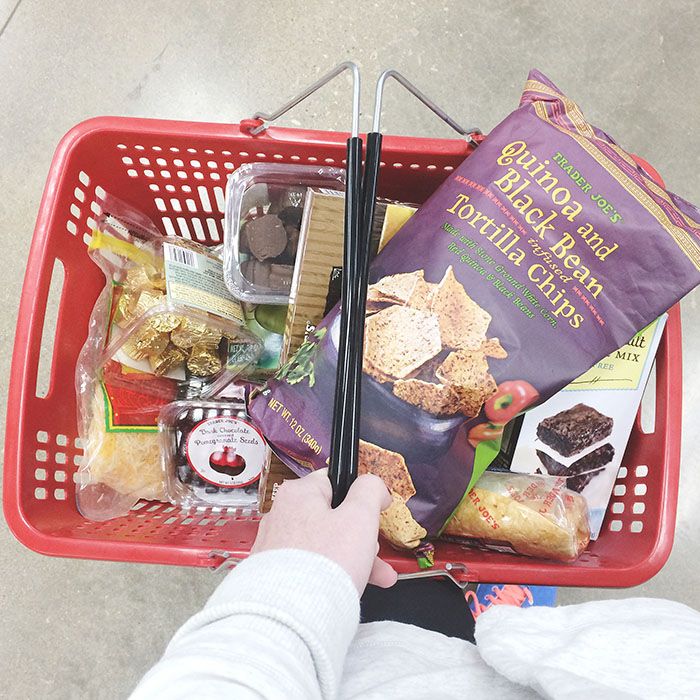 Recently, a Trader Joe's opened about 25 minutes from us. For you city folk, 25 minutes is a treck. But for us, everything is 25-35 minutes away and it's just become a normal thing for me. The Trader Joe's is in an area where I am at least one day a week, and sometimes every day! It just depends.. but moral of the story, it's CLOSE.
I had heard great things so I was eager to go try it out. The photo above is from my first visit. I didn't do any research on what were good things to grab, but we were having people over that night so I needed a few things for the recipe I was planning on making (healthy Mexican casserole!)
First impression:
These are really nice looking bell peppers for the a dollar each!
At our location, the staff is incredibly jolly and always asks about your day and your life and gives you tips on fun/delicious goodies to try there. They always have a sample out and there's always a drink sample too. This is brilliant for folks like me who can't eat without a drink without feeling like your world is ending.
I had heard that TJ's had some great healthy/organic options for a lower price. As you can see, I have three containers of candy on my first trip there. So obviously not everything is like that. But the treats are super fun too. I just realized I'm writing this to a reader that has no idea about Trader Joe's so if you love it and already know this, bear with me. Haha!
The items we tried in that cart (that are Trader Joe's specific) are the smores chocolates, dark chocolate cookie butter cups, dark chocolate pomegranate seeds, guiltless brownie mix, and black bean and quinoa tortilla chips.
Cookie butter cups are life changing. It's been a month and our package is still mostly full but only because I have limited consumption. I didn't like the pomegranate seeds and gifted them to a friend. The chips have like 5 ingredients and have become a pantry staple for us. Guiltless brownie mix is amazing because they really do taste just as yummy as normal full fat brownies!
We've also come to love pre shredded brussel sprouts, chicken breakfast sausage (YUM), cookie butter shortbread sandwiches, bruchetta spread, frozen chicken potstickers, and reduced guilt mac and cheese (great for sharing as a side dish with a lean protein and veggies as a treat!)
Did I mention that everything is very reasonably priced? I feel like I always go hog wild trying a million goodies and never spend more than like $40.
What are your Trader Joe's favorites?