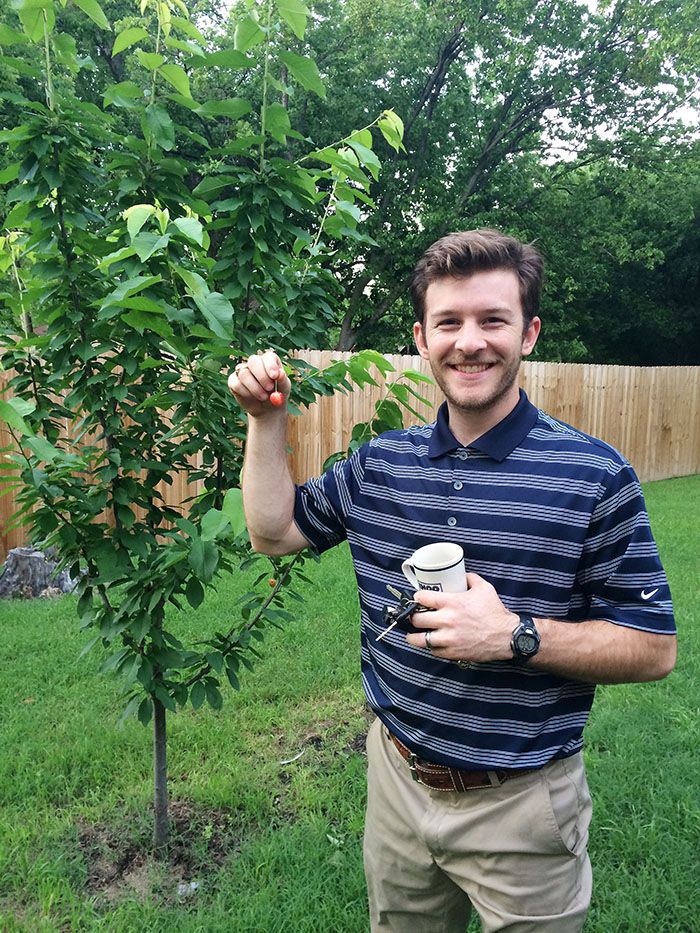 I am filled with so much gratitude for this sweet man lately! Last week I was really sick, and there's just been a lot of drama floating in and out which has had me like (whining emoji). A perfect example of why he is precious: last Wednesday night in the middle of the night I woke up needing medicine and woke him up instinctually and said "I need medicine" and he literally got up and appeared at my bedside with several options and a fresh water. No complaints. He didn't even mention it in the morning. Love you precious Benjamin Luke!!! End cheesy.
Ps. The photo above was taken in honor of the first few cherries popping up on our cherry tree! Yay! Also, you may notice Ben is holding an Ihop mug. We went there one time and Ben realized the mug was his ideal size and shape. The next time we went we had this sweet, high school age waiter and I asked him if there was any way we could buy one. He said "well, no.. but I don't think anyone would notice if it disappeared if you catch my drift..." we figured if we left him a 50% tip that would cover our conscience and now that mug is used almost daily because Ben loves it so much!
I really enjoyed reading
31 Things You Didn't Know About J. Crew
. Both Ben and I love our J. Crew clothes! I've thought a lot recently about pursuing a classic style that will keep me from needing to purchase new things in the future, simply due to trends. I wouldn't say that I dress very trendy, but I'm sure I can improve in this area.
I've been a fan of Taylor Swift since her first album. I remember reading on her myspace that she finally decided to stop straightening her hair to impress boys and relating to her so much. I love how she's evolved and I'll always love all of her music. Her new video is beyond amazing. Literally the coolest girl ever. Taylor, let's be besties.
I am so excited to have finally snagged a
"Redemption for All"
tee! Not only is the shirt ethically made, but it's declaring a message of hope that I am praying will provide opportunities to share the gospel when I wear it. In high school and college when I was crossing paths with so many more people each day, I feel like I was constantly getting opportunities to share with others. I miss that deeply. Just a small little step towards a change, hopefully!
I am LOVING
this
book. This year has brought a few good coffee table books into my life.
Cupcakes and Cashmere at Home
and
Camille Styles Entertaining
.. couldn't recommend highly enough!
What are y'all up to this weekend? Ben and I are headed to The Colonial with our good friend Susannah, and enjoying some R&R! :)