Yay! I'm so excited to share a guest post from my sweet friend Sarah today. It was supposed to go up while Ben and I were traveling, but some technical difficulties ended up with it going up today. I first became friends with Sarah when I designed her blog, and then we bonded on pursuing healthy living.. and our love of the South! Check out her blog, you won't regret it! She's become such a sweet friend to me! XO
Hey everyone! I'm Sarah and I blog over at Meet the Shaneyfelts! While Victoria is off frolicking along the Italian coast, she has been so gracious in letting me take over today. I wanted to recap one my my most favorite and recent vacations—my honeymoon to Savannah, Georgia!

I absolutely loved going to Savannah, Georgia, for my honeymoon. Because I teach school and got married right before teachers started back, our honeymoon had to be quick and close. Savannah was the perfect choice! I've lived in the South my entire life and Savannah is old South—which I am obsessed with. While we were there, I kept wondering what it would have been like to live in Savannah pre-Civil War. Fun fact: On a tour, I actually learned that the sidewalks are so wide in Savannah because of the hoops that women wore under their dresses—it gave two women the ability to walk down the sidewalk side by side—LOVE!

Both of these pictures were taken on Jones Street which is called the Most Beautiful Street in America. I think that it definitely is! The cobblestones are amazing. I also wonder how much is cost to live on this street?

The history in Savannah is so rich. I highly recommend taking a trolley tour while in Savannah and plan on it lasting an entire day. There's an option for a hop-on and hop-off tour which is what we did. We chose the Old Town Trolley Tour company and it cost around $34 for two adults. There were about 13-14 stops and you can get off any stop you want, walk around, and then hop back on another trolley an hour or two later….all you have to do is show your ticket! During one of our stops, we were able to tour the house of the Girl Scout founder, Juliette Gordon Low. Unfortunately, they didn't allow pictures inside, but I loved learning about the architecture from the from when she was born during the 1800s. We spent over an hour at that stop and then hopped back on another trolley when it passed by!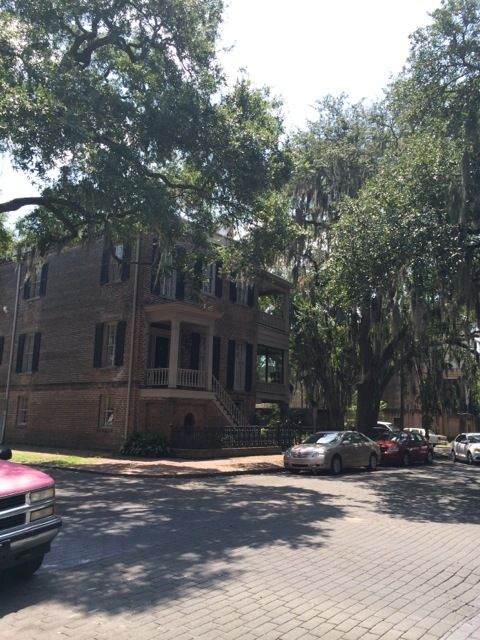 This is a house off of one of the squares in Savannah. Savannah has 24 squares, and we walked every one! Tip: Wear good walking shoes because that's all you'll be doing in Savannah!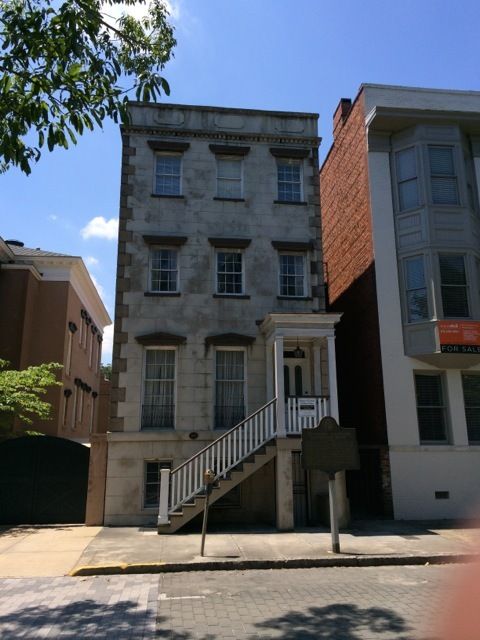 Flannery O'Connor's house—I'm an English teacher so I LOVED this! (She was a Southern Gothic writer.) During one of the stops on the trolley tour, we went into a very old Catholic church and I saw her family's pew. Apparently back then you could reserve a pew for just your family and it was written into their book in the church.
This is the famous fountain in Forsyth Park. It's a huge park and there were always people walking, running, playing football, etc. I would have loved to have lived near there!

Another great thing about Savannah is the food!
This was my favorite place to eat in Savannah, HANDS DOWN! I actually begged my husband to eat there the next night! The Olde Pink House is beautiful on the outside and breathtaking on the inside. Our waiter was the most knowledgeable on everything—the food, wine choices, and the history of the restaurant. I actually overheard each surrounding waiter give their patrons the restaurant history periodically throughout their meal. I have never eaten anywhere with service like The Olde Pink House. If you go (and you must), be sure to make reservations and be prepared to pay. (We spent $100+ for two people, but it was most definitely worth it.)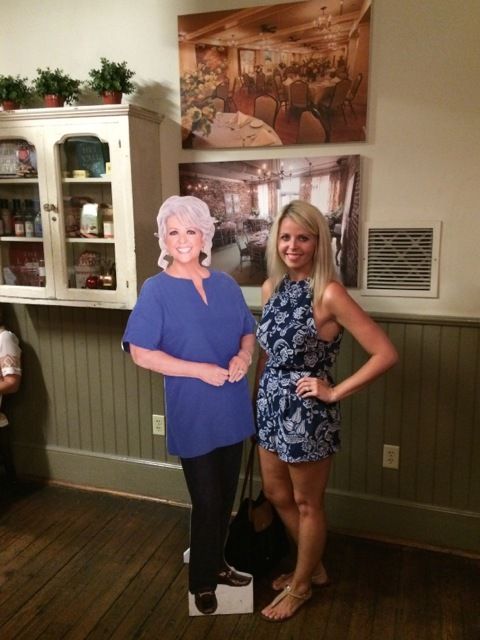 I love Paula Deen and had to eat at The Lady and Sons. Cutting to the chase: I was not impressed and would not go back there again. At least I can say I have eaten there. If you're from the South and are used to fried chicken, collards, mashed potatoes, and deviled eggs, then what your mom or grandmother cooks is probably better than what you'll eat there. Northerners may enjoy it!
Make time to stop by Leopold's Ice Cream! There will most likely be a line for ice cream, and one of the owners has connections in Hollywood, so be sure to walk around and see all of the signed movie posters!
Where to Stay:
We stayed at the Mansion on Forsyth Park. It was beautiful, but if I were to do it again, I would stay someplace like The Bohemian (the Mansion's sister hotel) or The Cotton Sail Hotel—both of these are close to the river and restaurants. Stay at the Mansion if you want a calm area to stay in. While we were planning our honeymoon, we made sure to read up on each hotel. Savannah is labeled at the most haunted city in America, so we wanted to stay somewhere that didn't have lots of ghosts. :) Also, the Mansion is a 4 Diamond hotel and very, very nice!
What's your favorite vacation spot?