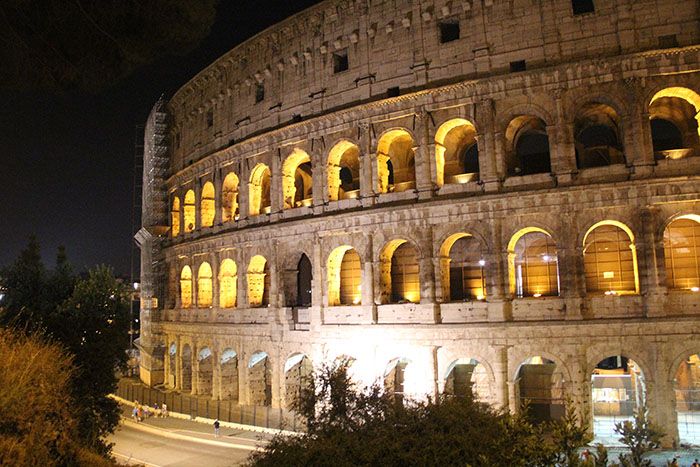 Roma! I've always dreamed of going to Rome. The city has intrigued me, even before the Lizzie McGuire movie, and that added fuel to the fire. :) This happened in Venice too, but the sight of the Colosseum brought tears to my eyes. Yikes. #emotional.
In adulthood, however, people we know who have visited Italy have ranked lots of other places over Rome. So I went into our few days there with unclear expectations. And then Rome completely charmed us. Truly, I LOVED this city. I can't even pinpoint why. I just loved it so much. I loved walking all over and exploring, I loved the jolly folk! I would return to this city in a heartbeat. Our formula for Rome was this: early mornings and lots of sightseeing, afternoon naps during the crazy tourism afternoon hours, and evening strolls with long, late dinners. It was so perfect!
Where We Stayed:
Why we liked it: AMAZING continental breakfast, parrot hanging out in the lobby, great location where we could walk pretty much anywhere, also close to the train station
Where We Ate:
IL GELATARIA- this place is in all caps for a reason. YUM. Best gelato of the whole trip. We went multiple times. My favorites were mint chocolate chip and nutella. (in the Monti neighborhood, I'll update with an address)
another favorite was next door to our hotel (I'll update with name and address) and it was super small.. the food was really good but the best part to us was that the dad took our order, the son brought our bread and silverware, and the mom and daughter cooked the meal. We talked to the owner/head of family a bunch and he was super precious.. it felt like such an authentic, truly Italy experience. We also loved that it was next door to our hotel so it might be worth asking your concierge about something similar
These were a few of our favorites, but we found quickly that as long as you're not going to very touristy places with big plastic photos of food, Rome's cuisine cannot be messed with! We would recommend exploring and finding your own gems as well as taking suggestions!
Things We Did:
The Colluseum- we went early in the day and honestly at times it felt like we were by ourselves, such a cool thing to see
The Roman Forum- At first we tried to keep up with what everything was and got burnt out really fast. Once we just started exploring, we had such a blast. It was miserable hot, but we're glad we did it.
The Trevi Fountain- The trip's biggest heartbreaker was the fountain being under construction. I will return to Rome if only to see the fountain!!
Piazza Navona- one of our favorite spots.. we both wish that we would have structured our day around spending more time here
The Pantheon- a quick and easy to visit spot, but it ended up being one of our favorite places
Vatican City (I'm including in it's own post, it's a city after all!)
Piazza Popolo- we ate lunch over here one day
Villa Borghese Gardens- beautiful views of the city, a great place to rest your legs for a bit!
The Spanish Steps Area