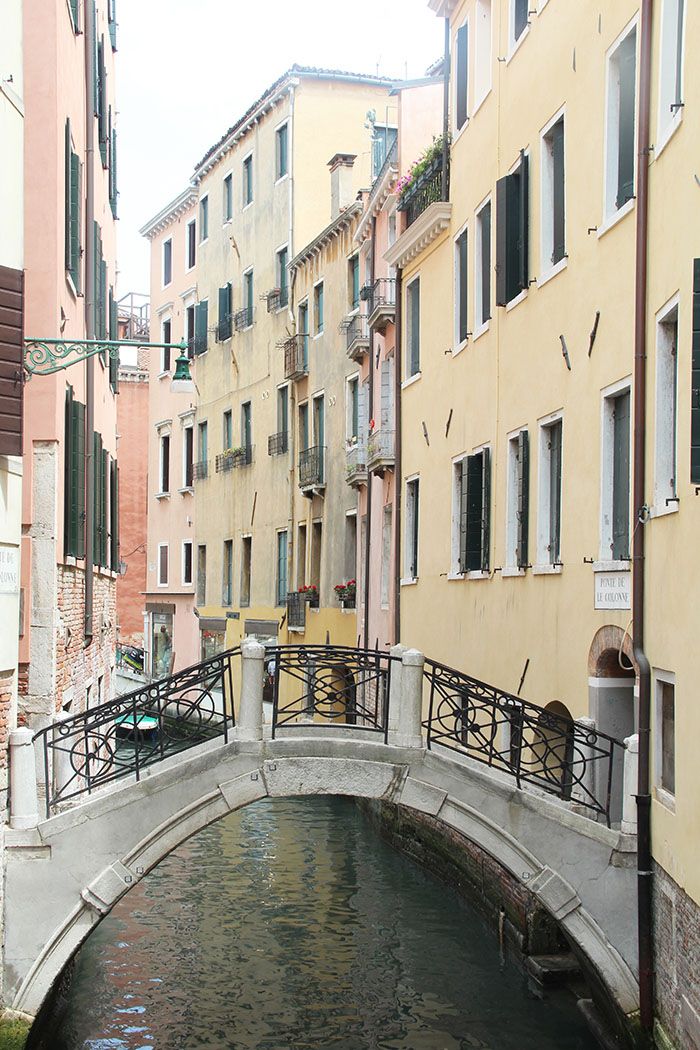 Notable about Venice is that the main thing to do in Venice is to... BE in Venice. It's such a unique, beautiful city. We were there for two nights, one and a half days. And honestly I wouldn't recommend longer. We loved our time in Venice, but it was probably Ben's least favorite. I genuinely teared up when I saw the center of the grand canal for the first time, just because it felt so surreal to be in such an iconic city... but, depending on where you are it can be packed with tourists and men trying to sell you fake handbags. Aka the anti Strader vacation. We did do a few things that we absolutely loved, though! Getting around Venice can be rather difficult, because you can't just hop in a cab to your hotel.. unless you're willing to pay 90 euro an hour for a water taxi. So hopping on and off of vaparettos (water buses) can be a bit stressful with all your luggage. Also notable is that it rained a ton of our time in Venice, which actually ended up being fun because one night we were at dinner and the water levels were so high that the waiter had to tell us to pick up our feet at one point when an ambulance boat came speeding through and the water poured over the top of the street a bit! Venice is also famous for their masks which basically meant that every store window looked like something out of Pretty Little Liars. Our time in Venice started off pretty frustrating just having had a hotel issue, and then we were pickpocketed. :( It was our fault for putting all the cash in one place. But we said goodbye to about 500 euros. We're praying that either our travel insurance or homeowners will cover it. It was really hard for us to move forward and spend money after that happened.. but we had to just be like okay, nothing we can do about it.. we can't let this ruin our trip. And it didn't. :)
Where We Stayed:
Hotel Casanova
- one of our inevitable travel mishaps was that our original booking (below) was cancelled the day before our arrival in Venice. Last minute over the phone, my dad found us Hotel Casanova. The thing about Venice is that everything is $$$ and so your "cheap" hotel in Venice will be substantially more expensive than in any other Italian city. The hotel served us well. It was a good area to be in (just a rocks throw from San Marco) and the room was clean and great. Not anything revolutionary.. but a typical European hotel room. Rocky wifi in the lobby only and you kind of had to wave your phone around.
Things We Did:
Get lost- I had read that one great thing to do in Venice is just explore all the back streets. Venice is such a genuine maze and getting out of the main areas allows you to really find some beautiful places to be, sans 85 selfie sticks being swung at you. Because Venice is a rather small island, you can easily wander aimlessly and find yourself back at the grand canal. We did this and loved it!
Gondola Ride - aka selling your soul for 35 minutes. Expensive but so incredibly worth it. Our gondolier had a great personality, and the experience was super intimate and iconic and just so fun.
San Marco- Going to the square in the evening when it was mostly cleared out was a great idea. Even though we had reserved an entry time online (2 euro a person) we ended up deciding not to go in the church, and just to enjoy the square in all of it's iconic glory.
I don't have specific recommendations, but both dinners we ate close to the Rialto bridge. (We also took our gondola from there) and it was a beautiful area to eat and people watch! Both places we ate were yummy but not incredibly memorable so much so that I would insist someone goes there.
Take lots of Photos- the charm of Venice is it's beauty, and I loved wandering and taking photos of the streets!