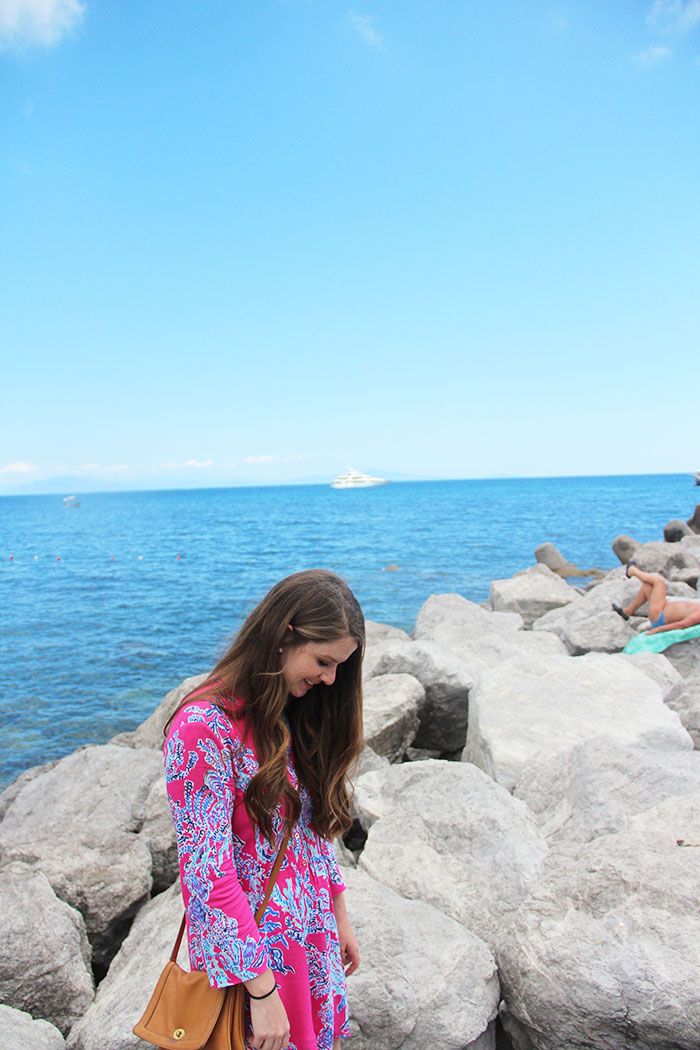 Unrelated photo of me in Amalfi
Thank you to those who have emailed/instagrammed/twittered checking in. I truly appreciate you all so much. I can't fathom how sweet it is to have readers share that they are praying for us. I hate to be so vague, but I'll share when the time is right. Thanks for being so patient with me! I have lots of completed Italy posts ready to roll, so let's do this! :)
The Royal We
by Heather Cocks, Jessica Morgan
It's no secret I'm all about William and Kate. I've watched cheesy movies and documentaries about them, read unauthorized biographies.. and this book is nothing like that. It's loosely inspired by their story but is centered around a normal girl from the midwest who goes to study abroad in London and never comes back because she falls in love with a prince. I was absolutely glued to every page of this book and enjoyed it so much. I obviously loved the England/royal factor but as long as you're into the "romantic comedy" book category you'll enjoy this a bunch. An easy airplane/beach read.
The Vacationers by Emma Straub
I wouldn't recommend this book at all. I hate saying that, but it just wasn't my favorite. I finished the book, and originally just purchased it because I usually have success with the Target book recommendations section.. but ugh. This whole novel was based around pretty unhappy themes. There's a lot of adultery without consequence, and no real depth to the characters. It was just like, inappropriateness without any real development of plot. Notice I didn't link to this because I don't want you to click to it :)
Royal Wedding: A Princess Diaries Novel
by Meg Cabot
I read the full princess diaries series in high school and loved it. This book follows Mia Thermopolis and her relationship with Michael, just like in the first movie. I enjoyed reading it, it was easy to read.. but I guess Mia grew up and started making pretty blunt sexual references throughout her book. :( I didn't have great luck this trip with novels and their totally unnecessary crude details. I read it and mildly enjoyed it because of my dedication to the series.. but could have done without the political undertones and the previously mentioned crude details. That's just me, though. :)
Paper Towns
by John Green
I'm guilty of enjoying a good old bandwagon book that's about to be made into a movie. I really enjoyed The Fault in Our Stars, by the same author... as did everyone else I know that read it. This book was obviously different, but I still really enjoyed reading it. Not my typical style
Note: On our trip Ben read The Girl on the Train by Paula Hawkins and Unbroken by Laura Hillenbrand. I had originally purchased both for myself but Ben didn't think I'd enjoy either of them. I still might read The Girl on the Train, but Ben just said it was hard to read at times because the main character is an alcoholic. He said it's just dark and sad to read of her continually falling into those habits. That being said I LOVED Gone Girl and it's about as dark as you get when it comes to a mystery so who knows!
On my Kindle to Read Next:
Every Bitter Thing is Sweet
by Sara Hagerty
The Life Changing Magic of Tidying Up
by Marie Kondo
Southern Charm
by Tinsley Mortimer
Aaaaaand I downloaded a few "Christian fiction" books to try out. I'm just sick of the smut, y'all. I started one last night and I'm thinking it might be too cheesy/not good enough writing to stick with this new genre of reads that just aged me 20 years. Anyone have any suggestions in this style of book? I've read Redeeming Love and of course loved it.. but no other Christian fiction books! Help!
Edit: I guess when asking for book recommendations I should supply some titles of books I have really enjoyed reading in the past year!
Big Little Lies
,
What Alice Forgot
and
The Husband's Secret
by Liane Morriarty,
The Heiresses
by Sara Shephard (author of Pretty Little Liars),
Shopaholic to the Stars
by Sophie Kinsella,