Psst. Please forgive my under construction blog!
One of my favorite days of our trip was our
"Tuscany in a Day" group tour
. I know. Group tour just sounds ridiculously nerdy and lame. But we soon realized that this was one of the best decisions of our trip. I originally chose the tour because I knew we wanted to see Tuscany outside of Florence, as well as Pisa. The other two cities were just perks. This seemed like an easy enough way to see it all... but we ended up LOVING it. Our tour guide was phenomenal and gave us clear instructions about everything, as well as as much extra information as we desired. We took the coach from Florence to Siena, then to lunch outside of San Gimignano, into San Gimignano, and then finishing off in Pisa. We were beyond exhausted at the end of the day but had so much fun. I never would have thought for us to visit Siena or San Gimignano, but we loved both cities and visiting them really gave us more knowledge of Italy. If anyone I knew was going to Florence, I would suggest them take this day trip. It was also really fun to be around tons of other tourists from all over the world at this point in our trip. 17 days of only each other to talk to had us eager to make friends with others. At our beautiful lunch overlooking the vineyard, we chatted with a couple from Chicago and a couple from New Delhi. I'm kind of out of order here, but I was just giddy to share about our trip to the farm!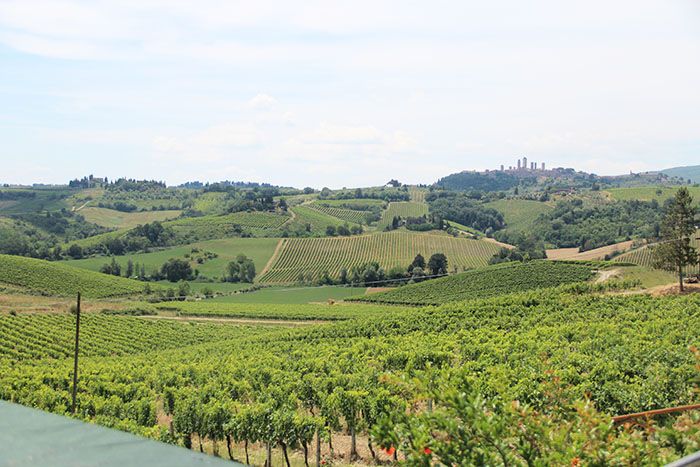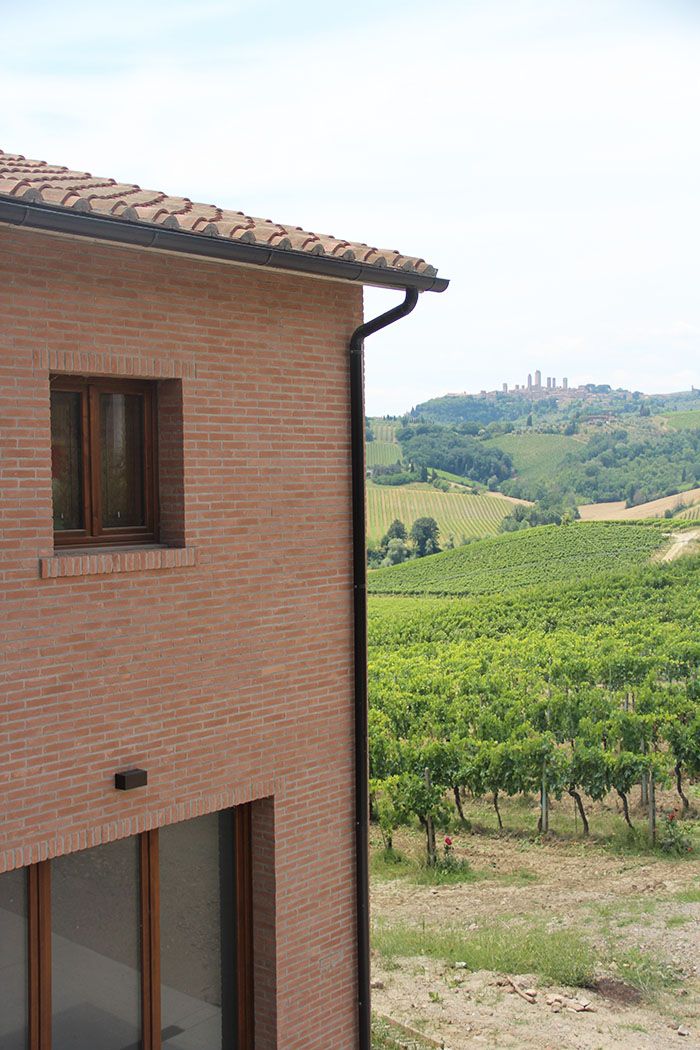 I was in genuine disbelief of the beauty at this point, and the weather was perfect.
A randomly snapped Iphone photo that turned out to be one of our favorites, just as we had arrived at the farm.
The thing about the farm was that Ben was in his happy place. Everything we ate was made there. So like, the pasta was made by wheat they had grown, the meat sauce was made from the cows and tomatoes grown in the garden. So of course it was one of the best meals ever (I never realized how much we would miss the incredibly fresh cuisines of Italia!) and this would be how we would live if Ben could choose. We were on the tour of the farm and Ben was not happy to have to stop listening to snap the photo of me above! Haha!! In the barns the guides were telling everyone to stay away from the cows, but as someone who was raised on a farm/ranch Ben was feeding them out of his hand and so in his element.
The beautiful olive trees!
I love this shot because it shows what our dining experience was like. So amazing. Although I know little about wine, it was really fun to hear everyone talk about it. Another fun thing about this lunch is that everyone had been visiting multiple cities in Italy so it was fun to swap stories about the same places, and share tips for the places we were about to visit.
Showing our view from lunch. I was THRILLED that we got a spot at the end table closest to the view specifically so this photo could be taken. This whole dining experience will probably be one of the best of our lives.
One of my favorite photos of the trip walking up to enter the medieval city of San Gimignano.
The above gelateria did not earn our vote for the best in the world- one in Roma got that! This was good but no better than any of the rest.
Sigh, I miss you beautiful Italy!