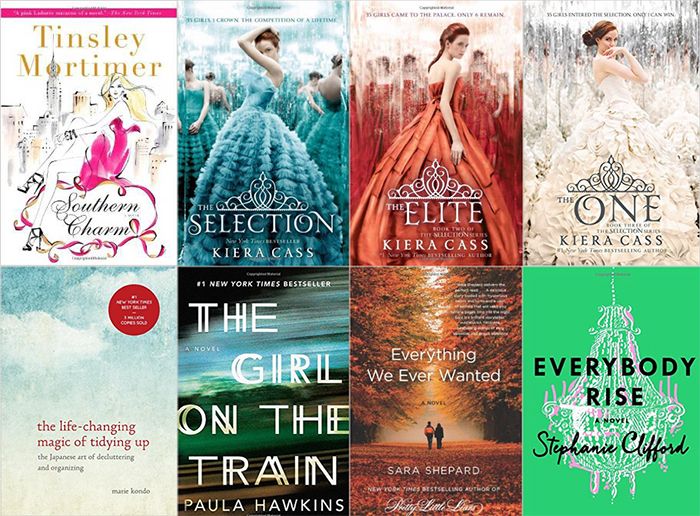 You may be thinking.. are you crazy? 8 books? Yeah.. I know. It's a lot. I read incredibly fast though. Ben is constantly accusing me of only skimming the books and so he'll try and quiz me but it never works in his favor because I do retain the information! An example of my fast reading speeds is that three of these books were read in a little over 24 hours on a lazy Sunday. And we even hung out with friends for a few hours that day. So there, no judgement please. I promise that I have a social life. :)
Also, I'm now SO excited to share more about my reading.. my last post stirred up a lot of connection with readers via email and I LOVED that. Yay! Let's share about reading together, friends!
Southern Charm by Tinsley Mortimer
This was a super fun, chick flick read about a girl from Charleston moving to New York City. I read a review of it before reading where it was described as a book about the main female character's personal journey with no mention of romance (not the case, there is a romantic plotline in the book) so I had a different experience reading this because I was expecting none of the male relationships to go anywhere. Especially for me, someone who loves living in the South but is occasionally lured by the magic of the city for visits, this was a great choice.
The Selection by Kiera Cass
The Elite by Kiera Cass
The One by Kiera Cass
You're probably already sick of hearing me share about how much I loved this series. If you like the bachelor, dystopian books, or the royal family.. pick it up! I promise you'll fall in love like I did.
The Life Changing Magic of Tidying Up by Marie Kondo
This was a different read for me- but I'm glad that I read it. I gained a ton of practical insight about decluttering and really tried to think seriously through the process. After really enjoying the first 150 pages, I just skimmed the last 50 pages because it got a little too kooky for my liking. Just being honest. :) I'm not going to be "thanking my personal belongings for what they have done for me" before putting them away each evening. That being said, I really did enjoy this book.
The Girl on the Train by Paula Hawkins
I had held off on reading this even though it's been on our kindle app since before our Italy trip, because Ben wasn't incredibly crazy about it. I LOVED it though. I could see how it connected with my Gone Girl reading heart. The female characters in the book were incredibly ridiculous so my only complaint is that I didn't connect with a character like I enjoy doing. Like, I didn't necessarily root for anyone, I just wanted to see the plot unfold. And I really did enjoy seeing the storyline.. I guess it's a different type of book so I should have different goals for reading. There's a reason that everyone's reading and talking about this book- pick it up if you haven't already.
Everything We Ever Wanted by Sara Shepard
It's been a long time since I've read a book that took me a bit to get into. I realized when I was 65% done with this book (thanks for that number kindle app) and still having a hard time getting into it.. that it wasn't going to turn around. I never was invested because I didn't really care for any of the characters too much.. and my biggest issue with this book was that there was literally no plot. It was just about a family and a few events happened but there was no plot line whatsoever. Not the worst ever, but clearly not the best.
Everybody Rise by Stephanie Clifford
This book was a unique reading experience.. the first half I was pulled in but not loving it. After the second half started though I enjoyed it. I rated it three out of five stars on good reads. I just finished this last night so I guess I'm still processing my thoughts.. but it was worth a read for me.
What are you reading right now? What should I add to my list? I've LOVED connecting with y'all so much about reading since I most recently shared what I had read!!