Prompt: What's on your wish list? Be sure to include links so we can shop too ;)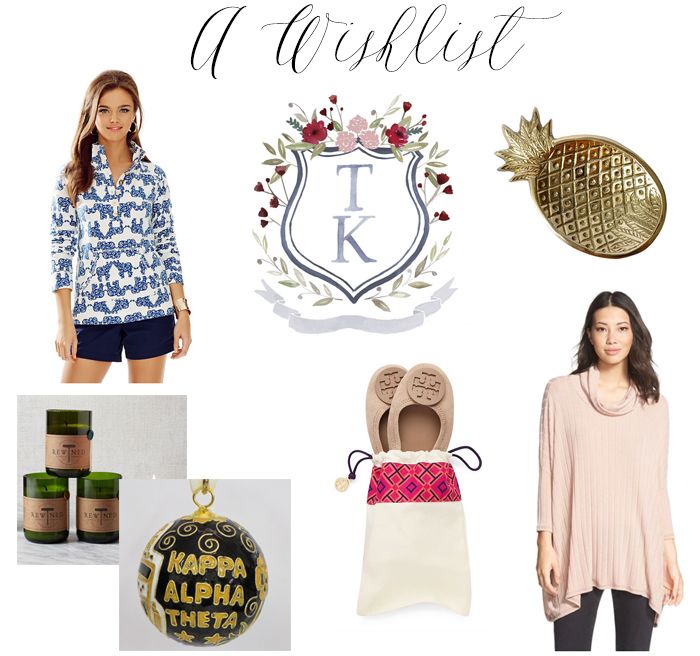 Lilly Pulitzer Popover-
It's no secret I love Lilly.. and one of these popovers has been on my wish list for years. This print is perfect. This is for sure going on my Christmas list.
Juliet Grace Shop Family Crest-
A custom family crest was on my wishlist last year, but those have now been discontinued and I've got my eye on a more financially attainable option!
Sorority Christmas Ornament -
I've had one of these pricey ornaments on my mind since last fall.. I'd love one for our Christmas tree this year. Such an heirloom piece!
Pineapple Coin Dish-
Pineapples, enough said!
Rewined Candle-
I saw these at a boutique in the spring and they were so beautiful and unique!
Tory Burch Minnie Travel Flat-
A month or so ago I was shopping with my mother in law and we found these flats on sale in a bright orange color and I considered buying them, but essentially decided against it because of the bright color. However, they were so incredibly comfy that I've been thinking about them since! I love all three of the suede colors! I initially leaned towards the navy (I have a blush purse) but would that be weird with how often I wear denim?
Blush Cowl Neck Swing Sweater
One of my most worn items of clothing from last year is a gray cowl neck swing sweater- it was always my comfy go-to for casual and more formal outings, bc it could be styled in so many different ways. This blush one is beautiful and I'm sure I'd wear it just as much!