Prompt: Create a collage or inspiration/mood board that describes your blog.
While working on my new brand, I did a lot of self evaluation. At first, I really wanted to choose a blog title that wasn't my name. The name I mentioned leaning the most towards, was
British Belle
. I realized I wanted to use it for something, if not for the name of my whole blog.
I've mentioned times before on my blog that I feel like I have two strong forces powering my personal style. In the recent years, I've realized those two forces are the places that blend together the heritage of our little family. England, and the Southern United States. It's the reason one day I'm head to toe in navy and white, and the next I'm in a colorful Lilly Pulitzer shift dress. A deep love for these two places that have shaped me, and us, come together and create my own unique personal style viewpoint. So that's what this mood board represents.
I'm equal parts front porches and gravel paths through flowering gardens. I'm Kate Middleton and Reese Witherspoon. I love my Hunter boots, but covered in Texas ranch mud, not splashes from frequent London rains. I'm Scones and grits. Ironically, I'll pass on both hot tea & sweet tea. At different levels of excitement, my voice can either be peppered with Southern twang or a posh dialect.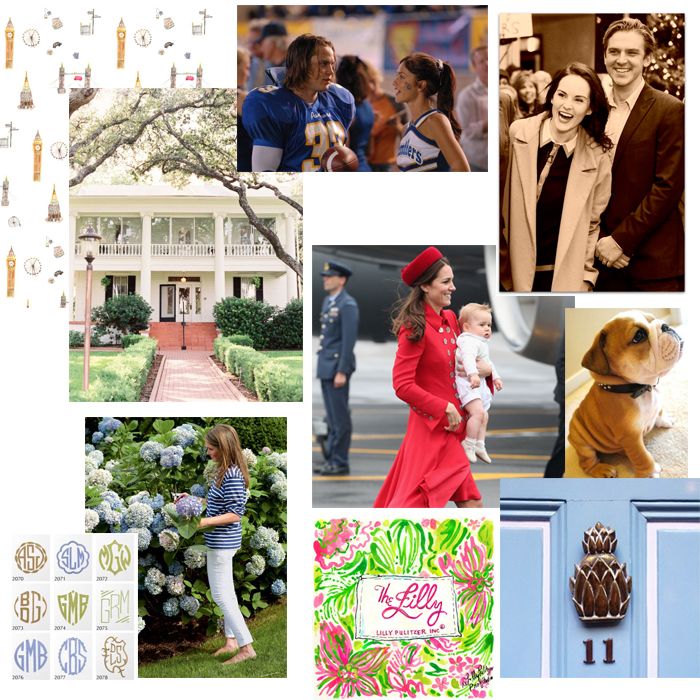 Since my
lifestyle change
, I've enjoyed personal style more and more. N
ote: That's just my personal experience, praying that each of you reading are comfortable in who God has made you to be, and expressing your sweet personality in your rocking outfits!
You may have noticed that I've mentioned clothes a lot more on the blog, specifically in my
Friday posts
.
British Belle is going to be a series where I feel like I can play style blogger when I feel like it. That may include outfit posts, or fun finds, or whatever I feel like will be fun. I don't really plan on being a resource for you to get info on all the sales going on, or all the new things being released.. like professional style blogs. I just want a space of my blog to share some personal style things that I'm excited about. Hope that's okay with y'all. :)