Hi Friends! Today marks the start of a project that I'm really excited about. I'm going to be blogging through my experiences with hosting Thanksgiving. I've read from the best, attended cooking demonstrations, and hosted three Thanksgivings during our first two years of home ownership. It's my hope that sharing my experiences will make you feel like you can host, too!
Before Ben and I got married I had never cooked. Ever. Period. I survived college on Lean Cuisines (yuck!) and Jason's Deli takeout (yum!). Ben grew up in a household where he never once bought a cafeteria lunch and his sandwiches weren't pb + j.. they often included bacon and toasted bread. Sigh. I had big shoes to fill. Looking back though, by some miracle I didn't get overwhelmed.. I got inspired. I developed the same cooking philosophy that I hold today: I think anyone can be a great cook. If you can read a recipe, you can feed happy people at your table. You maybe can't make gourmet French pastries (I've never tried!) but you sure can feed a bunch.
This post will ultimately become the landing page for all of the posts in this series, but first.. let's share my history with Thanksgiving. It's kind of ironic that I've become so passionate about hosting Thanksgiving, as I grew up with only three other members of my family celebrating the holiday! With all overseas British family, I remember them calling to wish us "Happy Turkey Day!" but to them it was the same as any old day. Thanksgiving didn't become meaningful to me until for whatever reason, I decided that I COULD DO IT. I could make a Thanksgiving meal. So our first year of marriage, Ben and I hosted two Thanksgiving dinners. One on the Sunday before the holiday, a "Friendsgiving" and one on actual Thanksgiving Day. That dinner had 12ish guests, and I felt amazing about it. I attended a turkey cooking demonstration at Williams Sonoma (where the majority of unbeatable turkey wisdom I'll share with you will come from) and turned to my idol, Ree Drummond for the rest. Looking back I'm not sure why I felt so confident that I could cook a large Thanksgiving meal, but I could and I did. And you will too. :) The most vital thing is planning ahead, something that wasn't hard for a girl who last year ordered her Christmas cards during a Labor Day sale, but I'll get to that. :)
Our first year (2013), we had a yellow kitchen. I made my first ever pecan pie (with an aggie detailing!) and we had a tablescape centered around magnolia leaves that I asked my father in law to steal off a tree at church. Our table didn't match my ideal aesthetic so I ordered a caterers table cloth off amazon. We ate off of our wedding china for the first time.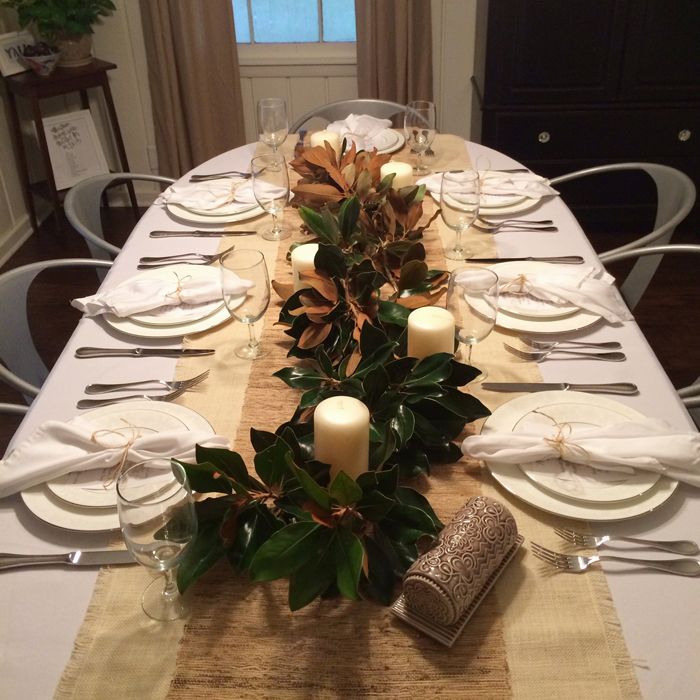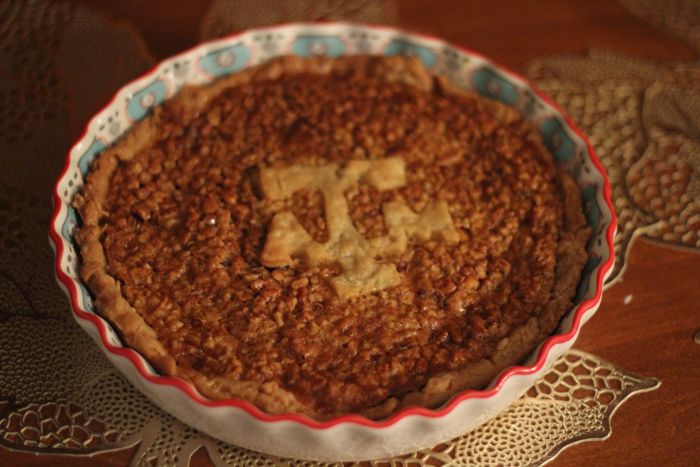 In 2014 our guest list more than doubled. We opened up our doors to anyone who didn't have anywhere else to be the night of Thanksgiving, and it was one of our favorite days of the year. We soon saw that most families we knew celebrated with a late lunch, leaving lots of happy guests eager to celebrate with friends that evening. I tried a different stuffing recipe, one from Southern Living magazine. Ben made most all of the side dishes because I had a bad cold. Even though I had from scratch pie crusts ready to use.. at last moment I didn't have the energy to roll them out so we used store bought. No one knew or would have cared. A good lesson for me. We had guests at two tables and on every other available seat. I spent way too much money on flowers at Central Market trying to be better at flower arranging than I actually was.
Eek! I am so excited to share all that I've learned with y'all. I really and truly feel like I've picked up some great tips along the way and I hope that they will bless you, your family, and your belly. I hope that reading ahead of time and planning will free you up to joyfully open the doors of your home and love others well.
What's to Come:
I've included dates so that you can plan to use this information accordingly :)
What to Wear when Hosting
Why I Host
If you have any specific questions or things you'd like to be addressed, don't hesitate to ask in the comments! :) You could be asking something someone else is wondering and help me get to the bottom of it for y'all. I may not know the answer, but I sure can research on all of our behalf! :)