"When you haven't yet had your heart really broken, the gospel isn't about death and rebirth. It's about life and more life. It's about hope and possibility and a brighter future. And it is, certainly, about those things. But when you've faced some kind of death— the loss of someone you loved dearly, the failure of a dream, the fracture of a relationship— that's when you start understanding the central metaphor. When your life is easy, a lot of the really crucial parts of Christian doctrine and life are nice theories, but you don't really need them. When, however, death of any kind is staring you in the face, all of a sudden rebirth and new life are very, very important to you." - Shauna Niequest
July 15, 2015
I never thought it would happen to us. Even after it was already happening, I
still
never thought it would happen to us.
Ben always says we've been parents at heart since we were 14. We're both the person that always gravitates towards children in whatever situation. I can't sit in a room with an adorable little person and not want to become their best friend. One of my favorite things about Ben is how natural he is with children. I've always known he would be an incredible dad. Some men turn out as great fathers but their own baby is the first that they hold, the first diaper they change, etc. I love that this isn't true for my sweet man. It's one of the ways we fit each other so well. We just genuinely love children and have dreamed of our sweet family together and apart since we were little ones ourselves. More than dreaming of my wedding, I've dreamt of being a mama.
Yet I'm type A, and Ben is extremely financially wise/cautious. When we got married, we were technically still in college doing our teaching internships. We knew we wanted a few years of "just us" before thinking about babies. Lots of friends asked if after our trip to England and France would be the time for us. But it just didn't feel right to us. We weren't there yet. I always had just imagined that the Lord would individually convict us that it was time to start a family. And unlike so many other things in life, it was just as I imagined. In Fall of 2014 we knew we were ready. I've expressed several times on this blog that I really struggled with coming up with a vision and an overall prayer for 2015. I can now share that this is because I figured we'd have a baby in 2015 and that that would kind of dominate the year, but I also knew that there was no guarantee. So I wouldn't think of my year in those terms publicly or privately.
I will share the following in transparency hoping that it can educate young wives/future young wives who haven't been exposed to a ton about women's health and the process of getting pregnant. My only background knowledge was what the teens on tv learned in sex ed classes. Because of several factors around us, I developed this unhealthy thought process that either we'd get pregnant right away, or never. I cried the first month we got a "no" because I had built up such unrealistic expectations and surrounded my heart with fear. Not good. Over the next few months as we kept getting "no", I really struggled with fear of the future. I learned that it can take up to two years for completely healthy, able to reproduce couples to get pregnant. But it wasn't the wait that scared me, it was the "what if". This turned into a really sweet time for our marriage to be strengthened and for friendships to grow. I can't tell you how many times Ben and I cancelled all of our plans and did something silly just the two of us because our hearts were hurting. A favorite: purchasing a cookie cake and driving through a nice neighborhood looking at dream houses while we ate pieces of the cake. It took us a very average 5 months to get pregnant in the end, and I am sad looking back to how much I let fear control me during this time. My sweet friends were very graceful with me. :)
When we got back from Italy in July, I drafted this introduction to a July Goals post that I never published.
June was everything I expected it to be. Ben and I shared the trip of a lifetime around Italy. I often find that before and after a trip are just as fun as being on it, I'm so enjoying going back through all of our photos and remembering favorite moments. We're grateful to be back, and the Lord really used our time away to show us how much we have to be thankful for at home. I feel like a broken record talking about this, but God has blessed us with such a strong community of friends (at church, and from other sources) and it has made all the difference for me in 2015. The year is halfway over and at the beginning I longed for the Lord to show me a vision for the year. I tried to settle on a few things that "kinda sounded right" but nothing stuck like the clear vision I felt like He put on my heart for 2014. Now that the year is halfway over, I know that community has been a clear theme. I'm deeper in friendships that have existed before this year, and watching those relationships flourish has built such a strong foundation for us. I am so grateful!
We found out we were pregnant in Florence in June. I had expected our monthly "no" when we were in Venice. But didn't get it. We then moved on to Cinque Terre. Still no answers. And on our last full day in Florence, we cried happy, happy tears. The timing felt perfect in so many ways. Most obvious, we were on an amazing trip to Italy. Finding out there felt like a fairy tale. I guess in Italy you have to buy pregnancy tests over the counter, so I got a sweet smile from an Italian pharmacist when we purchased the test that changed our lives forever. Another, I saw that getting to share my faithless fear with the community in my life had brought me to a vulnerable state and it had been so rich. Friendships were stronger than ever before and I truly believed that this was a huge part of the timing. I also felt like our "not right away" but not infertility story could bless younger women in my life. I wanted to give them a more realistic, educated expectation than I had going into this. I felt more encouraged and inspired than I had in months. I felt myself walking closely with Jesus and felt Him show me that there were constantly going to be things to fear, especially now bringing a child into this world. I was giddy for the journey I was about to go on, learning to trust Him more.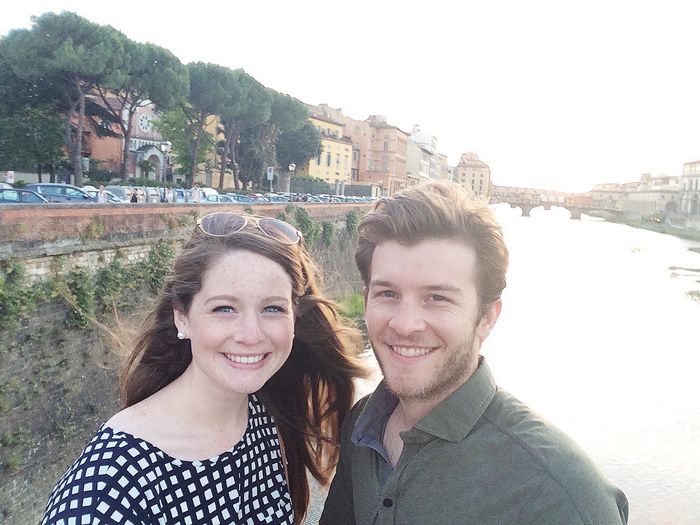 A photo from the day we became parents
We were on cloud nine the rest of the trip, but I was also nervous about the journey home. It was going to be long and not filled with much rest. It just made me a little nervous. But we arrived safely and I felt great. We're not secretive people, so we wanted to go to the doctor as soon as possible, confirm the pregnancy, and tell our special people. The morning after we woke up from a long, jet lag filled journey, we confirmed that happy news and I randomly told my favorite sales gal at Lilly Pulitzer our news because I just had to tell someone. (other than my good friend
Meredith
, who had talked us through everything that had happened thus far)
The next week, during our family vacation to Austin we started the process of sharing our happy news starting on a Monday, and unfolding the next few days.
I started bleeding that Thursday. Saturday was July 4th and we spent the night in the emergency room. I have never felt more small than wearing my hospital gown and bracelet, waiting for them to roll me back to sonogram after taking my blood. I couldn't see the screen but Ben saw the sonographer measure a tiny babe. Once all the testing had been done, the sweet doctor told us that either I was having an early miscarriage, or the baby was earlier along than we had originally thought. She said there was no way to know for sure, but I knew my blood work didn't make logical sense and I knew what was happening. Ben and I clutched each other and cried in that little ER room while fireworks were blasted around the country. I felt numb. I texted several close friends who didn't know about the pregnancy, begging them to pray with us. Telling them I knew it was happening.
The next day we knew for sure. I'll never forget sitting in the bathroom crying, with Ben almost shouting prayers to the Lord to give us grace.
I'm writing this post a week and a half later, unsure of when it will post. Maybe never. But probably sometime.
I can't grasp how to mourn the loss of my child when I've never had one before. I can't wrap my head around the fact that we didn't just loose a baby, we lost OUR baby. A baby that was a boy or a girl, although we'll never know. A baby that would have had different features that favor us, that would have been given specific gifts and interests by the Lord. We'll never know that little one. Our baby was 7 weeks old but had stopped growing at 5. The baby's due date would have been mid February 2016. I've felt numb and angry and scared, all covered with layers and layers of sadness. For a few days I felt like our trip to Italy, our wonderful trip, was ruined in my head. I couldn't think about Florence and not think of our loss. In the past day or so I've managed to shift my perspective a bit. I can think of Florence joyfully because that's where we received the news of a little life that will always be so precious to us, a little life that changed us forever. We need to remember Florence fondly. We can be mad at July 4th and pray that the Lord will redeem that holiday for us. But Florence is worth celebrating. Yes, the baby's life ended. But it started too. And that is a great joy.
July 23, 2015
In the last few weeks I've felt the meaning of:
And the peace of God, which surpasses all understanding, will guard your hearts and your minds in Christ Jesus- Phillipians 4:7
I have been able to experience joy and hope.. which literally makes no logical sense. There have been moments I've felt the Lord's arms wrapped around me and been able to rest in Him as I grieve. I know that many may read this and not be able to comprehend that.. I couldn't either, even knowing the truth of God's love. I hope and pray that this testimony draws you to Him.
But there have also been moments that have torn me apart. I've learned that real friends ask "how are you doing?" and say something when it's uncomfortable to bring up your pain. Whenever I'd be around people who wouldn't say anything about what had happened to us it felt like they didn't care or consider what had happened to be a big deal. A relative of a close friend who has experienced this same loss penned me words about how just because miscarriages are (heartbreakingly) common at times, it doesn't make the loss any smaller. It's always the loss of a human life.
I realize that sometimes when I feel good, like I'm being able to move forward.. I'm just trying to forget. I don't want to forget. I long to hold my baby. I miss someone who I've never met. Inevitably, I always remember again. I remember and have to feel my heart break again.
Today
I'm amazed at the Lord. I have pages of prayers of us begging Him to provide a healthy pregnancy as soon as possible, while knowing He wouldn't provide if it wasn't right for us. But it was. I'm now 12 weeks pregnant with a baby due in May. It's brought me great comfort knowing that our two children couldn't have coexisted.. it makes me see that His plan was for this child to be born. The provision of another pregnancy has brought tremendous healing, but not all the healing. Just a few days ago I cried for an hour because I missed our first baby, all while I knew our second was growing inside of me. It's not okay and it will never be okay. I can look at our situation and see how the Lord used it to draw us near to Him, and to strengthen our marriage. Ben carried me through so many days. And we learned so much about grief that I hope will help us relate better to others in times of need. I learned that loss can be a make it- break it for relationships. People don't know what to do.. but I've learned it's important to ask what is needed. I've communicated to many that saying the wrong thing is better than saying nothing at all. As I mentioned above, I've grown exponentially in my knowledge of what living in community looks like. So many people in our lives saw this as an opportunity to draw close and love us well. Friends became MY PEOPLE. I cried in so many restaurants with friends who snuggled in on the same side of the booth. I felt t
he prayers of friends and had visitors drop off sweet comforts. I loved this thought shared with me by Emily
, via her church's Easter service "the worst thing is never the last thing" (in context of the crucifixion of Christ being followed by His glorious resurrection. I cannot tell you how many times this thought gave me hope. I actually emailed and was encouraged by several blog readers, too. When people asked me directly what was going on I told them and asked for prayer. Y'all rock and I hated being vague. You may have noticed that I had an overflow of "fluffy" posts about travel and clothes and good distractions. I originally thought I would want to step away from blogging, but these things became a sweet distraction for me. I really dove into trying to grow this little blog and trying to create fun images and posts for it. That was a sweet comfort for me.
I can look at this situation and see how God used it.. but I'll never be glad it happened. It's a unique struggle in that way, the first of my life that I can see the good yet always wish it had never happened. It's weird to think that I'd be over halfway done with pregnancy at this point, that our baby would be coming home in a few short months. One of the most helpful things for us in our loss was being encouraged to do something to remember our baby. People told us of burying boxes in their backyards, planting trees, wearing birthstone rings, etc. We wanted something private for just the two of us. Something that would celebrate our little life that was just as real as mine is. Ben purchased me a beautiful diamond bracelet from Tiffany to give me a reminder of our baby.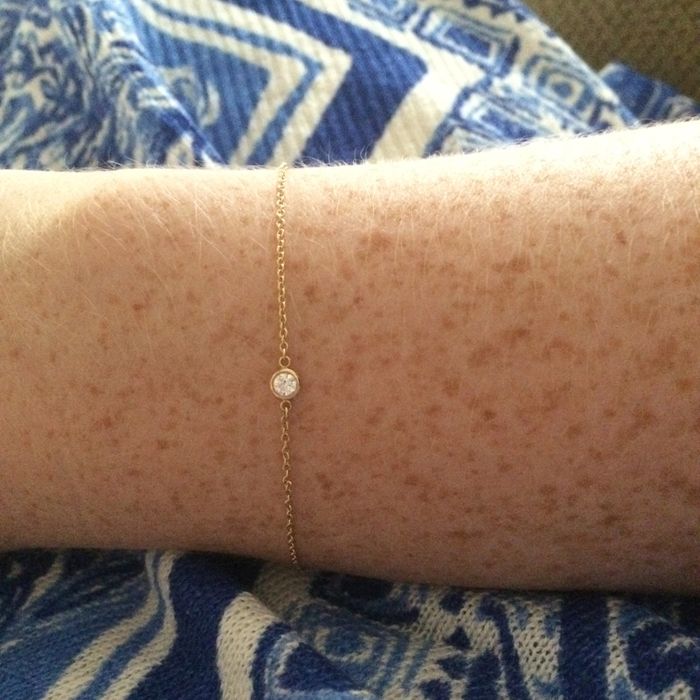 At first I struggled with the idea of something material to commemorate the sweetness of life and the darkness of loss.. but this little diamond became our reminder of our baby and it has suited us perfectly. I don't wear it daily because it's really dainty and there are obvious fears of loosing it or breaking it. I'm trying to get better about that, because it could always be repaired.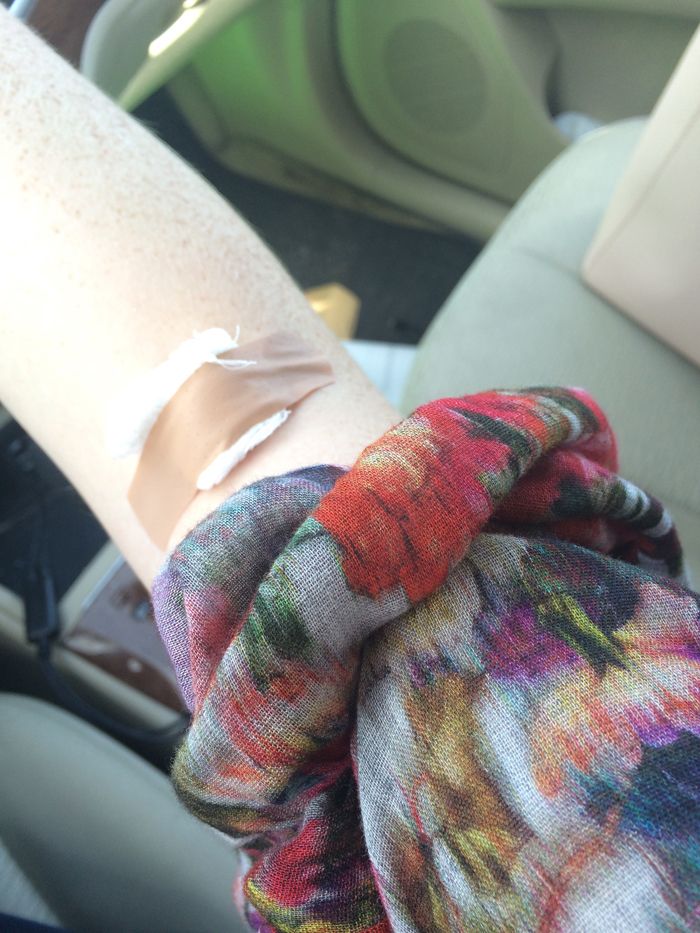 The week that we found out we were pregnant I went in for blood work several times so that we could see my hormone levels rising and feel confident about our little baby. I remember looking down at my bandaged arm and thinking that we were fighting for our little family.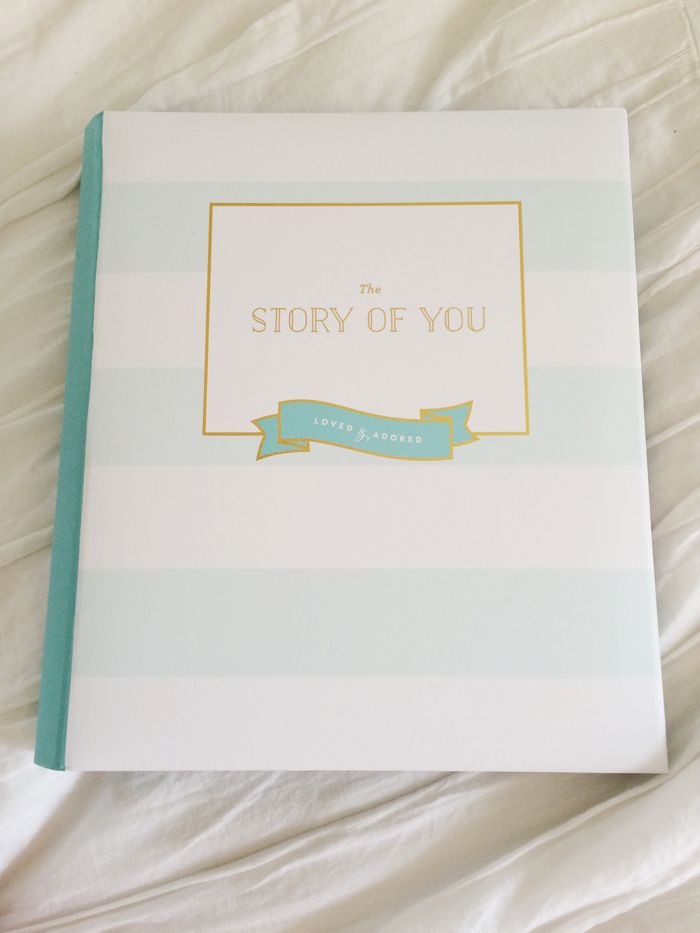 Right after I found out about our first pregnancy, I pre-ordered the beautiful
Emily Ley baby book
. I have always loved Emily's products and I knew this book would be gorgeous. It arrived a few days before we learned of our second pregnancy. I threw the box under our bed and tried not to cry or think about it. The morning that I took a positive test I pulled out the book and read of the milestones in the book and prayed and hoped and believed that our baby would reach them. This was a sweet comfort to me and I'll always remember looking at the baby book multiple times that day so fondly.
I don't know how to end this post, because the story is ongoing.. we'll walk through this for the rest of our lives. It doesn't hurt any less now we have a healthy baby growing, I don't think it will hurt any less on our baby's birthday or when our baby graduates high school. It's part of us. But I wanted to share with y'all our journey up until this point. I pray that it encourages you no matter what season you're in. If there's one thing you take away from our story, it is that He is ever faithful, even when it doesn't feel that way. Love you all, thank you for reading.