I knew that my goals for 2016 were going to be different. In the obvious way that we will bring home our sweet baby this year, but also because I wanted to make some serious stuff happen.
Then these showed up on my doorstep, thank you AMAZING Lara Casey Shop & Team!!!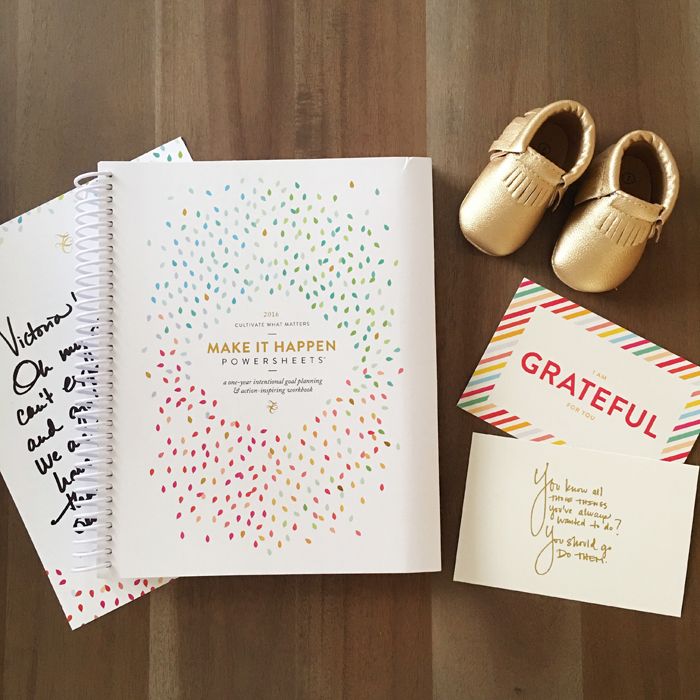 I added the shoes for the photo. :) I am so grateful for the opportunity that I've had to really dig into the
Lara Casey power sheets
. You may think.. how the stink could I fill a whole book full of stuff about goals? The
power sheets
are created so intentionally to help you self evaluate from an honest and deep place. I had the added bonus of getting to have a lengthy FaceTime date with my online bestie
Nicole
, to talk through the process and our goals. I can't recommend these two things highly enough-
power sheets
are so worth the investment, and community really helps things get worked through, and hopefully done! I could never have gotten to my goals, and to the ways I'm going to execute them, without this combination.
It was really cool for
Nicole
and I to realize that at the end of the day, as followers of Jesus, our goals should be the same. They were all "different" but pointed to the same overall goal. While we were talking I found myself suggesting things to
Nicole
that were actually about my goals- ha!
2016 Goals:
Below I've listed my 7 goals for the year. I'm obviously going to continue to focus on other things outside of these, but they're things I want to accomplish this year. In italics are some of the action steps I will complete to work towards these goals. Some are small (ex: make a bucket list) and some are HUGE (ex: buy an investment property).. I'm praying that the Lord will bless these, or change my path if it is what He has planned!
1. Intentionally parent from the very start.
Read Moms On Call & Babywise, maintain sweet friendships and a strong marriage as a priority in this new season, reach out to moms I admire and respect to visit about the journey ahead
2. I want to reach out to 52 old friends this year.
Make a list of 52 people, divide that list into months, go go go!
3. Create a legacy of faith and sweet memories for our family.
make a list of fun bucket list items for the year ahead, plan for + schedule professional photos, work on Sweet Baby Strader's Emily Ley baby book, continue making yearly photo books
4. Save Money & accumulate less clutter.
Rework our 2016 budget, declutter all areas in January, identify what things need a "home" and what things need to be purged, purchase an investment property.
5. Cultivate Prayer.
Create a list of specific prayers we have for Sweet Baby Strader for Ben and I to pour over + share with friends and family, do a month of prayer for our marriage (from some kind of guideline), pray in the car with no radio or podcasts
6. Be strong & healthy, and create that environment for our family.
Create a list of new, healthy recipes to try in the new year (share on the blog!), fight to do some kind of activity 3-4 times a week throughout the rest of pregnancy.. fight the sickness, more meals at home
7. Establish a morning routine.
Make a list of what is important for me to accomplish each morning, etc.
And, my
monthly goals
. These kind of go with my big yearly goals, but sometimes will be independent. This month is pretty "year prep" heavy. :)
But first, my goals from last month.
December Goals:
mail out our Christmas cards + party invitations
host a scarf party for the rest of our home group with my bestie Polly
this just wasn't meant to be :)
Have several big crafting sessions with my kind friends to make gender reveal decorations
finalize all party details by the middle of the month: order cakes, chat with relatives about making their signature dishes, check in with photographer, choose outfits for Ben and I, etc. Can you tell I'm excited about this party? :)
Go on a special Christmas date with Ben,
I've got my eye on the Dallas Arboretum
I've still stayed pretty sick & tired through the second trimester.. we close to opt for making a palette in the living room under the tree and watching the holiday this year. :)
Attend a Phil Wickham, Shane & Shane Christmas worship concert with Ben and my in laws
two doctors visits this month- one on the 3rd, and our GENDER SONOGRAM on New Year's Eve
share our Christmas Home Tour
you can find that
here
bake a new Christmas sweet treat recipe
bake Pioneer Woman cinnamon rolls for us, friends, & family
January Goals
This looks like so much.. but it's really not! Haha!
host our gender reveal party on the 2nd to celebrate the life of our Sweet Baby Strader
Make my list of 52 people I want to reach out to this year
Begin reading Babywise
Have a date night with Ben where we make our bucket list & rework our budget
Make a list of prayers for Sweet Baby Strader
Purchase nursery bedding
Work on picking a scripture that we want to display in the nursery
Declutter all areas
Register for birth class + nursing class at our hospital (how is it possibly time to think about this?!)
Take our stockings to get monogrammed (gotta be ready for next year.. one less thing to do in the fall!)
Register for #SweetBabyStrader, go on a date night to actually look at strollers and carseats
What do y'all have planned for January & this brand new year ahead?