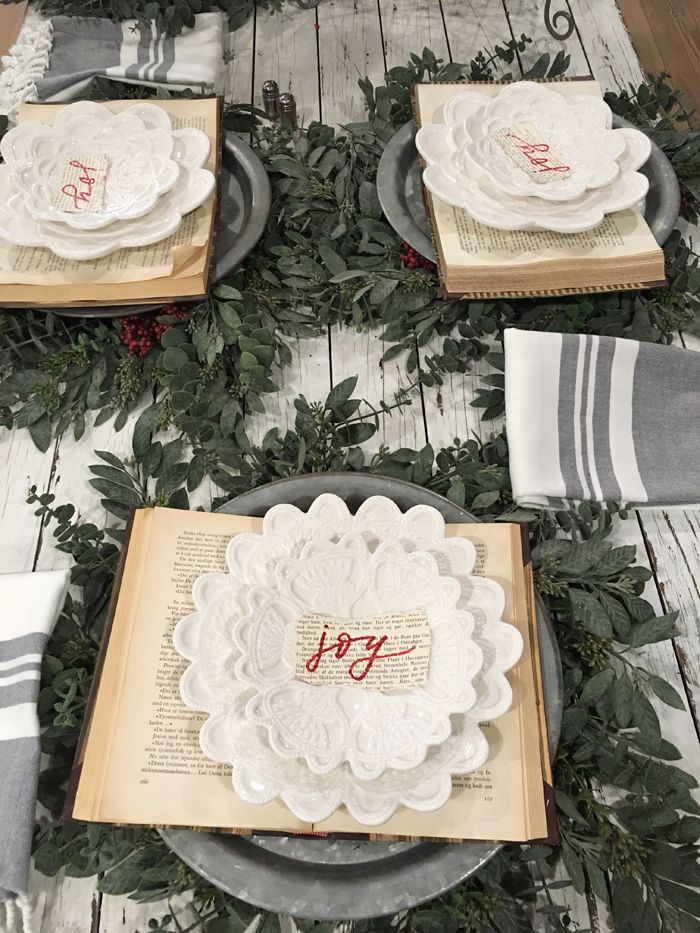 A favorite tablescape from my trip to the Magnolia Silos
The last month of the year is here, and it's going to be such a sweet one! It looks like my list of goals is long, but it's really just filled with fun celebrations. I'm so excited to make this December full to the brim with celebration and joy with friends and family! I can't believe that this month we'll finally know more about our baby's little identity. Ben and I have wondered for years about what the gender of our first child would be, knowing that it will set the tone for our family's dynamic. Each time that I think about it, I am so excited and confident in knowing that God is going to give our little family exactly what it needs... I just can't wait to know! After the appointment, we have a gift card to Janie + Jack that we'll go spend on a few treats for our baby.. treats that will be hidden in the closet for the next two days while we keep the secret! Haha! This fall (and now winter is coming) season has been full of sweet supportive friends & great memories with our "community".. when I say that I mean our amazing church home group, and several other friends that we just love so dearly. It's been a sweet season for us, one overflowing with blessing. We're so grateful and anxious to spend the month celebrating the coming of our savior, Jesus!

I'm so proud of us for crossing off an unexpected goal on our list.. I had originally planned on us trying some paint samples for the nursery over December and hopefully painting over Christmas.. but my rockstar husband already knocked this task out over Thanksgiving. Our nursery is beautiful and painted! :) I can't wait to share more of our nursery inspiration soon!
November Goals:
Maybe write a Thanksgiving guide, maybe not. Grace. :)
work on plans for our gender reveal party, select an invitation and begin working on decorations I'll be sharing our inspiration + invite next week! Getting so excited!
finish Christmas shopping
host our third Thanksgiving
decorate our home for Christmas a few weeks early, for a fun project
get my hands on a copy (more like COPIES) of Southern Weddings V8! we bought five total! haha!
December Goals:
mail out our Christmas cards + party invitations
host a scarf party for the rest of our home group with my bestie Polly
Have several big crafting sessions with my kind friends to make gender reveal decorations
finalize all party details by the middle of the month: order cakes, chat with relatives about making their signature dishes, check in with photographer, choose outfits for Ben and I, etc. Can you tell I'm excited about this party? :)
Go on a special Christmas date with Ben, I've got my eye on the Dallas Arboretum
Attend a Phil Wickham, Shane & Shane Christmas worship concert with Ben and my in laws
two doctors visits this month- one on the 3rd, and our GENDER SONOGRAM on New Year's Eve
share our Christmas Home Tour
bake a new Christmas sweet treat recipe
bake Pioneer Woman cinnamon rolls for us, friends, & family\
What do y'all have planned for this month? I genuinely want to hear how you celebrate the holidays and what you have in store for the month! :)
Ps. Don't worry, I'll have a chance for you to cast your vote on #sweetbabystrader's gender at the first of the year! :)