First, thank y'all so much for all of the encouragement I got on my
17 weeks of pregnancy post
, it was so sweet to see many friends reach out about wanting me to keep posting. Y'all are the best. :)
This time of year I love reading about how different families celebrate Christmas. I'm all about the traditions. This year, Ben and I got to contribute our newlywed traditions to a feature in
Southern Weddings
V8, pictured below.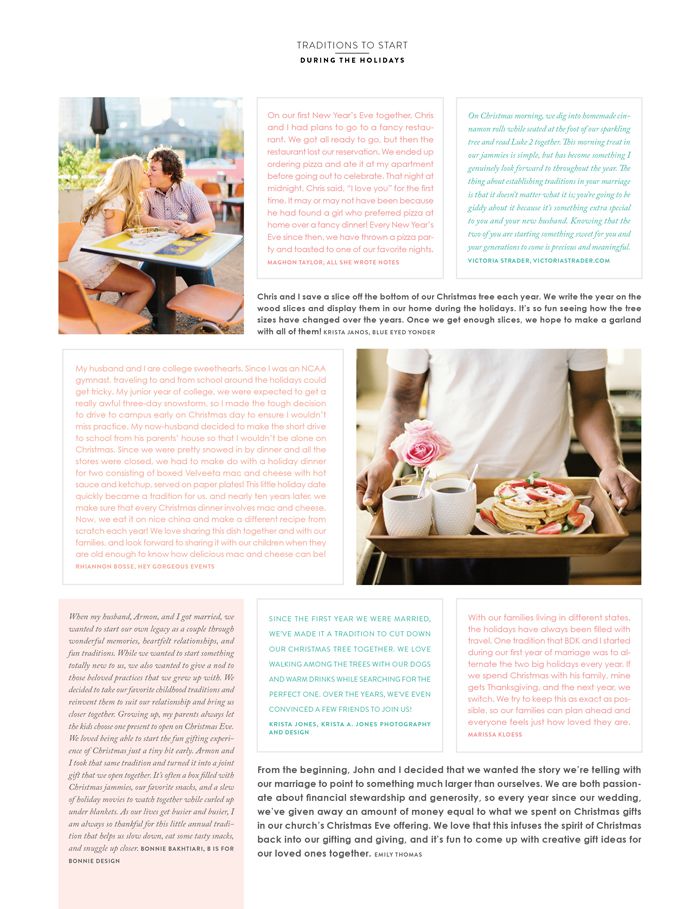 We shared our Christmas morning tradition, eating homemade cinnamon rolls under the Christmas tree. When we talked about what we wanted to send in, Ben exclaimed "That's our only tradition?! We need more!" Well ask and you shall receive, dear husband. This year, anticipating how different Christmas will be from here on out has been SO fun. This week I got a cute little children's Christmas baking apron on sale at Williams Sonoma, and went ahead and got Sweet Baby Strader a stocking so that I can get it monogrammed along with other goods this Spring and not have to worry about it next fall. I've especially enjoyed reading about sweet families and all the fun traditions they do. Although I'm sure we'll figure out what works for our family over time, these are a few things that really caught my eye.
Momfessionals North Pole Breakfast
(I don't know if we'll do elf on the shelf but I really loved this idea!)
Yearly photos with Santa (so I can display them all together each year like in
this post
)
Christmas Pajamas (!!! can't help myself. Already bought one set!)
Visiting all the decorations at the Gaylord Texan
Doing an angel tree or Operation Christmas child for each little in our family
Making a salt dough handprint ornament each year, for us and for grandparents
Make a gingerbread house
My friend Jamie listed a BUNCH of sweet ideas!
This won't work for every year.. but I'd love for #SweetBabyStrader to host a
Christmas cookies party
one year!
That list might not seem long, or maybe it is.. but it makes me so excited! Obviously we'll be the ones really enjoying them next year, not our 7 month old.. haha! Did you grow up with any extra sweet holiday traditions? It is so so fun to hear about what everyone does to celebrate!