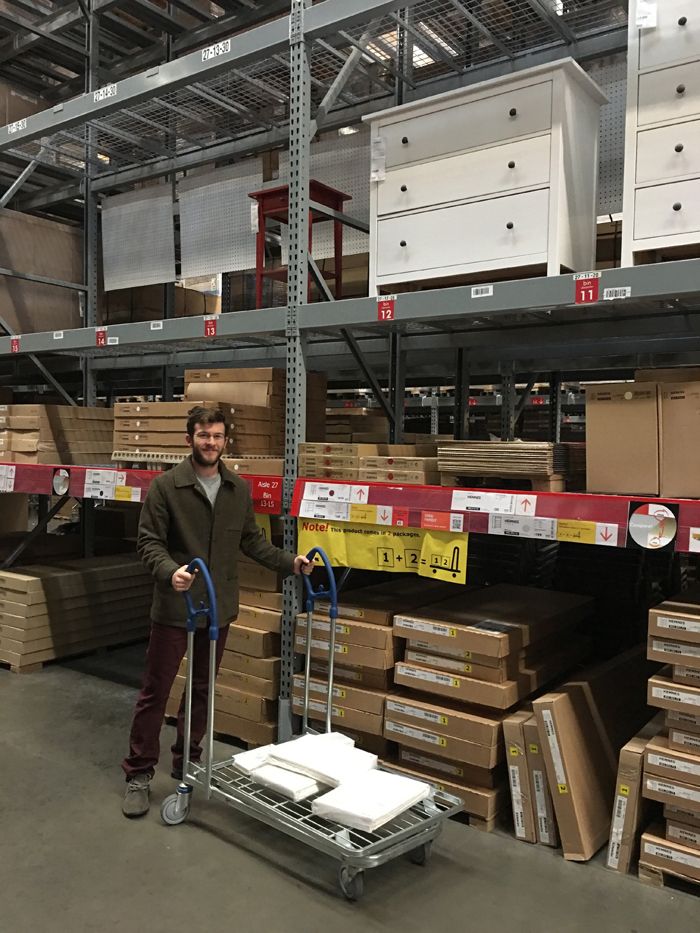 My my my do I love having Ben home and off of work for two weeks. It's always so nice seeing him get to rest, plus we obviously spend a ton more time together. This year, we had a few projects to tackle.. including wanting to work on our nursery a bit. The bulk of the fun details will be completed once we know Sweet Baby Strader's gender (THIS WEEK CANNOT FATHOM!!!) but we wanted to get a dresser sooner rather than later. I know for a lot of people finishing the nursery is a last month or two of pregnancy job.. but this is something I love and have looked forward to! I'd be shocked if the nursery isn't done by the end of February, ready to go for Sweet Baby's arrival in May.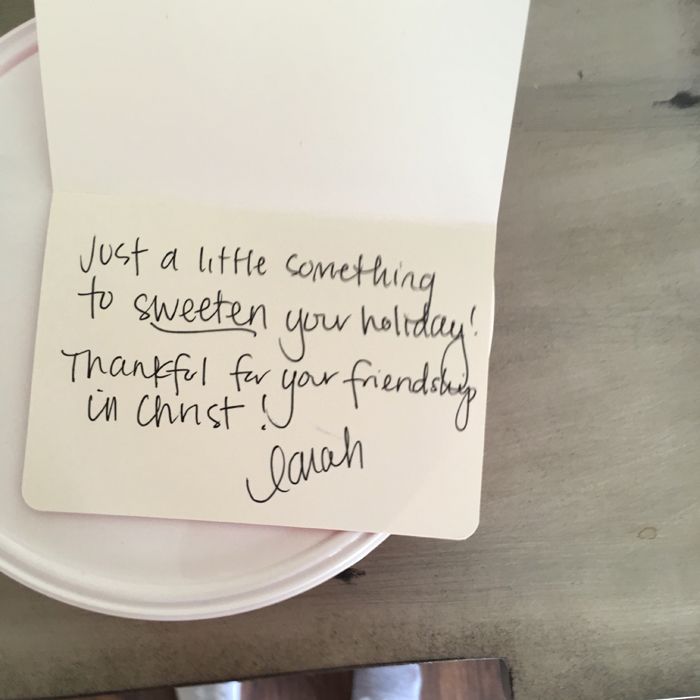 On Monday morning I got THE BEST package from one of my blogging besties,
Sarah
! She made some kind of peanut butter smores bars.. and YUM. I love anything smores so this was perfect for us. Love you, Sarah!
The first year we were married I made cinnamon rolls for us to enjoy on Christmas morning, and shared the rest with two friends of ours that I happened to see on the 22nd. The next year it became intentional, and this year I made two full batches, that divided into 8 pans to share! I can't recommend The Pioneer Woman's recipe highly enough, they are delicious and honestly easier than you'd think. For some reason most recipes with yeast and dough rising seem intimidating, but these are really fun to make. This year Ben helped, too! He's been loving the kitchen so much lately. So much so that in his stocking, Sweet Baby Strader got a child size William Sonoma apron. :)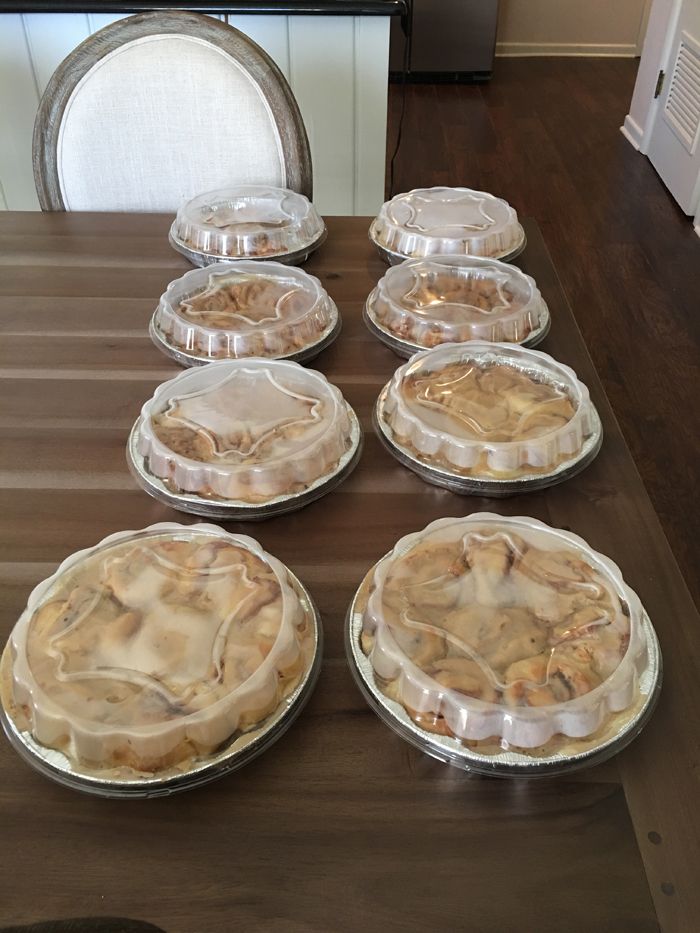 Speaking of presents for baby, we got our first one on Christmas Eve Eve, at our Meme's Christmas. Ben's dad's side of the family gathered and enjoyed a Mexican feast. I was so blown away that our baby got gifts, and a stocking! Haha. Little did I know 95% of our presents this year would be for baby, and I wouldn't have it any other way! It's so incredibly exciting to us that next year we'll have a 7 month old to snuggle.
On Christmas Eve morning we headed to Granny's house for more Christmassing! Ben's mom's side of the family always does breakfast and a Christmas program (see above).. it's always so fun and we sing and just enjoy sweet time. This year our cousin Rachel planned some super fun and festive minute to win it games, pictured below. The girl cousin contest included me getting sprinkles in my eye. Yikes. Haha.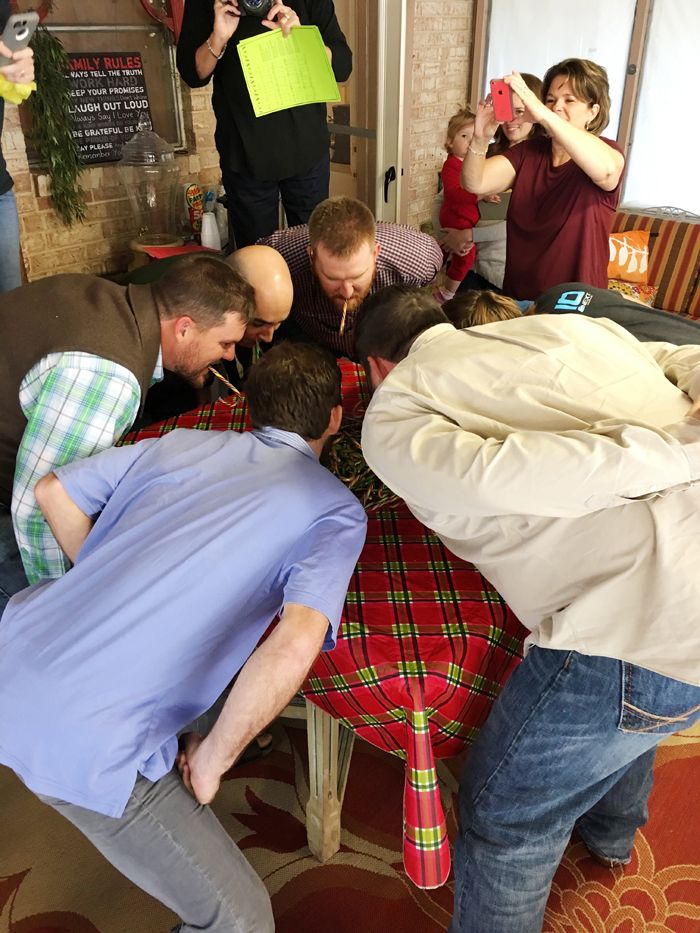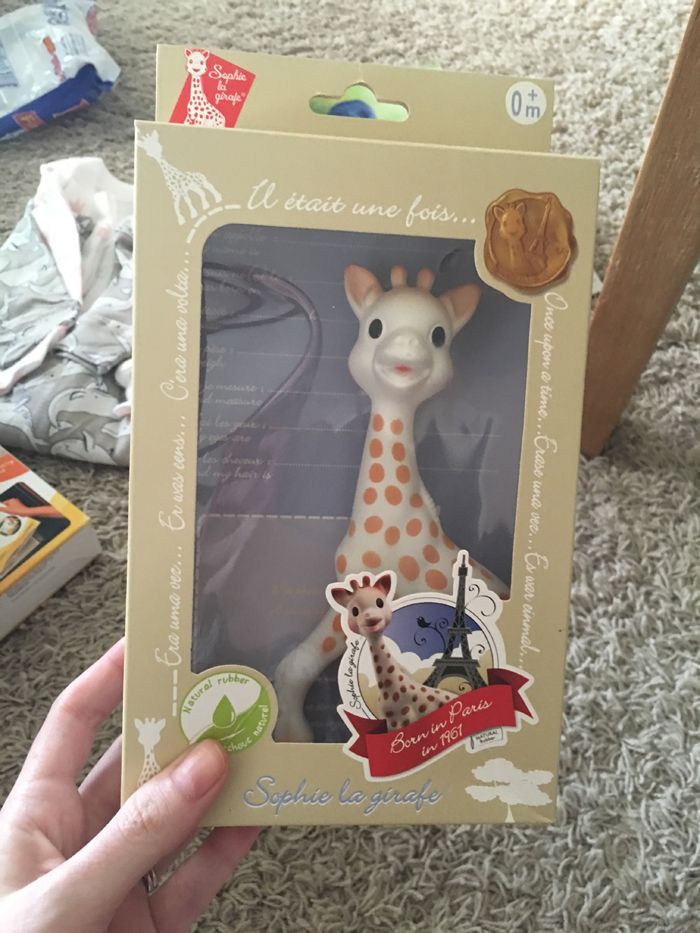 A favorite Christmas gift from our sweet cousins, Sophie the giraffe! :) Ben had shot a deer the morning of Christmas Eve so in the middle of the celebrations we ran home for him to put more ice on it, and I ended up just laying down and sleeping and not returning. Pregnant problems. Ben went back and more fun ensued! We love our family!
On Christmas eve we went to Ben's parent's church for candlelit service, and to be honest I just played with our sweet niece the whole time. Precious girl was so good! We then had Christmas with Ben's immediate family which is always spaghetti. This year we had lasagna and chicken alfredo, too! We then settled around the tree and all shared what the Lord has taught us this year, and again, I played with Megan the whole time. I listened too though. :) Love that precious girl! Pictured above are her sweet little feet in part of our Christmas gift to her, some kitty shoes. She loved them which is so fun!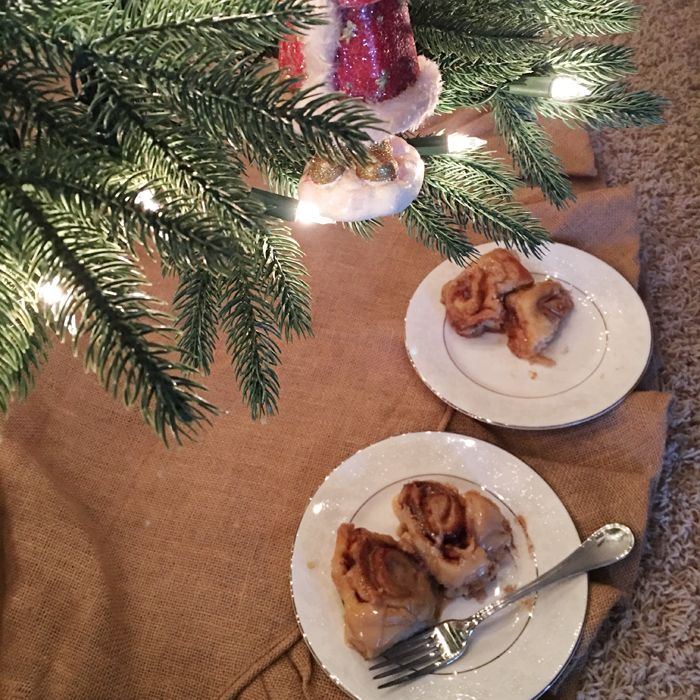 Christmas morning we had traditional cinnamon rolls by the tree together. It was SO fun to think about how next year we'll be holding our baby under the tree too! Ben and I opted to not do big gifts for each other this year, because of all the $ we'll be spending in the next week. Hiring a photographer for our gender reveal party and our baby clothes shopping trip after our gender sonogram will be our gifts to each other.. that was the plan! I looked a few months ago at our flyer miles and realized that a round trip to visit some of our good friends in Nashville for both of us would only be about half of what was in our account. A surprise trip for Ben and essentially "for free" YES! Too bad he had the same idea. Haha! When he went to look up flights our Southwest account showed him what had most recently been searched and he revealed the whole thing a few weeks ago, haha! Anyways, we'll head to Nashville in February as our last trip before baby. I guess you could call it a baby moon but not really because the whole point of the trip is to see friends. We talked a lot about doing a baby moon but in the end we'd rather tack on a few days in another European city to our trip to London with Sweet Baby Strader at the end of summer. Can't wait to share more details on this soon once they're finalized! We did do stockings too.. and I gave Ben a new mug from Magnolia Market and a Texas Forever tee shirt. He got me some cozy jammies and a gift certificate for a mani pedi at my favorite nail place to use before our party! Best gift ever!
This is the first photo of myself where I'm like HEY PREGNANT. Holding on to the belly shows off that bump and makes it look real, a tip I recently learned haha. On Christmas morning we celebrated with my mom and brother, and then the three of us (Ben, me, my brother) hopped in the car to head to my dad's house to celebrate with him. By 2 o clock we were home and done for the day which was quite nice after all of our celebrations. I'm a scrooge and always take down Christmas decorations right when we're done celebrating. Sure enough, we walked through the door and Ben started cleaning out his closet.. and I started taking the mantle down. We're creatures of habit. :) Later that afternoon Ben's parents helped us load up our gifts from their Christmas. They got us a big comfy chair for our nursery, and an ottoman toy box for all of Sweet Baby Strader's toys that mama wants to hide away in the living room. :) I'll share photos soon.. but the nursery is really starting to come together. I've picked out a rug that comes in both the light pink and baby blue color way (yay!) and same thing with bedding. Then we'll just add art and some sweet details and baby's little home will be ready! YAY! I truly can't wait to share more about my vision for the space.
I hope y'all all had a wonderful holiday celebrating! We are so incredibly blessed and grateful to get to celebrate the birth of our Savior with so many sweet loved ones.
PS I have a blog post planned for every day this week... so stop by again! :)