I thought it might be helpful or fun to share what I've been wearing during pregnancy so far. I'm just about a month away from the third trimester- so wild! I went through random photos from the first half of pregnancy to see what I could find.. and what I was actually wearing.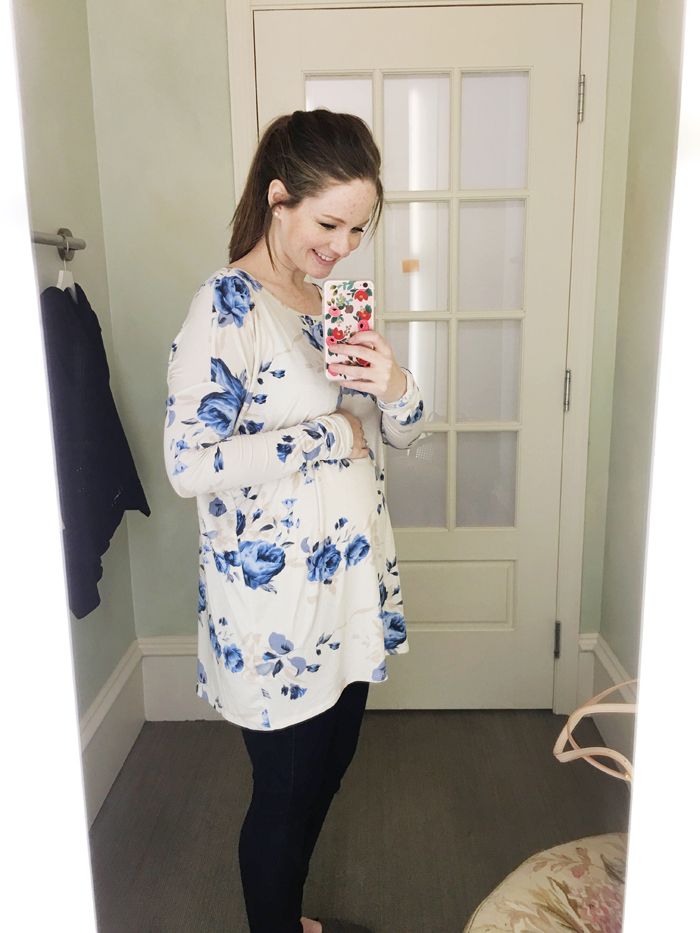 I ordered this long tunic from Pink Blush maternity and have been loving wearing it with leggings. Ben really liked it too!
This flowy white blouse was the first maternity shirt I purchased, from ASOS. It honestly is even cuter when you're just hiding the fact that your normal shirts don't look great. I loved it for early second trimester. I'll probably wear this post pregnancy, which is awesome! I'd love to have minimal clothes that go unworn.
It's funny how big my bump looks in the photos above, and how small in this one, haha! This is another example of me trying to keep wearing non maternity clothes. :) This photo is actually taken after the one above it.. so funny!
This is kind of cheating because it's not me in the photo.. (image found
here
) but I got this exact sweater on Black Friday from Anthropologie and wore it on Christmas Eve morning. I ended up having to change because it was so warm here on Christmas! I have worn it since though. Great with leggings or even prematernity jeans rocking the hair tie trick. Oh wait, I do think I have a photo of me in it that I texted to a friend.
While shopping at Anthro I found this top that I think will last quite a bit longer in pregnancy. It made me feel so cute, which is a huge requirement when some days I feel like an elephant. :)
Until the night of our anniversary, I had mostly been wearing flowy styles as opposed to allowing the bump to shine. I really enjoyed wearing this pre-pregnancy dress though, and really feeling like a mama! Obviously as my belly grows it will show off a bit more, but wearing this inspired me to really rock it, haha!
Pregnancy has made me realize that I very rarely wear form fitting tops, especially when they are on the more casual side. This is an normal, size small striped tee from J. Crew, that I wore at 21 weeks.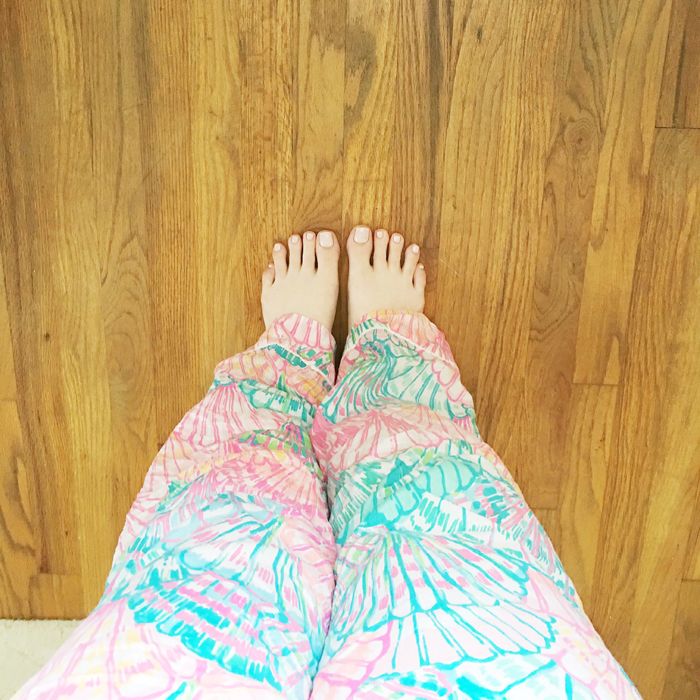 I have to be honest and say that I've been wearing pajamas or leggings literally WHENEVER I'm home and have the chance. I'm wearing normal ones, just low around my waist so the belly fits. :) I'm a big fan of pajamas that make you feel cute and pretty!
And that's that! I've now almost exclusively graduated from my side panel maternity jeans to a full panel pair. I got them on sale at Pea in the Pod and have loved them. Any experienced mamas got any more maternity style tips to share? I just wish I could rock some Kourtney Kardashian pregnancy style. As a whole, Kardashian style isn't usually what I go for but she always looked so put together during pregnancy!