Capri is probably one of the most beautiful places in the world. It was stunning. The water was amazing. The weather was great while we were there. That being said, I think we should have planned more for our day there and had a better plan. We took the ferry over from our home base for a few days of Naples. I'm kind of thinking it's the area we stayed in, but Naples wasn't our favorite city. We very well might have missed some cool things in Naples, but we were focused on getting to the Amalfi Coast, and to Capri. That being said we'd both go back again for one thing and one thing only: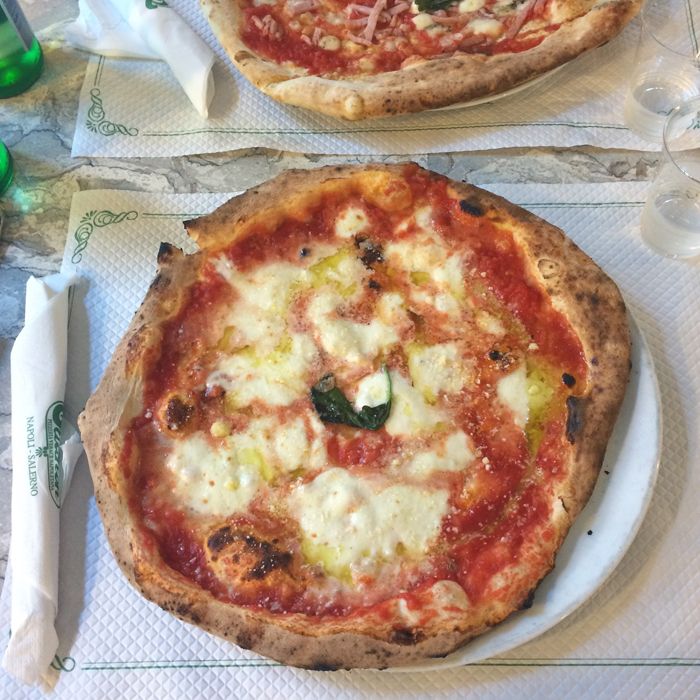 Naples is the city where pizza was invented, and we had heard that the pizza was dramatically more delicious than any other Italian city. We had already enjoyed lots of yummy pizza and so we were skeptical.. but my oh my. So amazing. We seriously talk about this pizza often. Haha! (I also talked about this in
my 15 Best Things I Ever Ate post
)
So basically, Capri is stunning. But if you're going there.. plan better than we did. :) That being said, we really and truly enjoyed this stunning place.
It's a rare occasion when Ben says he thinks we should have spent a bit more money on something, but that was our thought in Capri. We paid something like 50 euro to ride on a boat around the island packed with lots of rude, pushy people and their selfie sticks getting in the way of your view. For 90 (and I'm sure you could negotiate) we could have gotten a private boat. Looking back, we would have come with our bathing suits under our clothes, gotten a private boat, and felt like we were celebrities. Especially if you're traveling with a group... PRIVATE BOAT!!!
We didn't get the chance because of overcrowding, but visiting the Blue Grotto looks amazing. I was a little bit scared of it so I wasn't super disappointed that we had to miss out.
Something to keep in mind is that Capri is expensive. If you're just there for the day, plan to pay for transportation to any beach areas.
We ate one meal on Capri, and we just chose a quaint looking cafe with a great view of the water. There were several bunched together, and they all looked great!
While we were there I remember someone commented on my instagram photo and said that Capri is a great place to buy fresh fruit from street vendors.. I believe that the fruit would have been better than we had ever tasted.. but there were none out.