Because it's no secret that we love traveling.. we've gotten a lot of questioning about having planned a baby moon. While the idea of one last hoorah sounds awesome, we feel that we've gotten to share lots of sweet travel experiences together (our trip to Italy last summer being our favorite!) and honestly, we're really looking forward to being able to travel WITH our baby.
We know this isn't for everyone, but I literally took my first international flight at two weeks old. Traveling with our young family has become a huge desire of our hearts. It won't always mean something super glamorous, but we want to build memories with and for our children. Will our baby remember traveling with us this year? Nope. But will we? Yep! And I'll have plenty of photos to remind Sweet Baby Strader about the adventures he got to go on. :)
The mission of our trip for this summer is for Sweet Baby Strader to meet his British family members. But we also knew if we were going all that way, we wanted to enjoy a few days in London, and perhaps another city if we could swing it. So at the end of July we'll head across the pond for our Moon with Baby ;)!
Like I said, this may not be for everyone, and those with and without kids may think this is totally crazy, but people do it all the time. It may just not be people in your direct circle. :) This has been part of our vision for our family since before we were married and we are so excited. Whenever I read blog posts about sweet mamas traveling with their young children I've teared up thinking about that being our future.. and this summer it will be our our reality! I'm under no impression that traveling with a baby will be the same as traveling on our own. I know there will be hard moments. But I truly believe we'll be better parents because of it, and that our time in Europe will be extra special because of the company of our little guy. When Ben and I took our first trip in 2014- I truly had no idea that #StradersinEurope would become an annual thing, and this year may be the last for awhile.. but who knows. I'm so grateful that we are able to travel to visit family that our child otherwise wouldn't know. And we're extra grateful to the people who are making this trip possible. We were gifted flyer miles to get over there, which dictated and planned a lot of our trip for us. Last year using flyer miles meant that we would take three flights to get to Italy, two to get home. It was worth it but honestly misery at times. Obviously this isn't an option with a two month old. So to get flights that would be easiest on our little family, we had to select certain dates, which ended us up with a rather long trip. I've POURED over the computer for the last week trying to make the trip as baby friendly & flexible as possible, while still getting our adventure on. I've read reviews and tried to register intentionally for great quality products that will serve us well on this trip, as well as all the rest of the time. I was originally thinking we'd get sucked into $200 fold-into-a-backpack pack and plays.. but we have resisted. :)
So where are we going? What's the plan? We'll fly into Milan, Italy (Mama's eating ITALIAN FOOD FOR LUNCH BOOYA!!) and drive up to somewhere central in Switzerland (TBD) with a stop in the Lake Como area for lunch/ to break up the trip with a nice long exploratory walk. Then for the rest of the week we'll explore Switzerland at our leisure. Ben's #1 wishlist item is to bungee off of a dam where that they used for a jump scene in a James Bond movie (Goldeneye, for those who might know!) and we'll see if I can emotionally handle standing at the top of a 220 meter jump holding my infant watching our person JUMP off of it. :) We'll see... Haha! Then we'll come back to Milan to explore our one remaining big Italian city, return our rental car, and fly directly to London. From there we'll spend time with family, and another few days with our sweet boy showing him our favorite city in the world. I might die over all of our photos, and my #1 trip resolution is to take some videos to compile a video of our trip. Especially with our babe, I think this will be extra neat.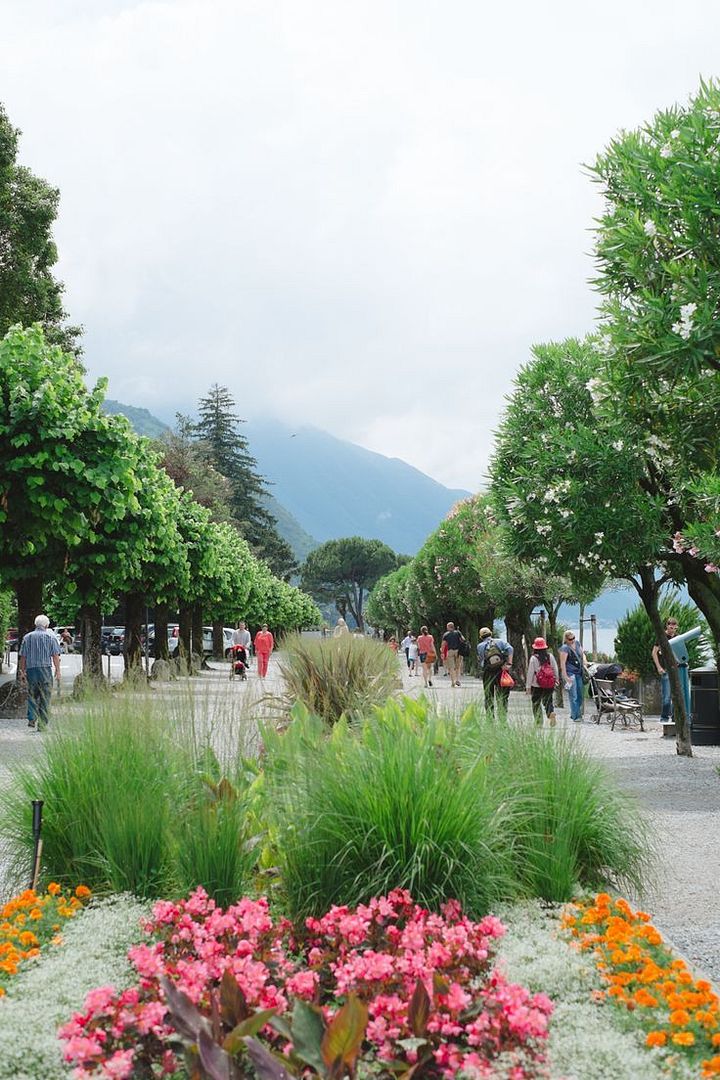 Look! People with strollers! That's US!!
So there you have it. :) If you have any particular recs for Milan, Switzerland, or really even London please let us know! Thanks for being so encouraging to us in this stage of life.. we are blessed!
A GREAT travel with baby resource:
Barefoot Blonde 50 Tips for Traveling with a Baby
Photos of Lake Como from
this post
.