I'm excited to show you our nursery beginnings today! :) I've been dreaming of/ designing this space in my head for years.. so it's amazing that we can finally make the space for our Sweet Baby Strader!
First, let me show you what we're working with. A HUGE room (if you'll notice.. it's a mirror image of
our master bedroom
) and beautiful crib (from RH Baby and Child.. aka my happy place.)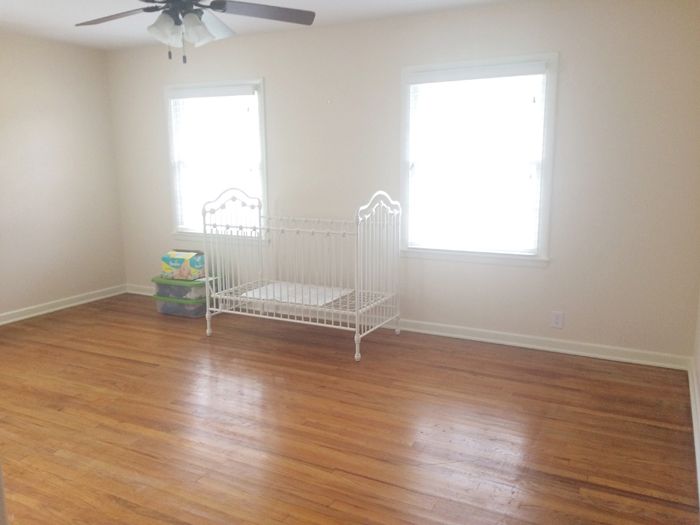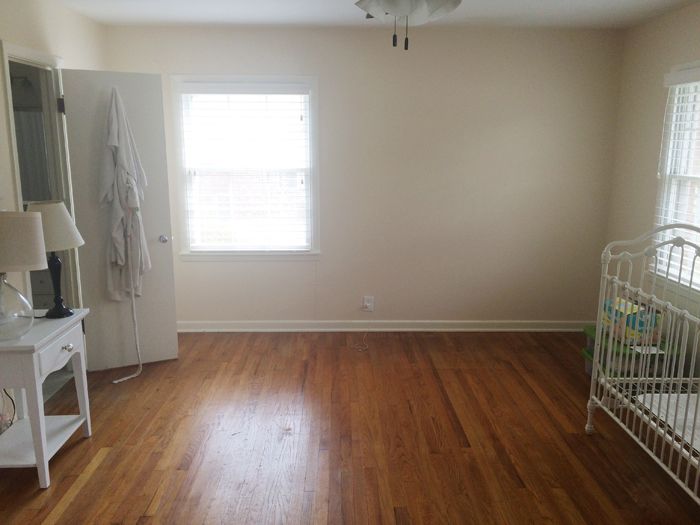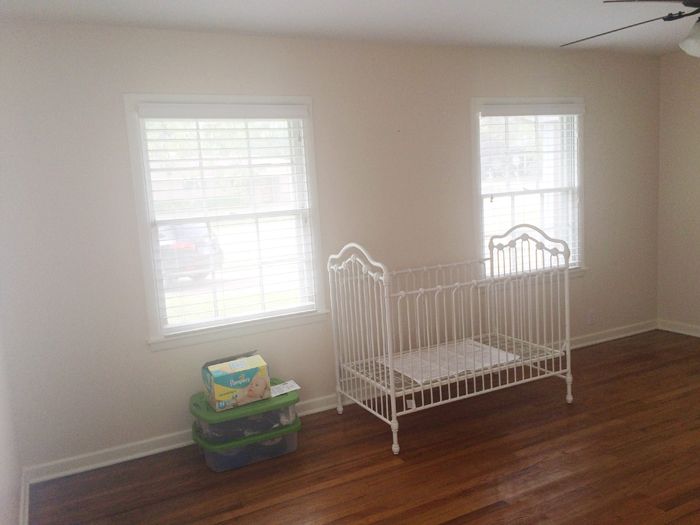 Here's what we knew we wanted: a classic, neutral space, peppered with gender specific details. We are heirloom kind of baby blue/light pink people. I still can't believe we finally know that we'll be welcoming a baby boy to our family in May. I keep daydreaming about Ben and I finally getting to hold our sweet boy! I'm so tempted to share his name.. but I think it will be worth the wait. :)
Over Thanksgiving Ben painted the nursery a grey/beige color called "Old Map"... it's perfect! You'll be able to notice the change in progress photos coming up!
After cleaning out the room, painting, and getting our crib, the next big step for us was to figure out the dresser, to place a changing pad on top. We have the large white Ikea Hemnes dresser in our bedroom, from my college house, and I seriously considered us putting that in the nursery and investing in something nicer for our bedroom. But when it came down to it, dressers are expensive and just not something we're super antsy to drop a ton of money on at this point. That lead us to: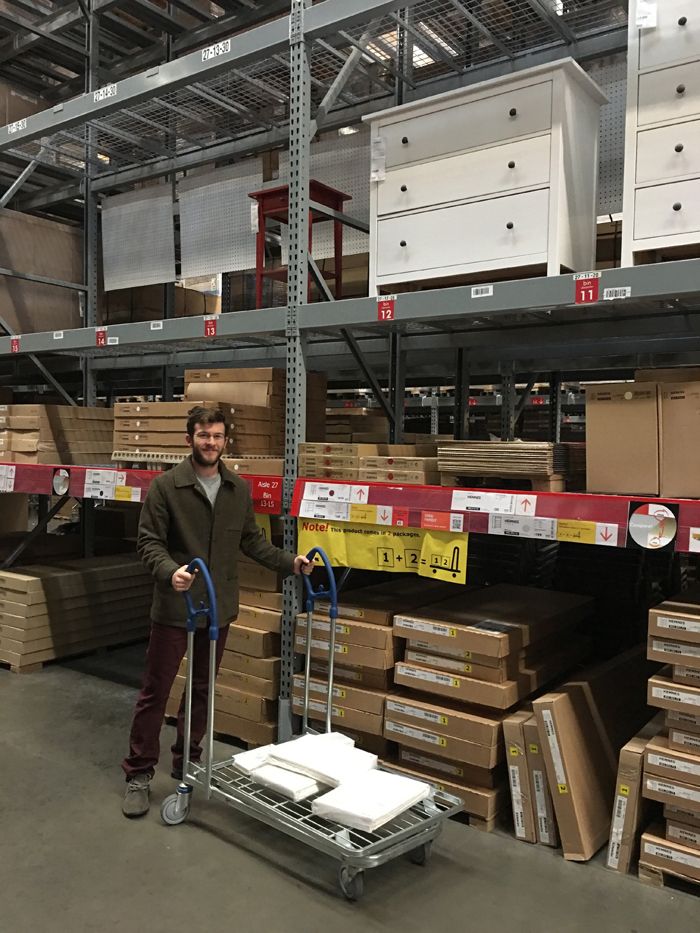 The smaller, cheaper version of what we already have. :) It's classic, sturdy, and you can't beat the $149 price tag. We also snagged some drawer organizers which I would highly recommend. I'll share how I organize the drawers maybe after they're actually functional.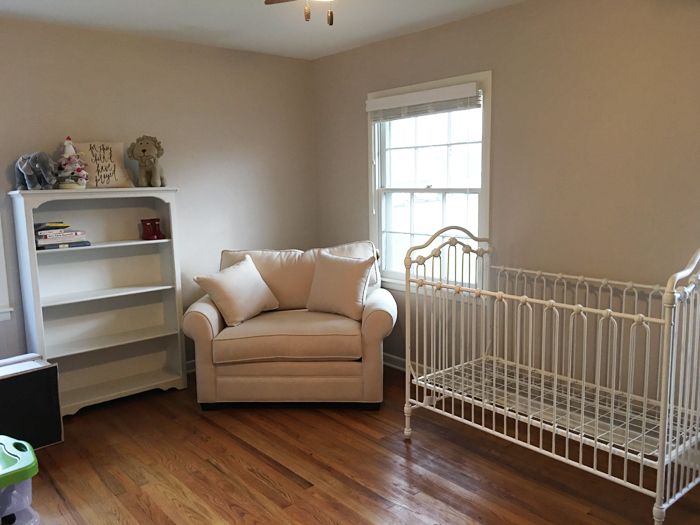 Christmas week brought a lot of change too. Our big present from Ben's parents was this wonderful chair. I'm not sure how big it looks in the photo, but if I move the pillows I can lay across it comfortably. Which I'm sure will come in so handy for late night feedings where I want to curl up with sweet boy! This photo is terrible quality, I just snapped it while we were working on things and now more progress has been made so I can't take another. We also dragged in my white childhood book case. In the photo it's holding some of Sweet Baby Strader's Christmas presents from this year.. and a few other things I picked up right when we found out we were pregnant.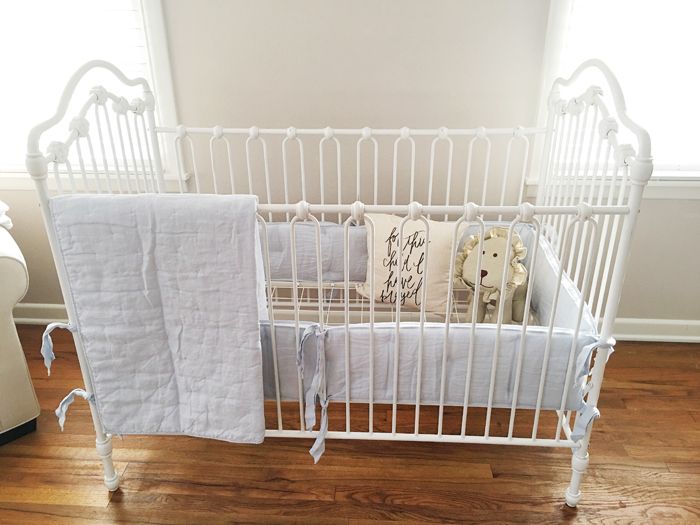 Much to our joy, RH Baby and Child was running a promotion on
the bedding
we wanted the week we found out the gender. I saved both the boy and girl options in our cart, and ordered for baby boy when we got home. The bedding was a generous gift from our Aunt Sue. She was so excited about getting our bedding that she gave me money for it a few months ago. The day we announced our pregnancy publicly, actually. :) We knew all along we wanted a simple, cozy bedding in baby blue. This washed organic linen fit the bill perfectly. When I ordered I left the monogram off the quilt because we hadn't fully decided on a name yet, but I'll take it somewhere local for a small personalization in the corner.
The lion is also
Restoration Hardware
.
The pillow is from
Parris Chic Boutique
.
And that's pretty much where we're at. I'm still pulling some inspiration for art and styling.. and the room has gotten a little crazy with all the clothes and other baby things we've been gifted since announcing the gender. I can't wait to share about Sweet Baby Strader's wardrobe with y'all! What do you think about our classic little nursery? :)
PS. THIS Thursday, January 14,
Sarah
and I are hosting a linkup to get everyone ready for reading in the year 2016! We're hoping to get some sweet friends posting about what they read last year and what they want to read in the year ahead! Please consider joining us! :) Sarah is going to share what she read in December and her favorite books of 2015.. I'll be sharing my favorites of 2015 & my reading list for the next year. Whatever you want to post about reading, link up!