Oops, took an unplanned little one week hiatus from blogging after I had planned to get back into a normal schedule. This past week Ben was home for Spring Break.. and it was so nice to spend a ton more time with him, even though he's busier than ever. I'll share more about this soon, but him and his brothers have started their own business and it's kept them pretty busy. I'm so proud of Ben for chasing his dream of being a small business owner! (For those local, Strader Brothers Landscaping is the way to go! :) )
So much has been happening in the nursery. It's amazing how each thing makes me feel like it's really coming together. Between showers full of incredibly generous people and us picking up some of the last things we really had on our wish list, the room has looked like this for a good part of the month:
I've had a TON of help in this room and bringing practical things in really brought my attention to the storage needs of the space.
I can't tell you how often I stroll on in here to just sit and enjoy the room and daydream about our sweet boy!
A Note: I've gotten some emails (some kinder than others) warning me of the hazards of bumpers. I'm going to take this opportunity to publicly say that I'm fully aware of the safety precautions that need to be taken when caring for an infant. By far the hardest part of this season of life for me has been people giving unsolicited advice. Ben and I are the parents that the Lord chose to take care of this baby, and we're going to do so to the best of our ability. If you think you have something helpful and original to share I'd love to hear it, but we're aware of all of the basic needs of our child and it just isn't encouraging to get short emails telling me what to do. :)
One spot in the nursery that was in desperate need of some better organizing was the closet. It had been housing all of our winter coats, various random things that honestly needed to be in the garage, a bunch of stuff that needed to be thrown away, and some of Ben's miscellaneous things.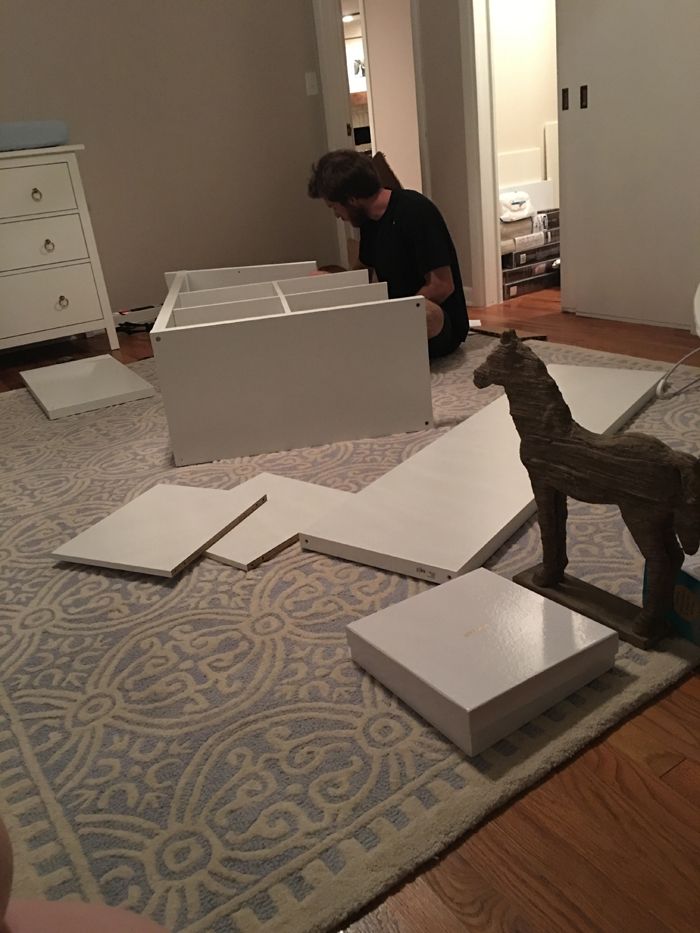 Through some good pinterest research, I found that a great option for us would be using the Ikea Kallax in the bottom portion of the closet, to organize all the things that would go in there. I picked up the shelving unit a few Sundays ago, and that Monday night we (Ben) assembled it. We were surprised at how easy it was to build the piece.
I had measured beforehand, but we were really encouraged to see that the piece was a perfect fit.
A few days later I picked up some storage bins from Target to fill the top shelf. I haven't decided if I'll keep the unit have bins half open or not yet. Every time I go in the nursery I feel like I find a better way to keep things functionally organized, so I can only imagine how this will play out when I'm actually using the space as a place to take care of our baby. Once we've lived in the room with #SweetBabyStrader for awhile, I'll share details of how we've organized everything long term.. but for now I'll share what's in the bins from left to right.
First Bin: Thin stroller blankets, Swaddle Blankets, Swaddle me blankets, and Halo Sleepsacks.
Second Bin: our Honest baby carrier
Third Bin: Newborn diapers and wipes that don't fit in the dresser currently
Fourth Bin: Jammies and onesies for sizes bigger than 3-6 months
While tackling some organizing was extremely satisfying, I was also wanting to get all the sweet stuff taken care of. Meaning art. Sometimes it's a blessing and a curse to know exactly what you have in mind. Let me elaborate...
I've had this image from RH Baby & Child saved on my phone since before we knew we were having a boy. I love the simplicity and beauty of the display. I set my heart on matted chunky frames. The material I thought would be best for the space is a slightly distressed, but not too distressed wood. I found very few options and the amount of frames I would need (1 8x10, 5 5x7, & 5 4x6) was going to add up really quickly. If I had purchased the frames I liked at RH, the total would have been over $400. Not happening! There are some things worth investing in, but gallery wall frames are just not one of them, in my humble opinion.
Last week one morning we were hit with CRAZY weather. I had to pull over on the side of the road for 30 minutes because the rain had left zero visibility. When the rain cleared up a bit, I made my way to the nearest Wal Mart to keep letting the storm pass, seek shelter in the giant building, and to get some grocery staples in case the bad weather continued. During my trip, I decided on a whim to cruise by the frames section.
Ta-da!! I found exactly what I wanted! I cleared out the shelves of the sizes I needed and ordered a few more online (they're now off the website which is crazy!!) I spent about $100 on all of the frames, and honestly they're better quality than some of the other options I looked at. Especially considering the bigger sizes included mats, I couldn't have possibly found a better deal!
We probably could have hung them an inch or two higher, but I didn't want them to be too close to the ceiling. Old house problems. :) When baby boy starts reaching for them I may have to take down the bottom row, and that's just fine. It took Ben kind of a long time to hang these, but I'm so grateful! I'm torn on how to fill them until I have newborn photos. Any suggestions?
On the left is Ben's baseball glove stand of all his gloves from growing up. In a mostly classic, put together nursery.. this glove tree really added a personal touch for us. It was my idea to put them in there, but Ben picks up a glove to look at every time he comes in the room. It's sweet to think of the gloves being used to play with our son in the future. We were gifted an elephant hamper from Home Decorators Collection and I'm crazy about it.. it adds such a playful touch and balances out the space. I can't wait until it's all 100% complete. My goal is the end of the month or soon after!
The most recent progress is that I've started washing clothes! This seems like such an end of pregnancy job to me. I keep forgetting I'm just about at 32 weeks. It's so crazy and it keeps flying by! this helped me get the drawers put together, at least a little bit.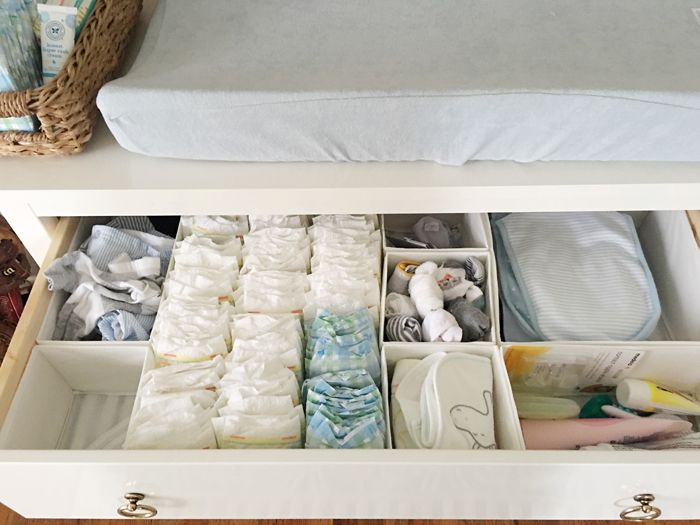 $8 drawer dividers from Ikea are the MVP of this piece of furniture. It's so neat how in a very non Ikea style room, I could use their inexpensive things to make our space extra precious and prepared!
On the left is a divider of hats, an empty one, then a ton more newborn diapers that have been graciously given to us, gloves, socks, bibs, burb cloths, and miscellaneous baby hygiene things.
The rolled items are newborn onesies with newborn sleepers on top, then 0-6 month sleep gowns, some little pants, 0-3 month sleepers, 0-3 month rolled onesies. Having this taken care of makes me feel so much more ready!
By far my most valuable resource when it comes to organizing the nursery has been
Two Twenty One.
She has organizing posts for throughout the home, but the baby ones have just made me feel so encouraged and aware of what needs to be done to make this space work for us.
What do y'all think? :)