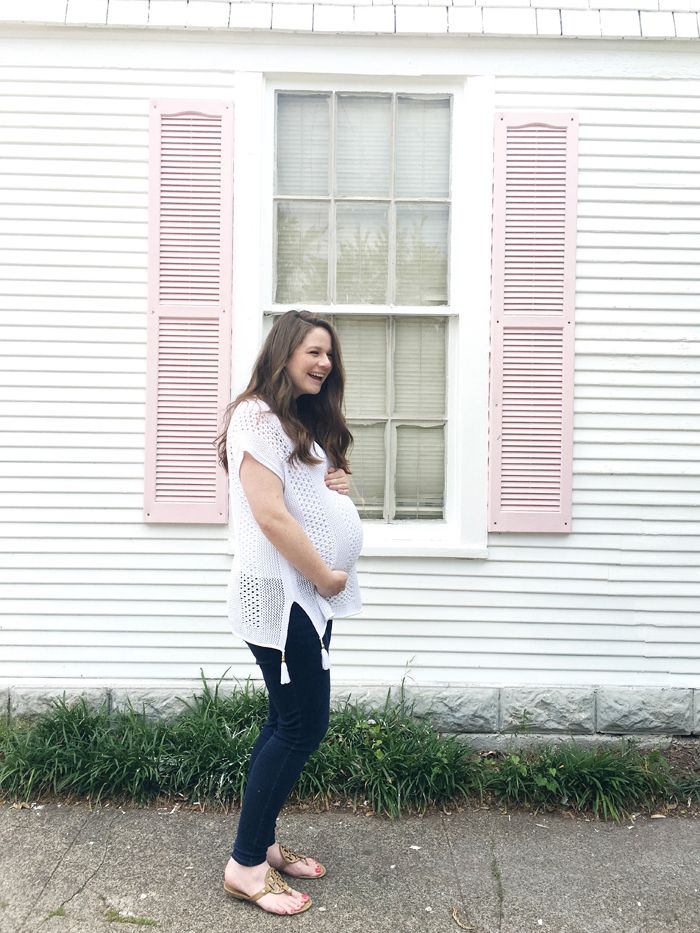 How Far Along:
36 weeks
Baby Size:
the size of a head of lettuce and approximately 6 pounds! I got that info from our app, and it's crazy but I believe it! We actually have a sonogram today and will find out #SweetBabyStrader's actual weight.
Weight Gain:
I actually caught a glimpse of the scale at the doctor last week, and I think I've hit a much smaller weekly increase than I was for a few months. Praise for a healthy baby and a healthy mama!
Just for fun.. I found this selfie I had taken pretty early on in my pregnancy when I was DESPERATE to be showing.. I remember being like "look at my baby bump!!" This is now pretty comical considering the actual size of my bump, haha!
Stretch Marks:
I think I have one tiny little one on the side of my belly, but I'm not stressed about it at all!
Sleep:
Still doing great! Every 10-14 days I'd say I have one night where I don't get very good sleep, and that night always ends up before a busy day, haha! But I'm so grateful this hasn't been an issue.
Maternity Clothes:
Honestly I feel like I'm wearing my few maternity staple t-shirts less and less. Swing dresses and flowy tops from pre pregnancy have been doing just fine, and I think will keep me going this last month. Actually, I know they will... because I'm stubborn on not wanting to spend money on clothes that will be worn for such a small amount of time.
Gender:
Boy! I won't lie there is a small bit of fear that when we go in for our sonogram today he won't be a boy any more, but I'm sure we'll be just fine. :) It's crazy how much knowing the gender has allowed us to feel like we're connecting with our baby.
Movement:
Baby boy is constantly moving and grooving. I feel the rolling movement so often, and I love it. Can't wait to snuggle my baby!!
Best Moment This Week:
I'm REALLY excited about our appointment today. We're going every week now, and we haven't had a sonogram since 20 weeks when we found out our baby's gender. He will have grown so much, and I'm really looking forward to knowing how big he is, and just getting more prepared for his arrival from talking through things with our fantastic doctor. Ben's taking a half day too, and I can't get enough time with him lately!
Looking Forward To:
GIMME THAT BABY!!!
Food Cravings:
Water and fruit.. I can't say it's a "can't fight this!!!" craving but it's what always sounds good. And lettuce. Clearly baby wants hydration.
Anything making you queasy or sick:
not really, praise!
Labor Signs:
I feel my hips separating which is so exciting but also really really weird. It's amazing what God has created our bodies to do!
Symptoms:
Hip movement, and acne is back.. womp womp!
JUST A FEW MORE WEEKS!!!! WAHOO!