After a hard week with a lot of questions and few answers about our son's health (read about that
here
), we got a call on Monday morning (May 9) to schedule Beau's induction. We were due at the hospital at 8pm the next day. Tuesday morning Ben went back to work for the day, and I relaxed and also checked off one of my biggest goals of pregnancy. I wanted to work out at the gym the day before I delivered our son, and I was so proud of myself. The mess the week before had ruined my plan for activity every day, but I was so pleased that my desire for health in pregnancy got to end on a high note.
We spend our last night going on a date to Brio, sitting on the patio, eating Italian food and being excited to meet our son.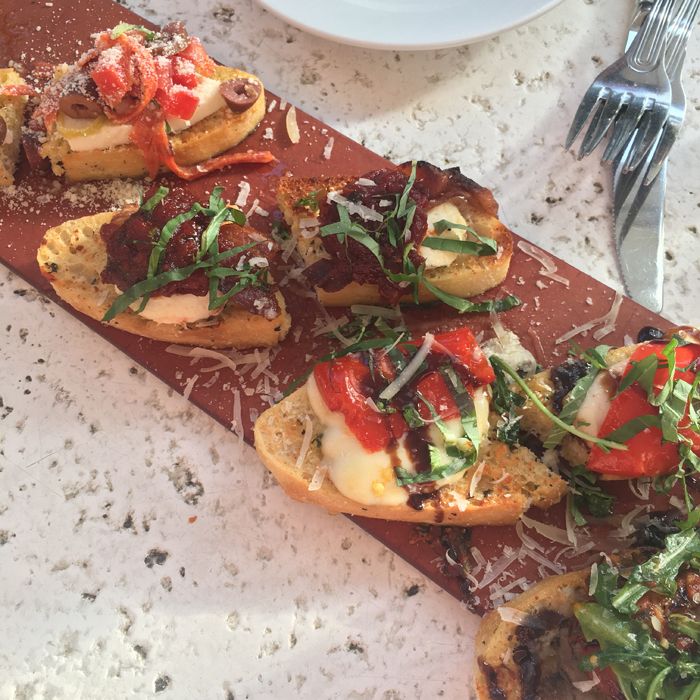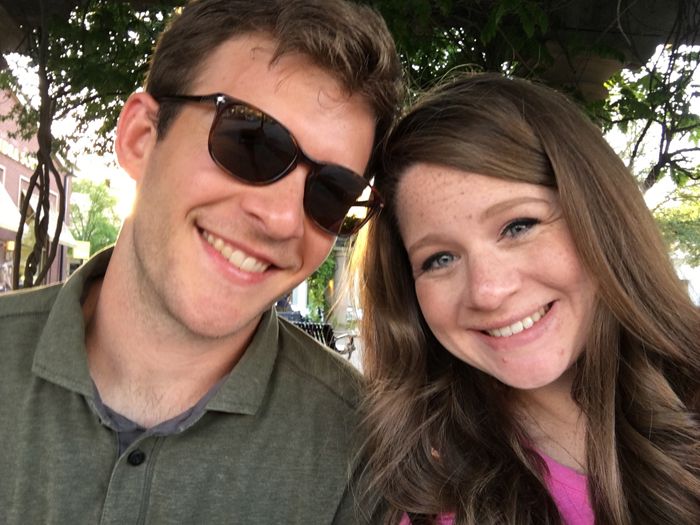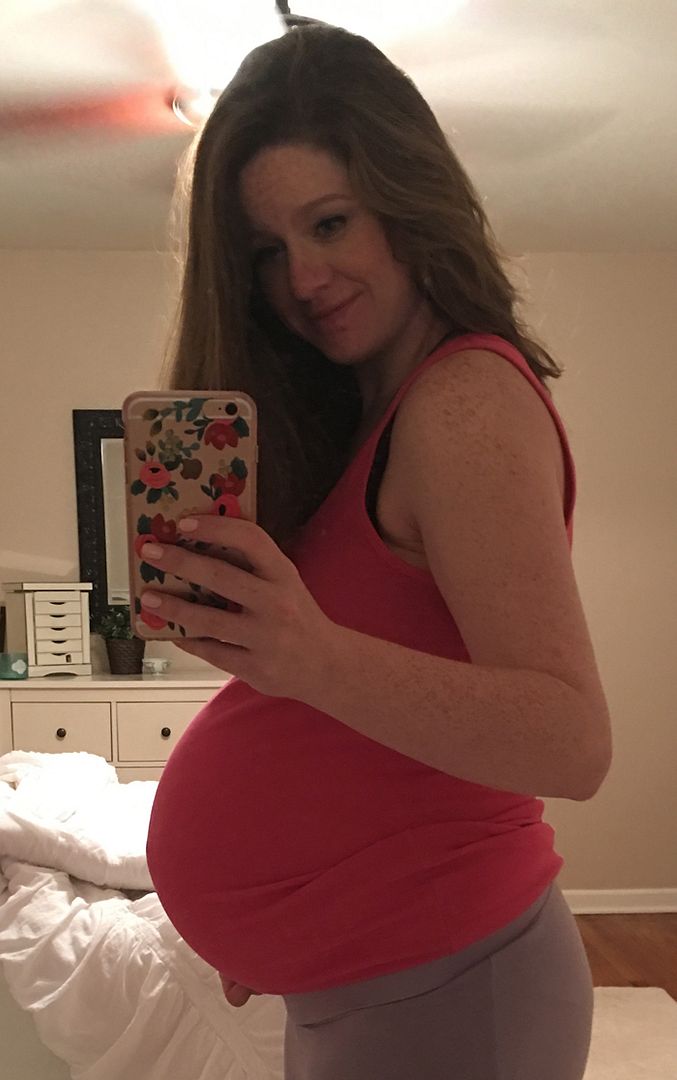 When we arrived at the hospital it was pouring rain and starting to thunder. The skies were yellow and scary and Ben dropped me off at the door. I'm sure if anyone saw me standing there they thought it was questionable for a 39 weeks pregnant girl to be standing outside Labor & Delivery by herself as the storm rolled in. I didn't know what to expect as we checked in and met our night shift L&D nurse, Lisa. I got hooked up to an IV and after some meds to get the process of softening the cervix started, they gave me some medicine to sleep. Ben's parents stopped by to say hi before we went to sleep, and brought us a few goodies. A Lululemon shirt and a bunch of beef jerky for Ben, some Kendra Scott earrings and a few journals for me. At five am I woke up to the beginning of the pitocin drip, and the start of painful contractions. I had felt contractions for several weeks before the induction, so it almost felt good for them to start having a little bit of pain associated with them. I texted a few people to let them know the process was getting started, and Ben was completely asleep on his fold out chair bed. As contractions increased in pain, I had to almost shout across the room to get Ben to break from his deep sleep. That must have been nice!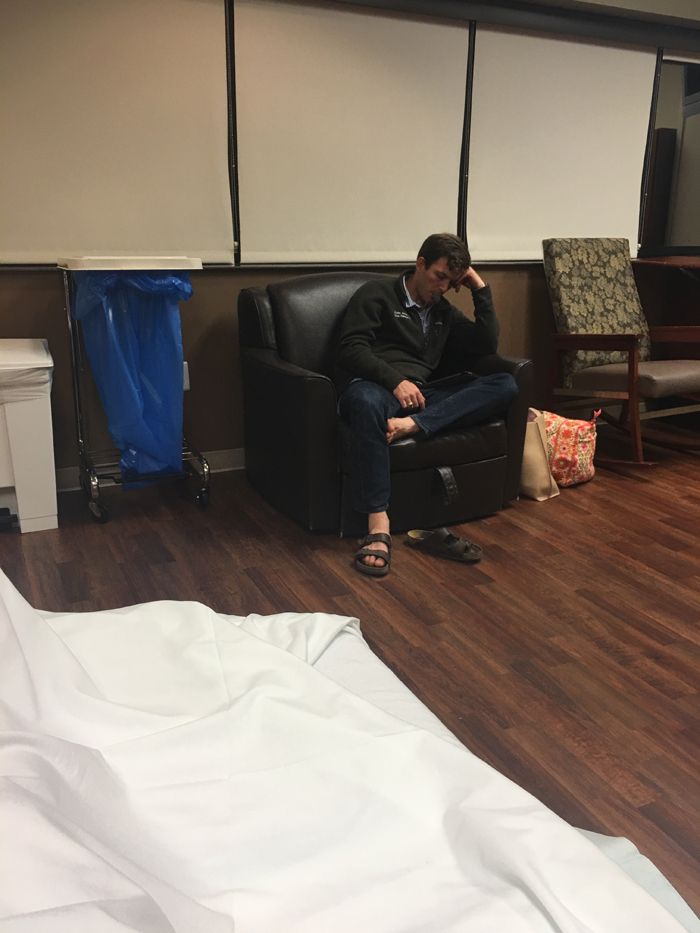 Of the dozens of ways I saw the Lord's faithfulness on the day we met our son, the first was that we were given what we were told was the largest room in the hospital. Our vision for bringing our baby into this world was to surround him immediately with the community that we love. This large room allowed for plenty of visitors. Ben's parents arrived at around 6:45 and were soon followed by my best friends and two of Beau's sweetest aunties, Kayla and Susannah. Talking to them and sitting upright in the bed helped me manage the pain, I truly felt as if it had melted away for a time. But as the pain was managable but increased, my new daytime nurse asked me multiple times if I wanted her to start the epidural process. Truthfully, I had gone back and forth throughout my pregnancy on if I wanted an epidural at all. I thought that with the pains of childbirth being so woven in to the beginning of the gospel story (being part of the aftermath of the first sin by Adam & Eve) it could be a meaningful thing for me to experience. But as the time for Beau's birth drew near and especially when I learned we would be inducing, and with all the other stressors we had going on regarding our precious boy's health.. I decided that the numbness would be welcomed. I asked the nurse if there was any reason to wait to get it and she said absolutley not. The anesthesiologist was such a gem of a medical professional. He had such a jolly, kind, & appropriate bedside manner about the whole process. The epidural almost felt like someone was tap, tap, tapping something into my back, and caused me to gasp out a few times, but the second it kicked in I was grateful for my decision. Maybe not for everyone, but the epidural was an integral part in making Beau's birthday as wonderful as it was. Throughout the rest of the day, we got to entertain so many visitors in that room. Family and close friends filtered in and out so that it was never too crowded at one time. I had to be propped up on my side which felt odd at times because sometimes my back was to people. We got to spend a lot of time with my brother Henry that day, which was extra special because he flew in just for the day before starting finals for his last semester of grad school at Texas Tech. Our favorite visitor of the day though, was our niece, Megan. She is a few months shy of two years old and she was such a champion. Ben watched our sister in law, Kayce walk across the parking lot with her from the window. Kayla sent me a text that said "your second favorite baby has arrived!" and just a few minutes after getting to the hospital we had Kayce and Megan come back to say hi. We had been getting Megan extra excited to meet her cousin by talking to her about him often, and it was really sweet. She had taken to doing the little Indian "wah wah wah" noise with moving her hand over her mouth to communicate "Baby Beau". She stayed all day and was very well behaved. Kayce said she told her that she had to stay on the carpet of the waiting area, and not venture out onto the tiled hallway. She apparently stood at the very tip of the carpet questioning out into the hallway "Veeeeeeeeee?" asking to see me, and essentially Baby Beau. :) We loved having the visitors in and out all day, and also took several naps.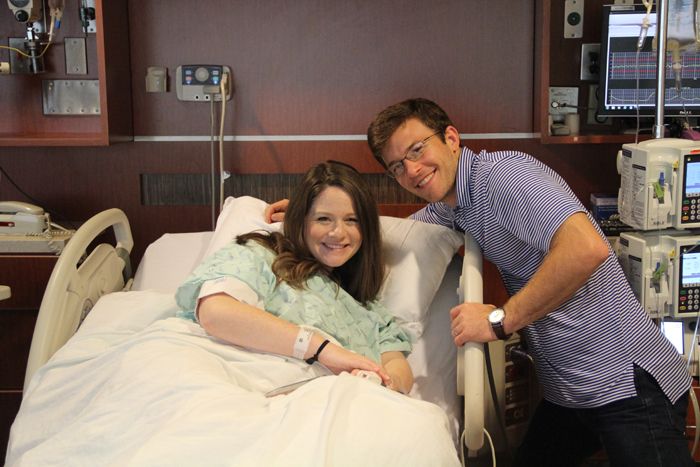 The excitement grew every time I had a cervical check, and it was so fun to send text messages out to the waiting room with the number of centimeters and request more company back in our room. I was checked every two hours, and after my 2 pm check we were on track for me to reach 9 cm at 4 pm. At 4 pm we had the check, and my nurse asked what my guess was. I was afraid to venture that we had reached the big moment of 10 cm.. so I told her I like structure so we'll stick to the pattern and guess 9. She told me I was at a 10 and that we would wait about an hour to let Beau's head get down a bit more, and start pushing. At that point we texted the news to the large waiting room, and took an hour to rest. I scrolled through Instagram for a few minutes to decompress, and then slept for 45 minutes or so.
When it was time to start pushing I didn't know what to expect. Our nurse explained to me the pattern of breathing I needed to follow, and I remembered my friend Polly telling me that it wasn't painful, but felt like a really hard workout. She was right, I felt really strong in the few days following Beau's birth. My arms felt toned from holding my legs back (TMI.. maybe.. but this IS a birth story after all!) and I glowed with pride about it. I was surprised that we started pushing without my doctor present... I had no idea for what to expect for a time frame. I ended up pushing for about an hour. At first it was hard for me to get the breaths in correctly, which lead to less powerful pushes. But as I got the hang of it, I felt myself responding really well to positive affirmation. I always did better with pushes with my wonderful doctor in the room. She was a great coach. Ben's dad has a history of feeling very faint during births and we expected Ben to be the same way. He told our nurse that he didn't plan on cutting the cord, and made sure not to catch any glimpses of the needle during my epidural. He completely surprised me by being at the side of my right foot for each push, and he got to experience the whole process. As we got closer to Beau's appearance, the nurse told him that he WAS going to cut the cord. :) After pushing for awhile, I suddenly felt nauseous in the middle of a sentence and threw up a little bit. It was odd to experience after such a nice long break from the relentless morning sickness I experienced. It reminded me of what used to be a normal standard for the day. After that, my pushing only got better, I felt stronger, and I figured out the exact way I needed to hold my legs to push effectively. It was only three or four more contractions until we had him out.
My doctor told the nurse to call the NICU team to be present and check out our precious boy when he came into the world. Of all the things we had told could be wrong, our biggest concern at that time was anal atresia, basically meaning that he would have a blockage in his bottom. This condition could have involved surgery in his early hours of life. Before my last push my doctor asked if I wanted to feel his head (they had been seeing his hair for some time..) and if you've seen photos of our sweet boy you know that when I reached down I felt a load of thick hair. It was extremely motivational for me to push him out after getting a tiny bit of insight into what our son would look like. One last push and I could feel him pop out, and watched Dr. Walters talk Ben through cutting the cord. He started crying immediately and I followed suit. I had been told by several people to not put a lot of pressure on experiencing a rush of emotion right upon meeting our child, but I felt tears on my cheeks the second I saw him.
Holding my Baby for the first time
I couldn't believe he was ours. As the rest of the birthing process wrapped up, one of the NICU nurses said that he had pooped everywhere. For us, this was news that he didn't have anal atresia and wouldn't be having a surgery, a huge praise to the Lord!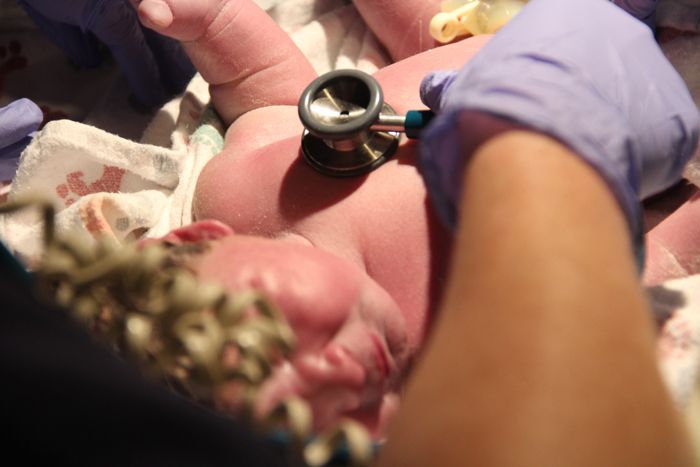 Everything got cleaned up and I got to meet my sweet boy for the first time when the nurse laid him on my chest. I tried to nurse him but honestly we had no idea what we were doing and just wanted to stare at him. We stayed alone with him for sometime between 20 and 30 minutes, and were eager to show off our son.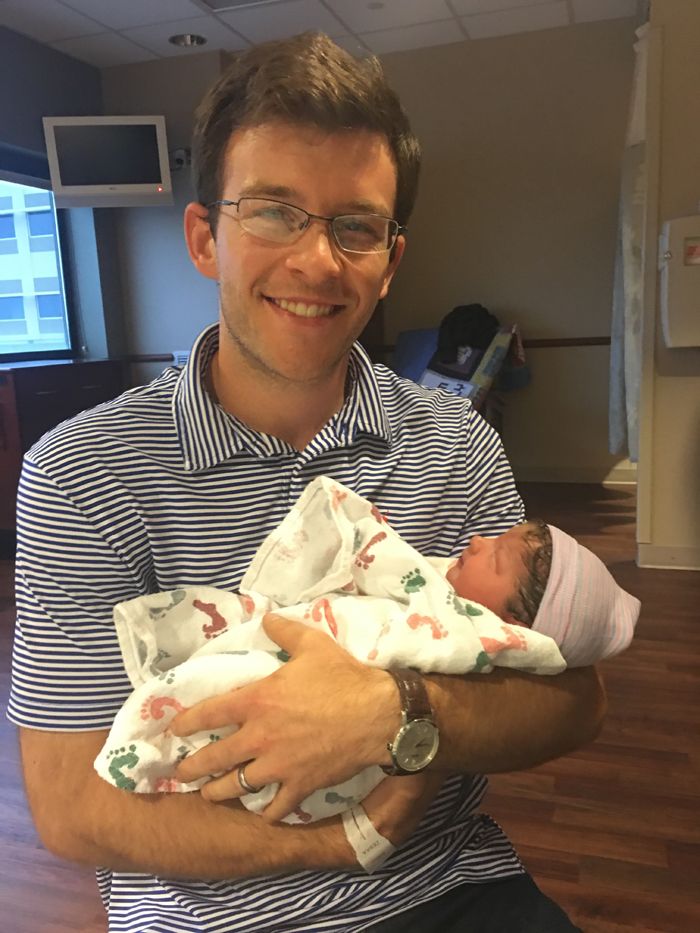 One of the first photos I took of our baby, during that time alone as a family of three
When the nurse came back in we asked if our family could meet him, which she said was up to us. So the parade arrived in our wonderfully large room before Beau had even had his first bath. The room was packed with 20 or so people all catching their first glimses of Beau. It was one of the most joyful moments we will ever experience and was the ultimate culmination of our hopes for Beau's life. We wanted to bring him into the world surrounded by our loved ones. I know that not everyone would want to have a room full of loads of people- friends, family, and one of Ben's coworkers- but for us it was the beginning of our vision for Beau's life playing out. We didn't know at that point how much we would need the support of those loved ones in the days ahead. It was so fun to watch our new baby be passed around the room for snuggles and photos.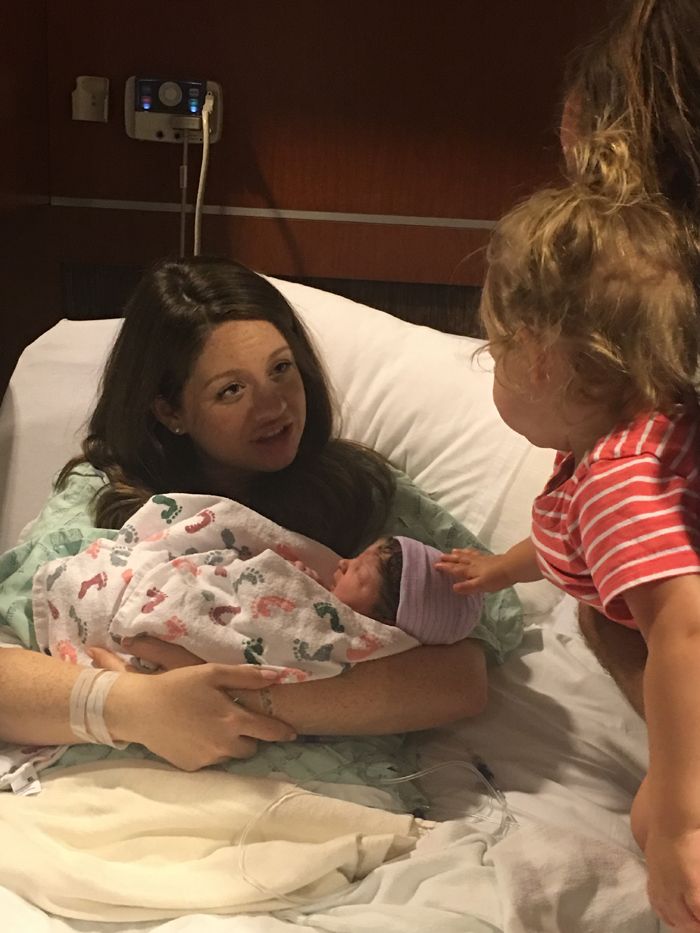 Megan and Beau meeting for the first time
Everyone slowly filtered out, Beau got his bath, and we snuggled him. Ben's parents left to get us some food. I had been starving all day from not eating since before we checked in at 8pm the night before. But the second Beau was born I lost my appetite and forgot all about that feeling of hunger. Kayla and Susannah returned for another quick hello and to drop off a cookie cake (my favorite!) that said "Happy Birthday Beau!" and a roll of cookie dough, the one thing I had been sad to not get pinches of during pregnancy. I don't drink coffee or alcohol or soda, so those normal things people usually limit didn't affect me. I did have to miss cookie dough a little bit. I had wanted to get a great "first family photo" and Susannah took a photo of us that I will now cherish for the rest of my life.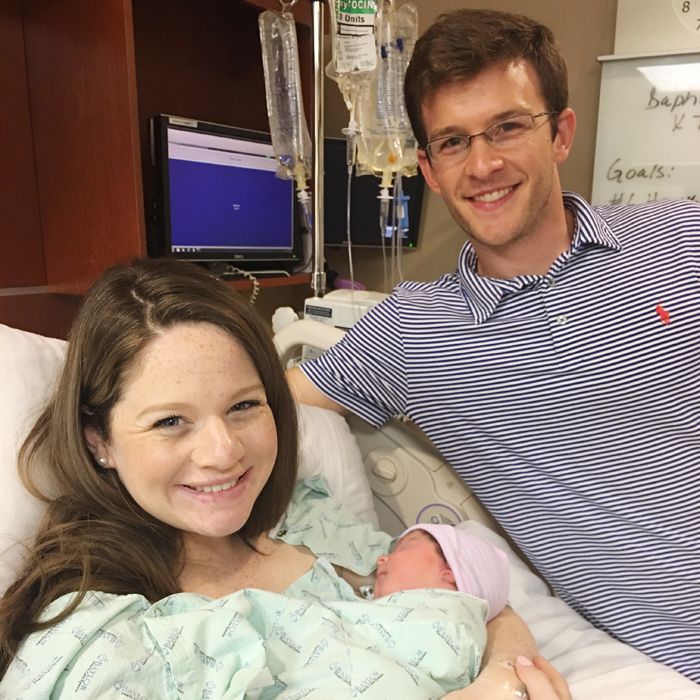 I had originally envisioned having a few minutes to freshen up, put on a robe, and look glamorous for everyone's meeting of my sweet boy. I didn't move an inch from labor throughout everyone coming in, and I wouldn't change it for the world. It felt real and was beautiful and Beau's birthday was the best day of our lives. I loved every bit of the day. I loved celebrating with our loved ones and the removal of the pain and of the feeling of pushing him. I was so truly blessed by our labor experience and by the joy of meeting our perfect little angel. I obviously knew that I would love our child, and I had truly longed to be a mom.. but I couldn't have prepared myself for how much I love Beau. the second I saw him he exceeded all of my expectations and has continued to do so since then. I'm a proud mama!