Thank y'all SO SO much for your feedback on
my post last week
.. I'm looking forward to going back through all of the comments and replying to y'all! I'll be slow, but I'll get there! :)
One of the best things about being pregnant has been getting to figure out what worked for
me
. Before pregnancy, and during early pregnancy, I was told a lot about how I'll want this kind of shirt at this point, and not to order from online boutiques, or whatever. I realize I'm about to do the same thing when I share my favorites :) but it really has been so interesting to discover what has worked for me the best during pregnancy.
This week is 39 weeks and I'm still feeling pretty good for the most part. Every few weeks I have a night where I don't sleep great, or an afternoon where I feel kind of sick and groggy.. but overall the second half of pregnancy has treated me really well. It's crazy that my "every few weeks bad day" means I have maybe one left in this pregnancy, unless something changes. We are so ready to meet our precious boy + to reveal his little name!
I digress... Overall my maternity wear philosophy has been focused around non maternity clothes. I know, for some this is crazy and wouldn't work at all. But I realized pretty quickly that the majority of my existing closet was going to work for at least some stretch of time. Over the last maybe two weeks my amount of working clothes have grown slim, but there are still enough to get by, and I'm certainly not wanting to go buy anything new for two weeks or less! Wanting to invest in pieces that won't end up in a tupperware in the garage has been a huge factor for me in finding pieces that work... and this is what I've come up with. :)
Note:
None of these photos were taken with the goal of them ending up on my blog, haha! They were all sent to friends during various fashion moments so try to look past the goofy factor, and the variety of random things in our bedroom haha!
Full Panel Jeans
These
are the jeans that I have LOVED during pregnancy. My normal jeans are dark wash skinny fit too.. so these just made me feel more normal and put together. I'll note too that when I first started looking at maternity jeans, the colors of the bands threw me off. Would it be more practical to have a nude band that wouldn't show through things? The navy ended up being perfect for me, especially when wearing non-maternity shirts. That way, if a little glimmer of the band shows, it looks like more jean, not skin! (the link above is for a black pair.. dark wash is also available in store!) I'll note that I have a pair in both my normal pre pregnancy size, and the size below.. I am much more comfortable in the smaller size so that's what I would recommend trying on.
An alternative: J. Crew jeans were my favorite pre pregnancy, in the toothpick cut. Pretty early on I got a pair of
the maternity version
on sale and wore them for a little more than the first half of my pregnancy. I think I would have worn them longer, except somehow I ended up with them in a size smaller than my usual (it's weird how that ended up being the theme of my maternity jeans) and for these they fit great but when I started really carrying a big belly they became only comfy with long tops so I wasn't worried about them staying up. I'll also note that I'm interested to see if I still love the toothpick jeans post baby, or if I end up looking into something with a higher waistline.. I've browsed a few options at Banana Republic and will share my findings as the summer goes on!
Swing Dresses & Tops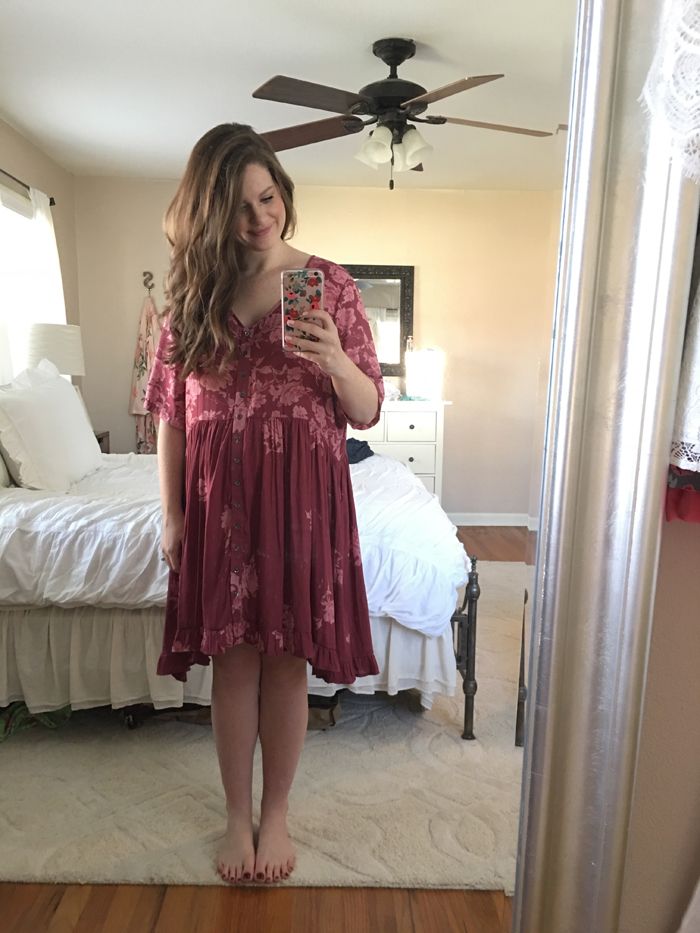 I think this item is a personal preference, and some people will prefer fitted dresses throughout their pregnancy, but this mostly wasn't the case for me. I've loved wearing swing dresses that I already had in my wardrobe. They made me feel good about my body staying relatively the same, and I just overall preferred the look of a flowy dress than a fitted one. My one time wearing a fitted dress is pictured below, haha!
I just purchased
this one
from Anthropologie this week and am OBSESSED. I love it at 38 weeks and can't wait to wear it post pregnancy as well.
This dress f
rom Target has been my go to for late pregnancy, especially as the weather has warmed up. I honestly won't be surprised if I wear it to the hospital. I love it, and it's a great price. Kimono sleeves are super flattering, especially for pregnancy, and Target just gets it right. :) This was a random find one day strolling through the store and I am SO glad I got it.
Maternity Spanx
For the rare few times I've worn something fitted, or even something cotton... maternity spanx have been awesome. They don't really change how anything looks that much, but they make me feel held in and secure which is a great feeling as your body is growing!
Long white camisoles
This one
is my favorite! Having something on to smooth everything out has been so great, under all my shirts. I've also kept wearing my pre pregnancy camisoles from Gap, found
here
.
A dress that makes you feel AWESOME
For me, it was
this
dress. Knowing I had something that would make me feel like I looked pregnant for sure, but felt like my very best pregnant self was so comforting. I wore this dress to one of my showers, and for
my maternity photos
. Who knows, I might even wear it to the hospital for delivery! Haha. The best part is that it's not actually a maternity dress, although it's been worn all over the internet as such.. Just google "Rachel Pally maternity" if you don't believe me. :)
In a different color, and cheaper,
here
.
Lots of Lilly!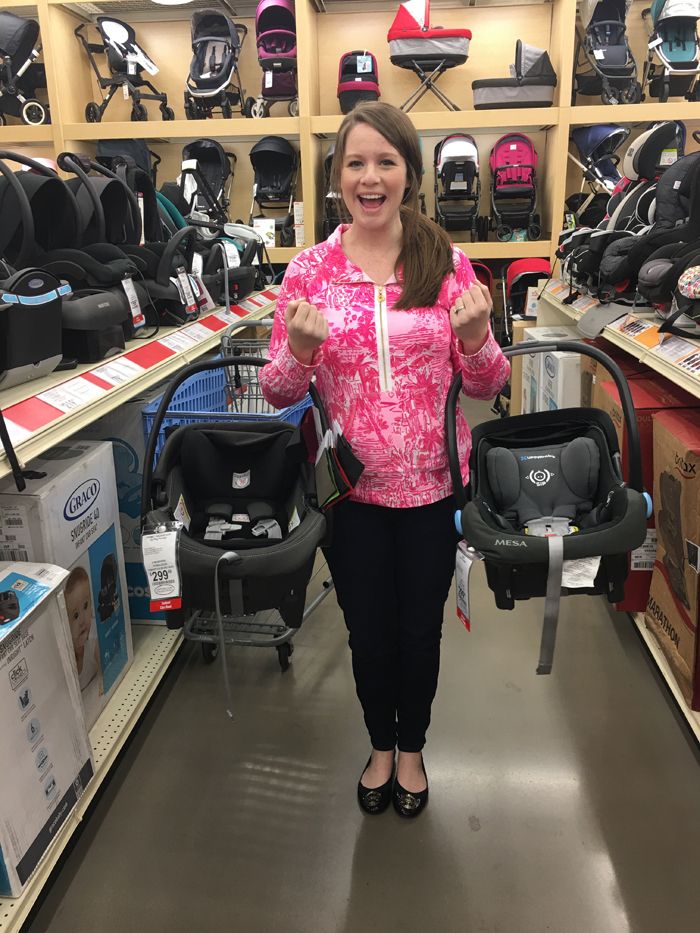 I know Lilly Pulitzer isn't everyone's favorite.. but several of their styles have worked perfectly for me during pregnancy. I love knowing that I'm investing in something that won't end up in a tupperware soon after baby is born. :)
I've worn:
this dress
(in a different color scheme),
this dress
(I've also thought about wearing it home from the hospital!), and lots of elsa blouses! I really like
this one
, and
this one
.
... and just for fun, I got
this
for post baby. Although I have seen gals in earlier stages of pregnancy wear it!
A few solid maternity tees
The couple of maternity tops I did purchase (the one pictured is Splendid brand and I got it on sale at Pea in the Pod!) have come in handy to wear with cute cardigans and honestly a lot of time just at home or to the gym. Lounge and active wear has been the hardest for me to maintain towards the end of pregnancy, because I haven't wanted things to look fitted. I've often resorted to a t-shirt of Ben's when the few I have have been in the wash!
Hope this helps, or is interesting to someone out there. :) At the very least, I think it will be good for me to remember what I liked during this pregnancy. Maybe next time around I'll treat myself to some maternity work out gear. :)
Some of the links in this post are affiliate links, something I've never done before, but figured this would be a good time to try out. Thank you so much for supporting me and the time I put into this blog. :)