Every blog under the sun is sharing their Nordstrom Anniversary Sale picks, but I couldn't resist joining in. Recently I read on someone's about page that they share what they share with their friends on their blog. I've been texting my besties about this sale all week! So here ya go.. We've shopped this sale for years, specifically for Ben. We bought his wedding suit at the #Nsale in 2012. I drug him to the mall last week to make him try on jeans. Any other married gals have a hard time getting their husbands to replace old favorites even when they have long surpassed their lifespan? Haha!
Note: The sale opens to non Nordstrom card holders tomorrow! We have the debit specifically to get into this sale early.
I realized that this week my posts have basically just been lists.. womp womp! Normal content resumes tomorrow! ;)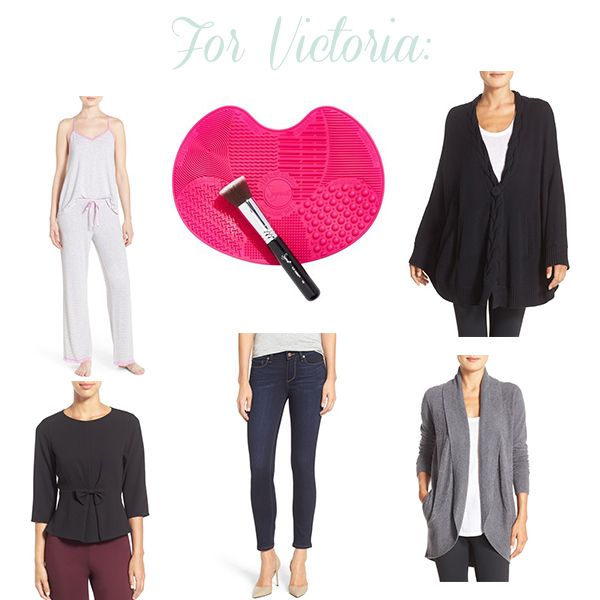 For Victoria:
Maybe this is weird to share, but I'm going to anyway. My bestie Kayla found
this bra
through another blog and so a few weeks ago we went to check it out after seeing hundreds or glowing reviews. For someone who just had a baby and needed a new bra as a treat yourself, this one has been FANTASTIC. I probably won't buy another style or brand ever again.
My number one recommendation for this sale is to snag a Barefoot Dreams sweater. I have one from last year and it's just the coziest ever. It's just like having a blanket on all the time. :) Even on sale they aren't chump change, but my cost per wear is already rather low. I purchased several for gifts to have on hand! (I love
this one
, have
this one
, and am curious about
this one
)
I haven't tried
this
on, but I thought it was really cute. Anything with a bow I can't resist!
I haven't tried
these
on yet, but apparently they are really highly rated and the idea of wearing them in the winter with a cozy sweater is super appealing. I'm really interested to see if I like them, and will keep y'all posted.
By some miracle I actually got a pair of
these jeans
a few weeks ago during Anthropologie's extra 30% off sale. There was one pair, in my size, and they fit like a glove!
I think this
vest
would be really cute for the fall and winter, especially in warmer places like right here in Texas! (while I was getting this link, I found
this
and kind of regretted not getting it.. yikes!)
I had high hopes for this
poncho
.. but it wasn't flattering or even that cute. The material was too thin to justify the price.
I ordered this
comfy flannel
, in a different color way right away. I'm really excited about it, flannels are so nice to reach for during the fall!
I feel like I'm always on the search for a great solid
tee shirt
, and I've head this one is nice. The $15 price tag is appealing, too!
I'm really excited
these
cozy jammies, because I love
these
ones I got in the winter so much. I also liked
these
.
This
Ugg Cape
sweater is my favorite sale purchase! I tried to branch out of my comfort zone and got it in black! If capes aren't your style, the non cape, slightly more expensive version is
here
.
I think
this robe
would make an incredible gift. Truthfully Ben would love it... HAHA!!
I have used the makeup brush included in
this kit
for years (for foundation) but was intrigued by the brush cleaning mat that comes with it. Maybe it would help me actually clean my brushes regularly. Is anyone else guilty of forgetting? Eek!
For Ben:
Ordered
this
for my friend's husband in maroon, Gig em! :)
I try to avoid ironing as much as possible so we picked up another one of
these
for Ben.
Tip: Don't throw any non iron shirts in the dryer, it takes away the magical non iron powers and brings the wrinkles back! :)
Because Ben buys new shirts literally every four years, we like to spend a few more pennies on the basic items. We got him this
basic tee
in black! He also really liked
these polos
, even though the sizes are weird and I have no idea what the numbers mean. We guessed, haha!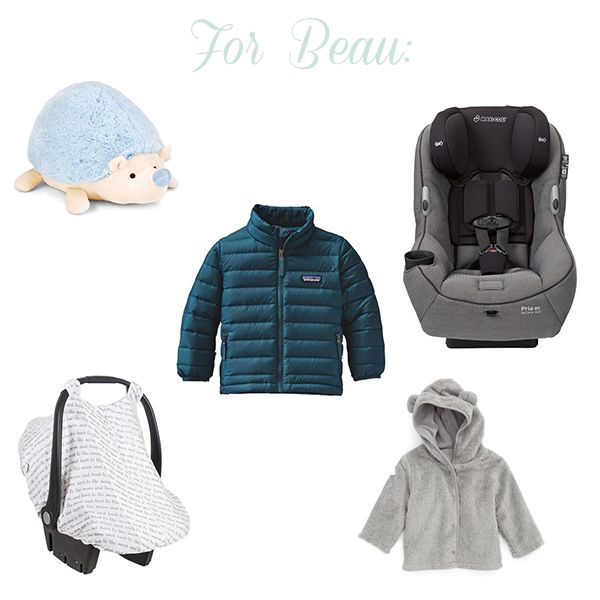 I won't lie, while I'm outfit planning for our trip I kind of wish Beau had
one of these Patagonia jackets
. Who knew they made them this small? The price tag for 3-6 months just doesn't seem worth it to me though, although I think it might be for a bigger child that would wear it daily!
I really pondered if we should go ahead and get
a big boy carseat
because this one is always highly recommended and because of the $100 off. Ultimately I decided to wait, but if your babe closer to switching it might be worth a look!
It seems random to me that
this
is included in the sale, but it's adorable! I can't wait until Beau loves specific toys. (girl version
here
)
I love
this
and would probably order it if it sat on a tabletop. I can't tell in the details but it looks like it's specifically a wall frame. We just don't have a spot for it in the nursery but if I could rest it on Beau's bookshelf I'd order instantly!
Hope this helps if you're shopping the Nordstrom sale! :) Now y'all will know where all my sweaters are from come fall! Haha!