Towards the end of pregnancy, I was so ready to meet my sweet baby, but also so ready to no longer feel so large. Just being honest. :) During the majority of my pregnancy I stayed pretty positive. Sometimes the scale was discouraging, as it was weird to watch such steady weight gain, but for the most part eating healthy and staying active really helped me feel great, physically.
One of the first things I did when Beau was born and was getting checked out was feel what my tummy felt like. I didn't know what to expect at all. It was so strange how my belly went from big and firm to small and squishy in seconds! Over the next two weeks I wasn't at all worried about my body, just about my precious son, as he was still in the hospital. I will say that I was mostly encouraged. I was surprised at how quickly I felt like myself. One night after a long day at the hospital, I decided to try on clothes to see what fit. This could have been very dangerous. I was surprised to see that at a week postpartum, the majority of my clothes fit. When I zipped into normal jeans that night it felt so surreal. I am not someone with a naturally fast metabolism, so I 100% credit this quick milestone to staying active during pregnancy, especially towards the end. At that point, I still weighed about 15 pounds above my pre-baby weight. It's so interesting how differently I'm carrying postpartum weight from normal weight. It draws my attention to how very specifically our bodies are made. I truly cannot wrap my mind around how specifically the Lord designed us.
I'm stuck on around 10 pounds to loose and have been hanging out there for several weeks. I'm a human being, so that feels discouraging at times, but I feel like I've learned so much about my relationship with my body since having Beau. Mostly, I've had two big epiphanies.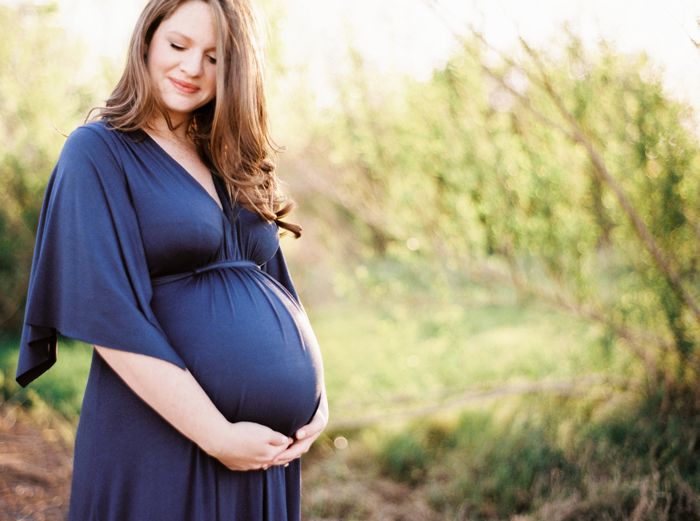 Every pound gained was to grow the love of my life.
When we took maternity photos, I was pleased with the quality, but critiqued myself. I only saw the differences from my pre-baby body and my 35 week pregnant self. After meeting Beau, those images became infinitely more precious and beautiful to me, because it was Beau in that big old belly. I've also feel like I can now see my pre pregnancy self through clear eyes. I know now that I was healthy and happy and in great shape for the body God made me with. I'm grateful for gaining that perspective shift.
You'll hear me reflect on my journey to lose the baby weight and pursue fitness in the future, but it's not because of any shame. I am proud of what my body did and know that with discipline comes freedom. Pursuing a healthy lifestyle postpartum only means that my body will be stronger to give Beau a full life, and to hopefully have healthy pregnancies in the future.
My thoughts about Beau revealed the lack of truth I believed about myself.
As soon as Beau was born, his first two weeks were filled with doctors describing Beau's imperfections. He was immediately described to me as having dysmorphic features. The doctors pointed out that they thought he had weird feet, a strange hairline, and what bothered me the most was hearing over and over that his nose, mouth, and chin were too small. I cried so many tears and repeated that God made him perfectly. I love that tiny chin with every ounce of my heart. Every time I look at Beau I see absolute perfection. He was made in the image of God and each thing about him was to make him uniquely himself. I realized that I never give myself this same courtesy. When I look at myself I see all the things that are different than someone else or should be changed. I don't tell myself that God made MY features perfectly. Realizing how harsh I am on myself, and truthfully, others, has been humbling and convicting.
I have had a hard time typing out the following thoughts, I can't articulate well what I've felt about this. Let's give it a try! When I look at Beau, I see the most adorable boy in the world. I I realized that when preparing to meet Beau, I never thought he would be as cute as I believe him to be. Let me explain. Beau is made out of me. And Ben too, but I couldn't imagine that someone made out of me would be more than average. You may think he is, which is fine, but I find him extraordinary. As shameful as it is to say, I never expected to view him the way I do. I imagined to see a reflection of myself, and to love my baby, but I realized after his birth that I subconsciously expected to see the negatives of myself in him. I never would have said that or thought that exactly, but I realized that I never thought I could find my son to be as handsome as I do because of my negative thoughts about myself. How wrong is that? Somewhere along my days I started believing so many lies. So many lies at such a young age. Seeing Beau and finding him to be so precious made me realize that change had to happen in how I view myself. I don't need to walk around thinking that I'm the hottest thing in town.. but I do need to be confident that I was created to be exactly who I am.

This post feels like I'm completely bearing my soul to the world. I'm choosing vulnerability and honesty about the dark parts of my heart hoping that they will encourage and uplift others. Please be kind in responses about these thoughts. :)
Save
Save
Save
Save