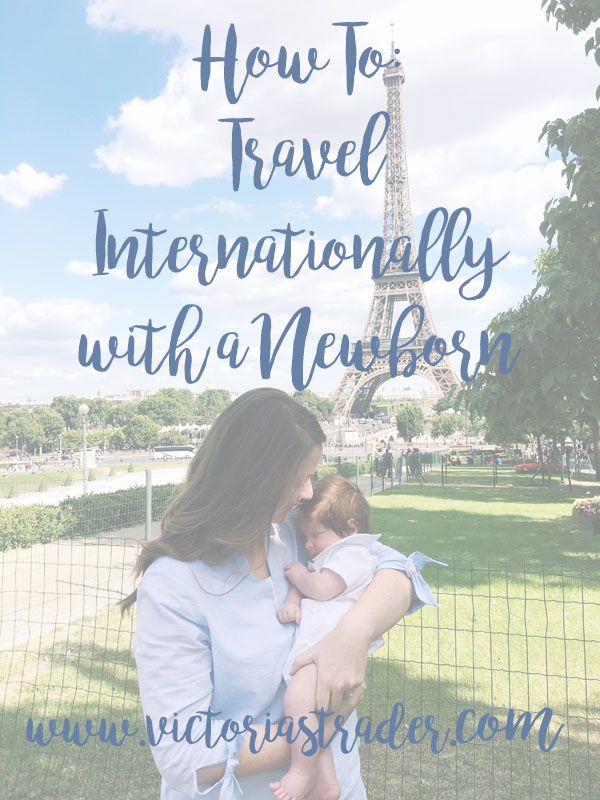 I've been giddy about writing this post since before Beau was born. Since before I was pregnant, even. We've always dreamed of passing along our love of travel to our babies. We booked our trip to Europe with happy hearts, excited to live out that dream. And we learned a few things along the way.
First, I will say that a lot of people thought we were crazy. But even more, jollier people, said that we chose the best time to do it. Our pediatrician (my favorite man ever!) even praised us for starting Beau young and getting him used to travel. We made it to Europe, all over, and back and I can genuinely say that our trip was nothing but a complete joy. I had prepared myself for crazy moments, but honestly they were at a minimum. Traveling with our boy was better than I could have imagined. I've been recapping our travels by location, but thought I would go ahead and share all that I learned before I dive into the Blogtember challenge next month.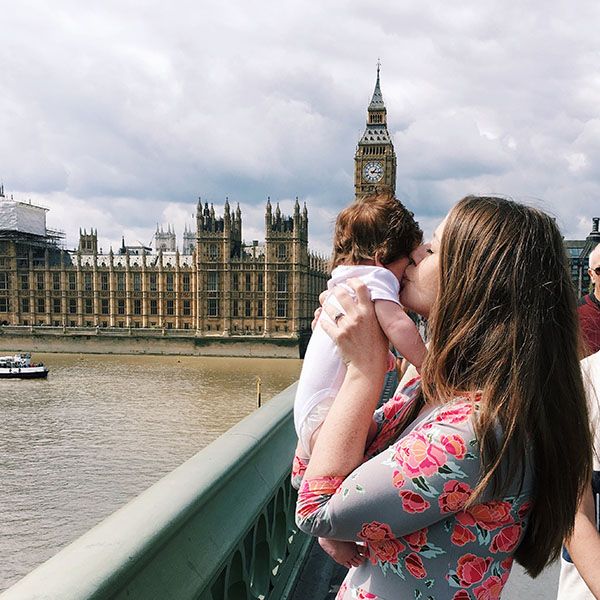 Note: I tried to write this post really conversationally, so that it would be interesting to someone without a baby!
Planning the Trip:
I think things would have been much more overwhelming for someone who hasn't really traveled internationally before. We knew what to expect out of airport security, customs, long flights, etc. The only wildcard for us was Beau. And after 10 weeks with him, he wasn't even really a wildcard. I don't think this is a reason to stay home if you're dreaming of starting to travel with a child of this age, but I think it would be helpful to really do your research on what these experiences are like before crossing the pond. :)
On a similar wavelength, we are on the go with Beau at home, so being on the go with Beau in Europe didn't feel all that different. Yes, we had longer days and were in different places.. but we knew how to plan for days out, what to pack, where is good to feed him, etc. I think this really helped.
It didn't really matter what destinations were especially family friendly for us at this point, with Beau being so little and not caring, but we noted how incredibly awesome a trip to Switzerland would be with elementary age children.
We loved having a rental car and if you're staying somewhere car friendly, it's a ton easier than messing with public transportation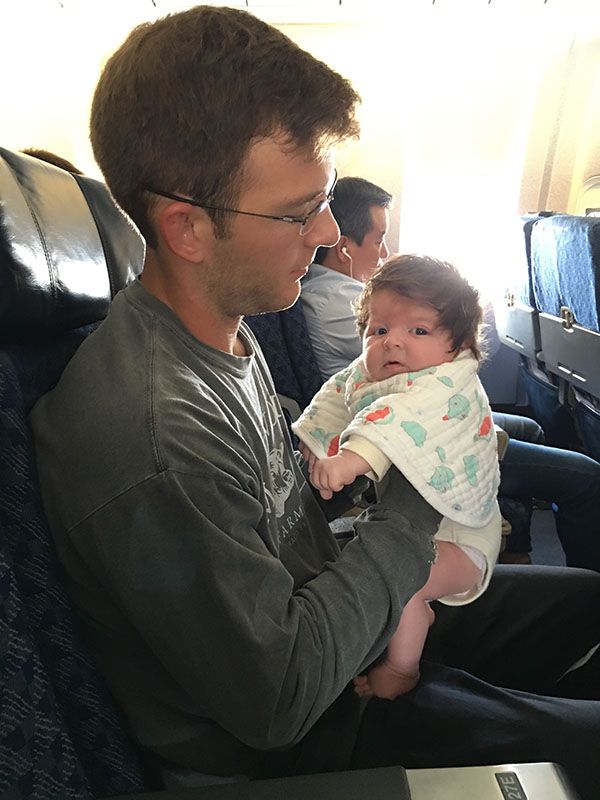 Going through airport security with Beau was intimidating to me, but it shouldn't have been. We have global entry and TSA precheck, so we went through a shorter security line when stateside and it was totally worth the $100 for five years. I wore Beau in his sollywrap, and would probably wear him in the honest carrier now that he's a little bit bigger. He got to remain asleep in his carrier and I just walked right on through. Ben put my carry on LL Bean tote, his satchel, and the stroller through security and I waited on the other side with baby boy. I grabbed my bag while waiting for him to cross through. We had no issues, and everyone was really nice. Going through security in England and Italy was slightly different.. we didn't have the luxury of TSA precheck, but we were ushered to a family line. I was asked to take Beau out of the carrier in London, but only because we beeped for some reason. Beau actually had to be patted down. Insert eye roll here. But it wasn't bad. I could have gotten all worked up, but there was no reason to. The security woman was sweet about it, and it didn't take very long at all. Beau got a little fussy when being moved around, but he was soon calmed by a midmorning bottle. His fussiness had little to do with what happened, and a lot to do with the fact that it was 10 minutes past his normal mealtime. :)
While on the airplane, we had big hopes of Beau using his flyebaby seat. He did use it for a little bit, but it didn't work super well on the smaller plane and honestly it just didn't really feel like we needed it. On our flight from Dallas to Miami, we got seated in the front row of the plane by a flight attendant wanting to give us more room. The seat didn't work because there weren't seats in front of us. Holding him wasn't a big deal at all, and I could have used the sollywrap if I had needed to. I just held Beau while he slept and read on my kindle app. We also layed him out on our laps and played with him. He did so well on this flight!
I read somewhere that if your baby fusses you should intentionally turn your back to people and just focus on your baby. I didn't really have an instance where this needed to be applied, but I can see how it would be really valuable. I swear that Beau knows when I'm uneasy!
We had only one lady giving us the side eye on our trip from London to Dallas, and honestly you have to just think of it lightheartedly. She'd side eye whenever Beau made any noise, like happy squeal she turned to look at us. This was especially ironic because our plane was packed with children and there were big kids screaming and throwing fits.. so it's like why are you side eyeing our tiny baby? I digress. By that point of the journey I was just like, whatever I know my baby is good, leave me alone. Just ignore mean people. :)
A lot of times the airline will let you board early with a baby, I'd suggest asking at the desk. One flight we boarded right after priority, and coming from London we boarded literally first (with a few other families) it was so nice to get settled, go to the bathroom, etc before anyone else was on the plane.
Jetlag on the way there: We got on our plane from Miami to Milan at 5:30 pm after a long day of travel. We were tired, and so was Beau. We fed him during takeoff (to avoid ear popping issues) and then again at 8:30 pm and "put him down for the night" leaving him to sleep until right before breakfast was served on the airplane. We fed him then, and again on landing. The "night" was shorter but somehow acting like it was a full night tricked Beau into skipping jet lag entirely. He kept his normal schedule on our first day in Lucerne and slept through the night on our first night. I credit that to exhaustion, because the next week or so he woke up once in the night about 50% of the time. I will note that we scooped him up the second we heard him stir at all, something that we wouldn't have done at home. We did so to be courteous to our hotel neighbors. :) It wasn't bad at all.
Jetlag on the way back: For those who aren't aware, usually on the way over to Europe you'll fly during the night, and on the way back during the day. I had heard from people to keep waking Beau up every three to four hours for a feed on the airplane even when it starts to be late into the night European time. That would help Beau feel like it was bedtime when we arrived home and adjust to our Texas time. This worked for the most part! It felt weird to wake the quiet sleeping baby on the busy airplane, especially when Ben had a middle aged couple on the other side of him, but it was worth it. That first night home I actually woke Beau up at 3 am, because our air conditioner had broken and I wanted to make sure he was okay in the warmer temperature. Nothing like back to reality after vacation, am I right? :) After that he slept through until a normal 7 am wakeup time. He blew me away. The next night he woke up at 4 am, then the next night 5 am, and then the next he adjusted completely to his 7 am wakeup. I was such a proud mama! Because he was so little at the time of the trip, this was a breeze! I was much more jet lagged than he was, because I chose to stay awake each morning and get stuff done. I was craving productivity after our long trip. For those wondering, we went to Ben's parents house and our a/c was fixed by noon thanks to some handy workers.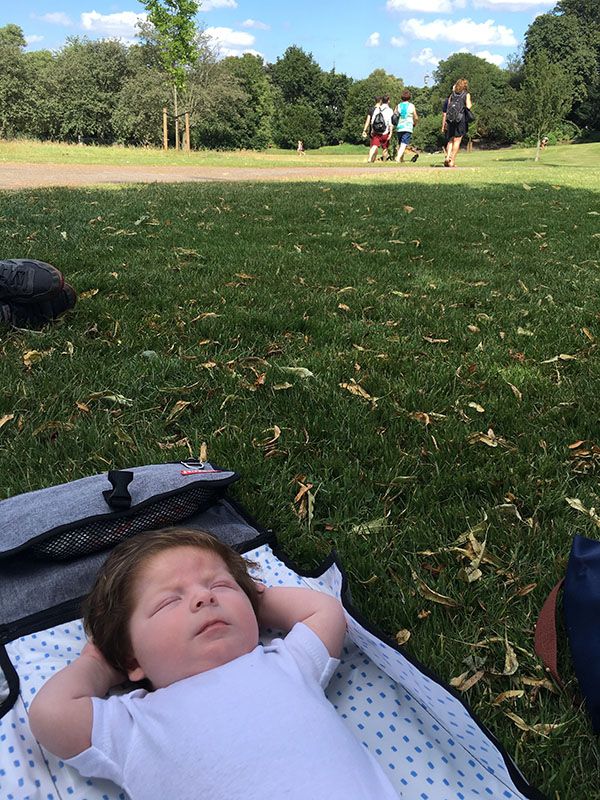 napping on the changing mat in Hyde Park, London
The Eurostar + The Chunnel:
I was fully prepared with bottles for takeoff and landing on airplanes, knowing that the change in cabin pressure would cause Beau's ears to hurt, and that he would need to swallow. During our day trip to Paris, the second my ears popped when we went in the chunnel, I looked at Ben

panicked remembering Beau's ears! He didn't fuss at all and then we forced the bottle on him for the beginning of the ride under the water.
We checked in for the Eurostar at a desk with a clerk instead of the digital kiosk, to ask about where we were seated and if it was a good spot for a baby. We could have paid extra for preferred seating, but on the way there we opted for our normal seats, and on the way back our train wasn't full so we got a table of four seats to ourselves. At 10 pm the electricity in the chunnel wasn't working, adding another hour onto our journey, so we were very thankful for this extra space. :)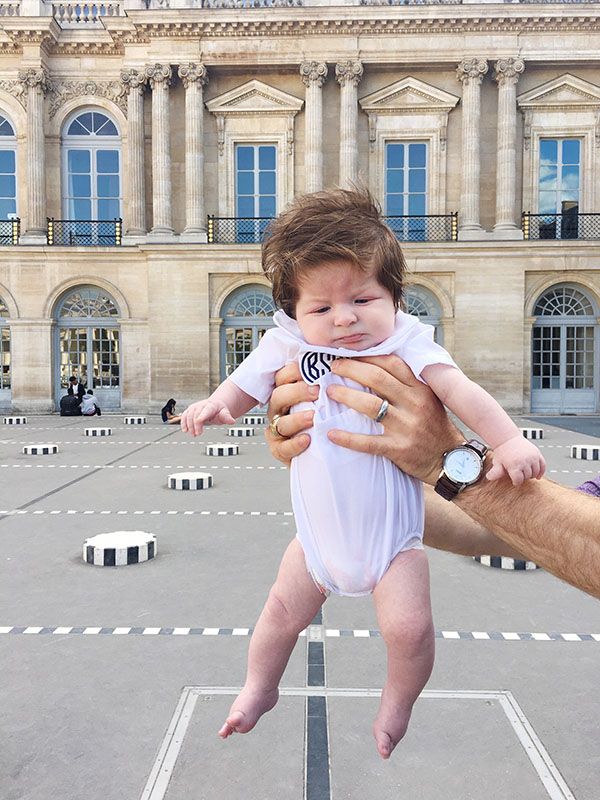 Packing:
Let's not make a huge deal of this, fine folks, but Beau is a formula fed baby. I desire to share this simply to be of help to anyone in the same place who's headed abroad. He hasn't always been, but he was at the time of this trip. I packed eight bottles, and a small dish soap. We cleaned our bottles in hotel sinks with warm water at the end of each day. Before leaving the hotels each morning we would bring a different number of bottles depending on our desire to wash on the go, but we always made sure we had formula for enough feedings to last until bedtime, plus some. Just in case. I packed a formula container and a giant ziplock baggie (double bagged) full of formula powder. I also brought a lot of the little tubes of formula for quick feeds on the go that would be easier without the container, although the container works beautifully. I had lots of leftover formula when we got home and I just kept using the bag. I always made sure the big bag went in checked luggage, surrounded by soft clothes and making sure nothing could be poking the bag to pierce it.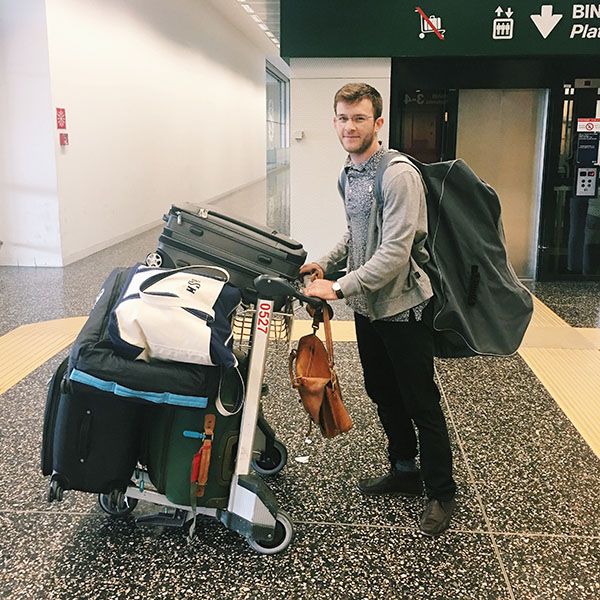 Although most informational travel posts encourage leaving your carseat at home and renting one from a car rental place, hauling an extra bag sounded more appealing to us than a $35 a day fee. You might be able to find cheaper, but that's what I found. We didn't want to change the consistency of knowing that Beau was comfy in his UppaBaby Mesa carseat. We put the carseat in this travel bag and called it a day. We chose to check the carseat with the rest of our bags and had no issues. We could have gate checked it but didn't feel the need to do so.
We did, however gate check our stroller. We specifically bought our stroller with this trip in mind. When I began researching baby gear, of course the beautiful UppaBaby Vista caught my eye. How could it not have?! :) The price tag, however, did not catch my eye!! Upon further research though, I was going to need a place for Beau to sleep. The Vista bassinet was the only one I could find that was intended for overnight sleep. Having the bassinet was key for us, not only for bedtimes, but while on the go. It allowed Beau to nap comfortably or play comfortably wherever we were. We sometimes removed the bassinet from the stroller and put it on the floor of our room, or sometimes just locked the stroller. Either way worked great. Several nights it was so nice to have Beau already asleep during a late dinner out, and we would just roll right into our room and let him keep on sleeping through the night. This eliminated the need for packing a pack and play, or depending on our hotels for one. If I was traveling with a child too big for the bassinet, but not yet a toddler who I wouldn't be afraid of squishing in the night, I would get this travel cot. We carried the stroller in this travel bag (it allows a protective warranty on your stroller in case of damage) and it was so great. The stroller was worth every penny just for this trip alone, and I'm certain it will keep shrinking the $ per use as Beau's little life goes on, and as our family grows and keeps traveling.
I packed Beau's things by category, in labeled ziplock bags for ease. I also brought a few big ziplock bags labeled "Beau's Dirty Clothes" for when things had been worn. One bag for onesies, one for footie pajamas, one for actual outfits.
I only packed about 4 burp cloths, imagining that I could borrow hotel washcloths for this purpose. What I ended up discovering is that four burp cloths was plenty, with our one stop for laundry in the middle of the trip.
At all times I had our wet bag on us, in case of a soiled outfit. In the pocked of the wet bag I kept an extra shirt for me, and an extra onesie for Beau. Ironically our only incident was Beau somehow tinkling all over Ben on our flight from Milan to London. Good thing it was a short flight. Whoopsies! Not sure how that happened!
We could have packed a LOT less luggage than we did. I had probably 5-6 outfits I didn't end up wearing (I know, I know!) AND I had a different outfit for each day. I do wish I would have brought more black leggings though. I kept seeing people rocking theirs and wishing my only pair weren't dirty from the flight. Our smallest suitcase was literally only packed because my suitcase holding my things and Beau's things was overweight. Makeup did it, I'm sure.
Make sure you check the weather! To this Texas girl, 70 degree weather was going to mean dresses, light tops, etc... but with cloud coverage it made it really chilly at times. What the clouds were doing made all the difference.
I packed a lot of white onesies for Beau, thinking that if he had a blowout or something I could just chunk the onesie and keep going. That being said Beau doesn't really have blowouts yet so this was kind of unnecessary. If you know your baby is prone to them.. I'd go 100% cheap white onesies.
I made sure to have enough essentials for Beau in our carry on items to last for several days in case we lost any luggage
We found that being out and about while on our trip wasn't much different than being out and about at home. Beau loved it. :)
My favorite thing was how many friends we made. We engaged with so many more locals because of people being drawn to Beau. We had police officers in Italy and in London approach us, hold Beau's hands, and tell us about their children. I posted this story on instagram.. but in Brighton a woman ran up to me and grabbed me into a hug with a fit of giggles explaining that Beau was the sweetest baby! It was so kind and made for a great laugh!
I always wore my Longchamp backpack during this trip. I kept individual packets of formula, the formula container, a bottle or two or three, and a small pouch with some essentials for me. In the pouch I kept my drivers license, two credit cards, a perfume rollerball, hand sanitizer, and a lip color. The backpack kept my hands free and was awesome, especially because it didn't hold things I was constantly needing to get out. Ben held the rest of the money, and I kept my phone in my hand or in the bassinet of the stroller next to Beau.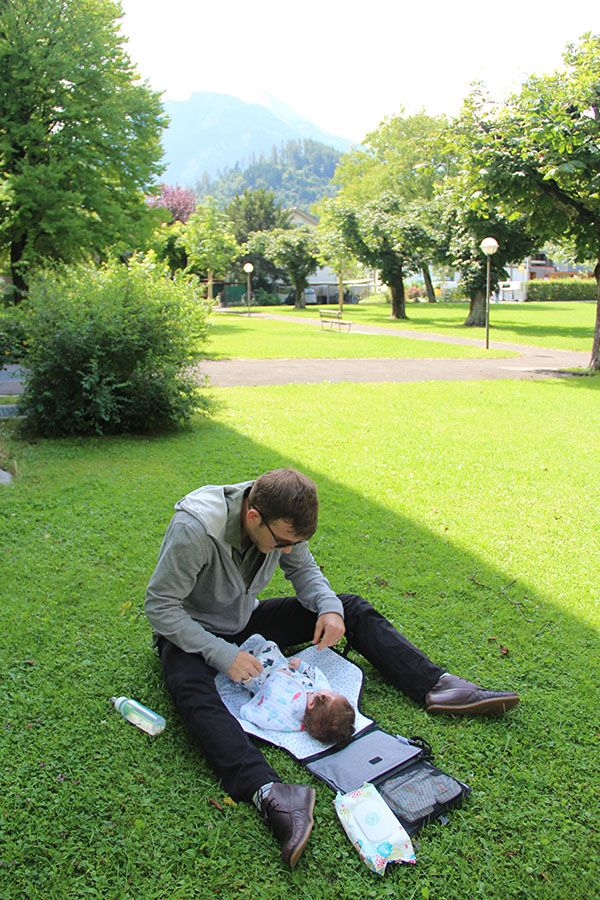 a diaper change in Interlaken, Switzerland
For diaper changing, we always kept our Skip Hop Diaper Changing Station Clutch in the basket of the stroller. It's one of my favorite baby products, and does a great job of keeping everything together. Most of the time I'd just change Beau right in his bassinet, but if I ever had to set him down somewhere for a change we used this. He had his diaper changed in some strange places on this trip!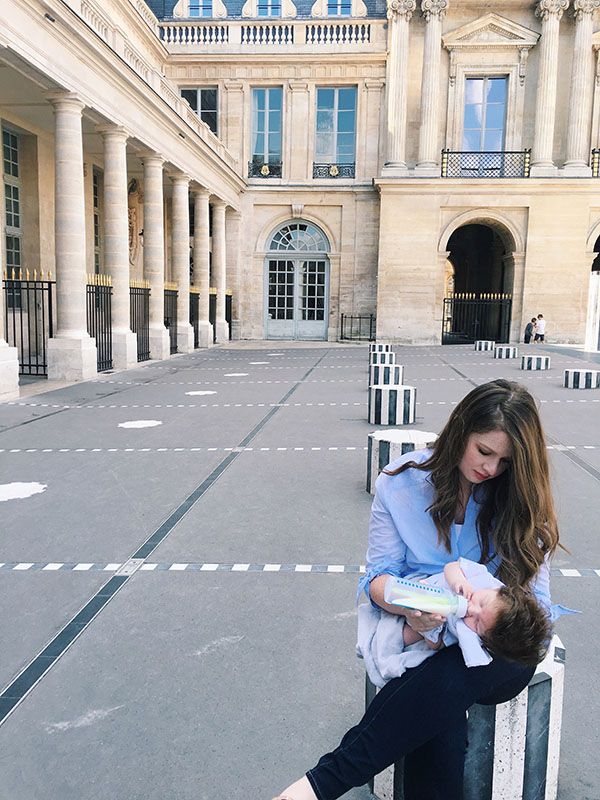 a feeding at the Palais Royale in Paris
During the trip, we fed Beau every three hours during the day. At home he only eats six times a day, so this was a little more, but not by much. Stopping to feed Beau often allowed us to sit and soak in our surroundings, but we also often would feed him broken into little parts. Ex: An ounce and a half before we got on the ferry, another ounce on the ferry, finishing the feed on the other side of the lake. This is something we never do at home. At home it's always feed at X time, sit until it's done. A few times I worried this would create issues for when we returned home, but ultimately I thought it would be worth it to feel like we were living our trip to its fullest enjoyment. We had no issue transitioning into normal feeds upon returning home, because most of them were like normal on the trip. I thought several times that if I was nursing him it would have been easier a lot of times, just throwing a blanket over us and trucking on.
I had read somewhere to plan extra days in each place to accommodate for the reality that your child will have a bad day and need to hole up in the hotel room. I didn't end up doing this, but Beau didn't necessarily love Milan. Haha! I think it was too quick of a climate change into warm weather with a bright sun trying to get on him. So he wasn't too jazzed on this day but I still feel like we saw and enjoyed the city. (note how over it he is in the photo above.. he's basically rolling his eyes at us!)
When we travel we love eating at fun places. I love gathering recommendations and scoping things out ahead of time. This was one thing I thought would mostly have to go with Beau. That didn't really pan out as true. We didn't go anywhere that we wouldn't have gone on our own, and maybe we would have gone to a fancier dinner or two while in London.. but we still ate great and experienced great atmospheres.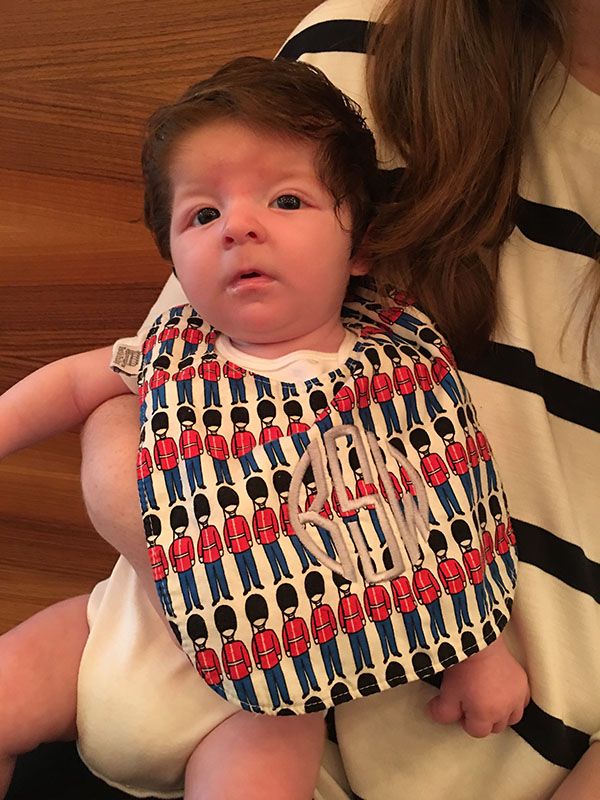 This isn't necessarily a tip, but I thought it was interesting. Having Beau made us appear as locals on more than one occasion. I guess people thought there was no way you'd be a tourist with a two month old. :) I loved this, and I really think it was all credit to the stroller. It was most funny to us when this mix up happened in Italy. We were like... "um sorry we don't speak Italian!!"
We aren't at all germaphobes, and I think this really helped with the trip. I can't think of a specific instance of anything happening but I think being laid back about our surroundings allowed us, and Beau, to enjoy the trip.
We also changed diapers literally everywhere. Just do it. Most of the time it will only take a few seconds and no one will notice but you.
Hope this helps! Traveling with Beau was so much better than traveling without him. I highly encourage you to go for it and travel with your sweet bebe. :) I included these handy pin-able graphics so I'd love for you to share this post if it was helpful to you! XO
Save
Save
Save
Save
Save
Save
Save
Save
Save
Save
Save
Save
Save
Save
Save
Save
Save
Save
Save
Save