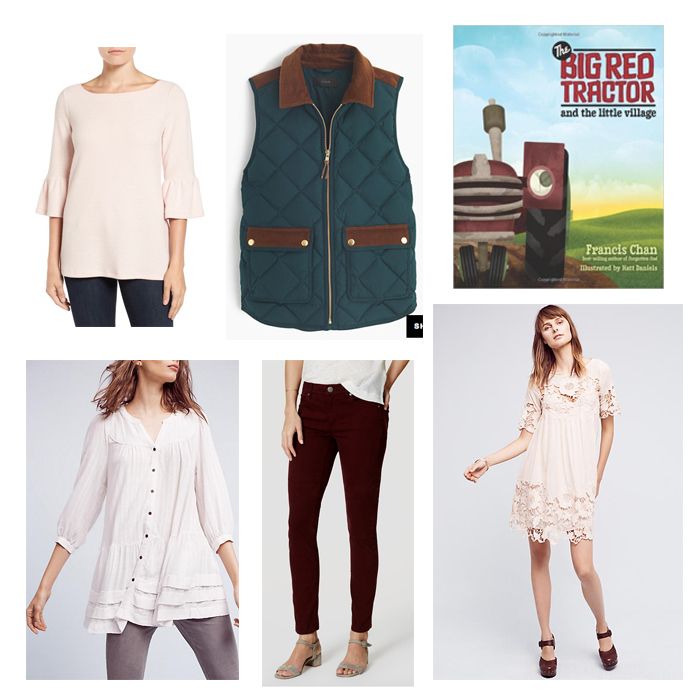 Well, the only way I know to intro this is to say that you know you're a mom when there's a children's book on your fall wishlist. :)
Blush Bell Sleeve Top
(found via
Sarah Tucker
) I've been wanting a bell sleeve top, but a lot of times they are cropped. This one isn't, And it comes in blush, so I'm sold.
Magnolia Dress
- I ordered this and am SO excited to try it on. I ordered a size up for length.
Comfy Tunic
- I already have this, but I just need to emphasize your need (well, not actually need, but you know what I mean!) for this gorgeous tunic. It's long enough to wear with leggings but short enough that it still looks good with jeans!
Maroon Skinny Jeans
- These are another item that I already own, and love! As an Aggie, a purchase of maroon skinnies was long overdue, but these are adorable for anyone for fall, in my humble opinion. For me, they ran true to size and are currently 30% off! :)
Children's Book
- I love reading to Beau and we have a TON of books. A lot of them are geared towards a toddler who is learning things though.. so like, a page with a picture of a pig and the words "pig" and "oink!" Not very fun to read to a four month old. Beau actually stays really engaged with sweet stories, and this is a biblically based children's story that we have at our church.
Vest
- Usually I'm a navy girl through and through, but the forest green color way of this vest really caught my eye!
Save
Save